Piedmont recorded another COVID case this week, bumping up from 189 to 190.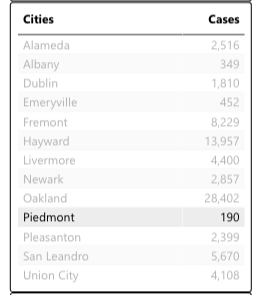 Although breakthrough infections remain rare, the Exedra has received several anecdotal reports of breakthrough infections among fully vaccinated residents in recent days. A friend of the Exedra (who asked for anonymity to discuss personal health issues) shared details of their family's own recent experience with breakthrough infections as a cautionary tale. In this case, one young adult had received the J&J vaccination and two adults had received Pfizer. The female adult had severe flu symptoms for about five days, the young female adult had mild symptoms, and the male adult had no symptoms. The family cancelled plans and isolated at home after testing positive. (It is unknown if the Delta variant is the cause.)
The CDC is tracking the rise of the more transmissible Delta variant in the U.S., and breakthrough infections among vaccinated people are possible. CNBC summarized comments from White House chief medical advisor Dr. Anthony Fauci in a July 9 COVID-19 roundup article
″[W]e are looking at situations where you have vaccinated people who have breakthrough infections," the White House chief medical advisor told Chuck Todd during an interview with NBC's "Meet the Press" on July 4. "Namely, they're infected despite the fact that they've been vaccinated."
It's important to note, however, that vaccinated people who get infected have significantly less virus in their nasopharynx, Fauci said.
"When you look at the level of virus to be lower, that would mean you could make a reasonable assumption that those individuals would be less likely to transmit the infection to someone else," he said.
On July 9, The San Francisco Chronicle reported that COVID-19 cases are on the rise again in the Bay Area as the Delta variant spreads — the Bay Area is now a CDC "hot spot."
Alameda County is seeing a spike in cases, notably in areas of the county with low vaccination rates, according to a statement from the Alameda County Health Department on July 8.
"We expect to see more COVID-19 with reopening, but the rate of this increase is concerning," said Dr. Nicholas Moss, Alameda County Health Officer.
The county has also adjusted vaccination rates to reflect a larger population than originally estimated. Piedmont's vaccination rate remains high: 95% for a first dose, and a little over 84% for the second dose.