Delta making itself known? Piedmont cases jumped by four, from 192 on Tuesday to 196 on Friday. The Exedra is aware of at least one of these cases occurring in a fully vaccinated young adult, who showed flu-like symptoms including loss of taste and smell.
Vaccines continue to provide protection against moderate or severe illness, but on Friday, the New York Times reported that "Biden administration health officials increasingly think that vulnerable populations will need booster shots even as research continues into how long the coronavirus vaccines remain effective. Senior officials now say they expect that people who are 65 and older or who have compromised immune systems will most likely need a third shot from Pfizer-BioNTech or Moderna, two vaccines based on the same technology that have been used to inoculate the vast majority of Americans thus far. That is a sharp shift from just a few weeks ago, when the administration said it thought there was not enough evidence to back boosters yet."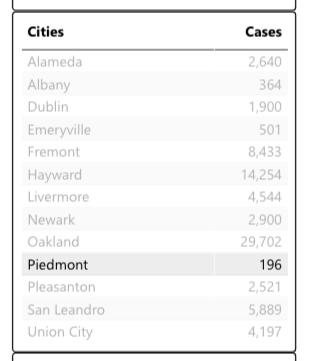 Cases in Alameda County continue to rise sharply as the delta variant spreads throughout the state and country.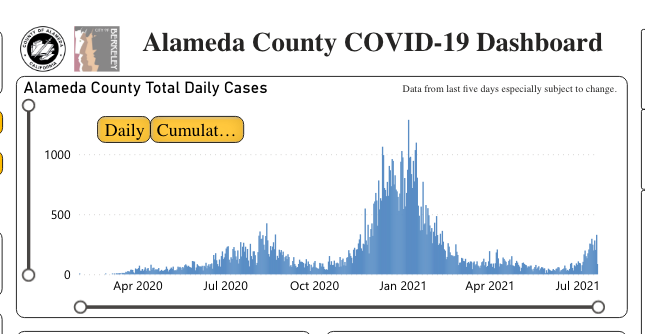 On Thursday, the San Francisco Chronicle reported that some Bay Area county health officers called for employers to require vaccinations for their employees as hospitalizations and illness among the unvaccinated rise.
Piedmont's vaccination rate rose to 99% for first dose, and over 85% for fully vaccinated: