Students and school staff in California must wear masks indoors when campuses reopen regardless of whether they've been vaccinated, state officials announced Friday, building on newly released federal guidelines on safe school reopening.
According to the state guidelines:
Students and staff in the state are required to continue using masks indoors in school settings, whether they are immunized or not.
The state will continue providing free Covid-19 testing.
Physical distancing in schools is not recommended "due to the obstacles it would present to California schools' full reopening."
READ THE FULL TEXT OF THE NEW STATE GUIDANCE HERE
California's guidelines are stricter than those issued Friday by the federal Centers for Disease Control and Prevention, which say that students and teachers do not have to wear masks if they've been vaccinated. The state is easing up on social-distance requirements, however, saying they're not mandatory if they prevent schools from fully reopening for in-person instruction. The state is also encouraging frequent testing and community infection monitoring as a way to stop the spread of Covid-19.
Both agencies agreed on the importance of reopening schools for in-person instruction.
"We believe that with masking and testing, we can get kids back in person to school, 100%," said Dr. Mark Ghaly, California Health and Human Services secretary. "We are so glad the CDC supports this vision."
While children as young as 12 years old are eligible for the vaccine, the CDC has not offered guidance on how schools will know which students are vaccinated or how parents can know which teachers have been vaccinated. The age cut-off for vaccine eligibility is particularly difficult in middle schools, which include the grade levels where students are likely to turn 12.
The California Public Health Department released detailed guidance for the state's K-12 schools on July 12. Hours after issuing the guidance, the California Department of Public Health rescinded its order for schools to send home students who refuse to wear masks indoors at schools.
The overall requirement that students and adults must wear masks inside school buildings will remain, but the new position will be that local schools can decide for themselves how to deal with noncompliant students, as they have for the past year, Alex Stack, a spokesman for Gov. Gavin Newsom said.
The state guidelines strike a fair balance between safety and the need to reopen campuses, said Edgar Zazueta, senior director of policy and government relations for the Association of California School Administrators. Requiring masks can help compensate for the loss of social distancing rules, he said.
"All things considered, it's a fair trade-off," he said. "There will undoubtedly be many families who are upset the state is continuing the mask mandate, but other families will be relieved."
The California Teachers Association was also supportive of the state's guidelines, adding that schools should become community vaccination centers.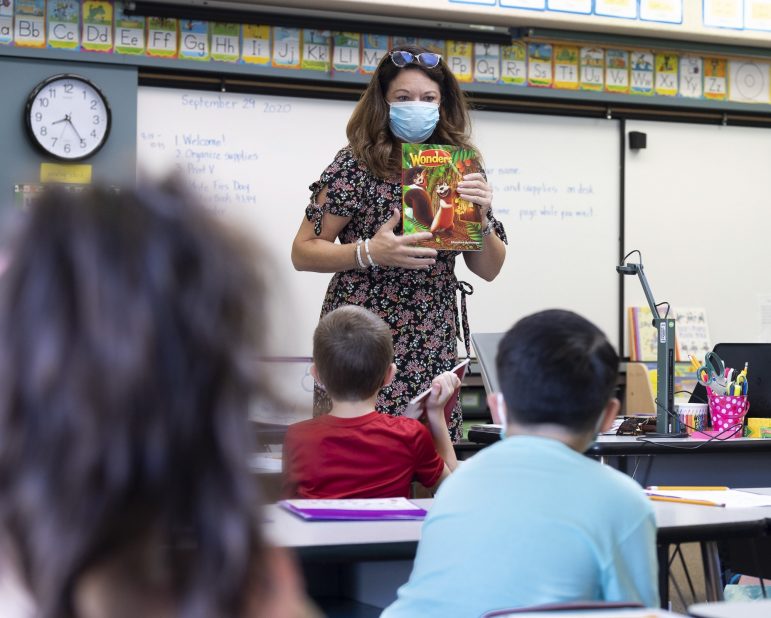 "We know this pandemic is not over, but due to the availability of vaccines and multiple safety measures put into place and practice, as well as the road map provided by today's science-based guidance, school communities are in a good position to ensure safe in-person instruction for students this fall," said union spokesperson Lisa Gardiner. "As CTA has said all along, learning happens best in-person, and educators want to be with their students in classrooms."
National education leaders voiced their support of the CDC guidelines, noting that the guidelines give some flexibility to states and districts to tailor the rules to local conditions.
"Today's guidance is grounded in both science and common sense," said Randi Weingarten, president of the American Federation of Teachers. "It takes what we've learned about Covid transmission in the last few months — from in-school learning, camps and the efficacy of vaccines — and charts a course for schools to fully reopen this fall."
Daniel Domenech, executive director of the American Association of School Administrators, called the new guidelines "a science-driven guide (to) support school district leaders in their work to ensure schools are open for in-person instruction as much as possible for the start of the 2021-22 school year."
Meanwhile, health and education authorities are keeping a close watch on the delta variant, which is significantly more transmissible than the original Covid-19 strain and is the dominant strain in many states, including California. So far, research is scant on how, or if, the delta variant affects children, or how it could impact the reopening of schools.
"It's fair to say there is some anxiety about it, but so far it's not affecting planning for the return to in-person school," Zazueta said.