Former Cal rowers Sydney Payne and Rosemary Popa each won a gold medal during the first week of the Tokyo Olympics. They were but two of nearly 100 athletes with East Bay ties scheduled to compete.
Payne was a member of the Canadian women's eight that claimed the gold medal on July 29. The Canadian team finished the race in five minutes, 59.13 seconds, beating out New Zealand, which finished in 6:00.04. China finished third in 6:01.21.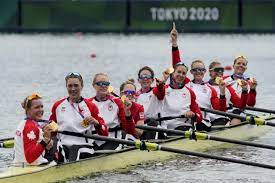 Popa was a member of Australia's women's coxless four, which just edged the Netherlands in the final on July 27. Australia finished in 6:15.37 to the Netherlands's 6:15.71. Ireland was third in 6:20.46.
Cal's powerhouse program had 15 rowers representing eight countries in the Olympics. Jack Cleary helped Australia claim a bronze medal in men's quadruple sculls on July 27. The Netherlands took gold in 5:32.03, followed by Great Britain (5:33.75) and Australia (5:33.97). Joachim Sutton, representing Denmark, won a bronze in men's coxless pairs on July 28. Demark finished in 6:19.88 behind Croatia (6:15.29) and Romania (6:16.58).
Kara Kohler, a product of Clayton Valley High School in addition to Cal, finished third in the B final of women's single sculls on July 29.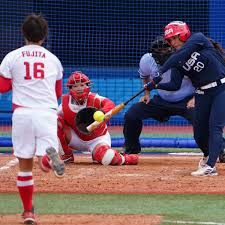 Valerie Arioto of Foothill High School helped the United States softball team to a silver medal. The Americans fell to host Japan 2-0 in the final on July 27.
Ryan Murphy, another Cal product, took a silver medal in the men's 200-meter backstroke on July 29. Murphy finished in 1:54.15, behind the Russian Olympic Committee's Evgeny Rylov, who finished in an Olympic record 1:53.27. Murphy then made waves complaining about doping at the Olympics. Russian athletes are competing for the Russian Olympic Committee because Russia was banned for state-sponsored performance-enhancing drug use at prior Olympics. The ban is symbolic as hundreds of Russian athletes are still at the Olympics.
"It is a huge mental drain on me to go throughout the year that I'm swimming in a race that's probably not clean," Murphy told reporters in Tokyo.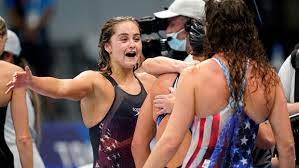 Cal also picked up a couple of medals in women's swimming. Katie McLaughlin was a member of the U.S. 4X200 meter freestyle relay team that finished second on July 28. China won the event in a world record 7:40.33, with the U.S. next in 7:40.73. Abbey Weitzeil helped the U.S. to a bronze medal in the 4×100 freestyle relay. The Americans finished in 3:32.81, behind Australia (a world record 3:29.69) and Canada (3:32.78). Weitzeil advanced out of the heats of the 50 freestyle and will compete later on July 30.