One million Alameda County residents — two-thirds of the county population — are fully vaccinated from COVID-19, public health officials said Friday.
Of the residents 12 years old and older, 70.7 percent are fully vaccinated and about 83 percent have had at least one dose.
"It's been a long 7-month journey to get to this remarkable milestone in one of the largest and most diverse counties in the State," said Colleen Chawla, director of the Alameda County Health Care Services Agency.
But Chawla said, "We have more work to do to get to immunity from this devastating disease and we are moving deeper into our communities to engage our residents."
Vaccination rates vary across communities in the county and public health officials are increasing their efforts to address the disparities.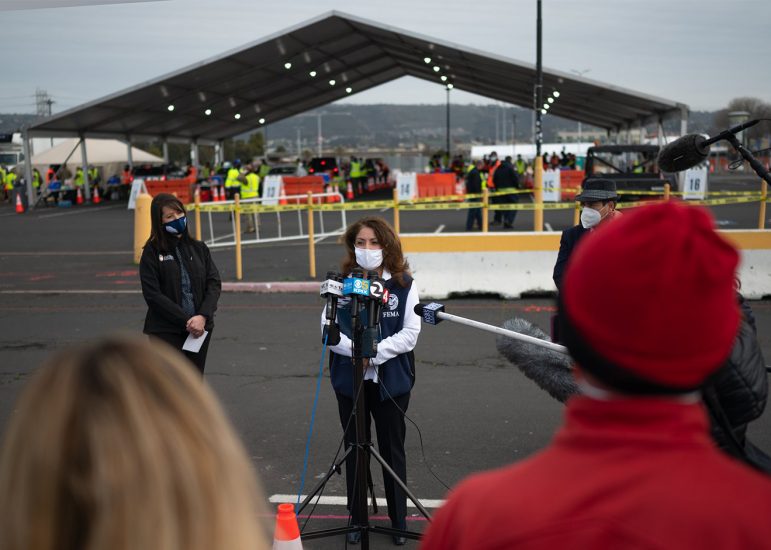 The county has seen an increase in cases in communities where the rates of vaccination are the lowest, according to public health officials. Some of those communities are the ones hit hardest by the coronavirus.
Public health officials said a few generally mild cases of the disease have been reported among vaccinated people recently while most recent cases are among unvaccinated people.
COVID-19 can still cause severe illness, hospitalization, and death for unvaccinated people, including young adults and youth.
The COVID-19 vaccine is the best protection against severe illness, public health officials said, and the Direct Outreach to Our Residents program is reaching out to people who have yet to get the vaccine.
"Our efforts continue and are expanding with the Direct Outreach to Our Residents (DOOR) program providing relationship-centered conversations between residents," said Dr. George Ayala, Alameda County's Health Care Services Agency's public health deputy director.
"The DOOR program is a collaboration across the Public Health Department and neighborhood-based community organizations," he said.
Ayala said, "Most DOOR workers live in the priority census tracts with lower vaccination rates, and are uniquely positioned to lead hyper-local, door-to-door outreach involving neighbor-to-neighbor conversations.
"Our goal is to ensure that unvaccinated residents living in communities that are hardest hit by the pandemic are equipped with information about vaccines, nearby vaccination opportunities, and on-the-spot assistance with registration," he said.
People 12 and older can receive the Pfizer vaccine while the Johnson and Johnson and Moderna vaccines are approved for people 18 and older. Doses are free and no one will ask for the immigration status or insurance information of a person seeking to get vaccinated.
Vaccinations will be available Saturday at the Oakland Zoo at 9777 Golf Links Road in Oakland from 9 a.m. to 2:30 p.m. Vaccinations are available at other locations in Alameda County Tuesday through Friday of next week.
Information about getting vaccinated in Alameda County can be found HERE: https://covid-19.acgov.org/vaccines.