Family: Alan, Allison, Nico, and Sophia Hampton
Pet: Chloe
Age: 2 years
Breed: Mini golden doodle
Adoption Story: Nico had been asking about getting a dog for some time, but the idea of being two working adults with a puppy and two small children was a little bit daunting. Nico's birthday was coming up and he was asking for a dog again, so out of uncommitted curiosity, Alan began to investigate the possibilities online. He found a listing for a litter of puppies that was the product of two neighbors' mini doodles. Allison called and was told that there was one puppy left, so Alan and Nico drove up that night to Sacramento to look into it. Unsurprisingly, they did not return empty handed. Alan spent the first night sleeping next to Chloe on the floor to make her feel more comfortable. She is such a sweet dog and we have never regretted the decision!
Likes: Chloe finds chasing squirrels and running around in the grass very exhilarating, and she loves to snuggle with her humans.
Dislikes: Chloe doesn't like it when new masked men come to the front door, and she gets nervous around larger dogs that she doesn't know. She also doesn't like being left behind at home.
Interesting Facts: We have wondered whether Chloe has much golden retriever in her because she looks very much like a poodle, but when you look closely you can see straight red hairs growing between her curly white hairs.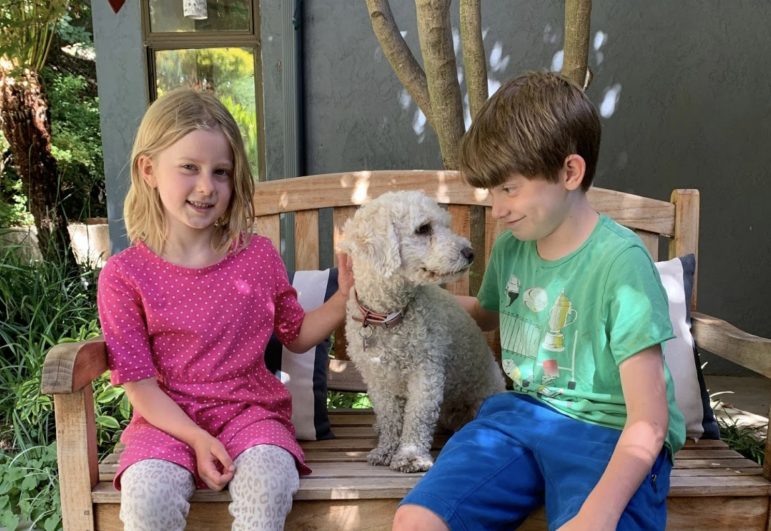 Anything else? We can't imagine our family without Chloe— she is the best!