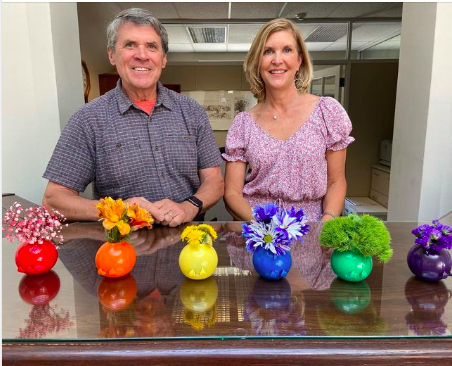 Keep an eye out around town this weekend for Pride Month-themed floral pop-ups courtesy of the Piedmont Beautification Foundation, Public Works, and PHS sophomore Eve Tellegen, who came up with the idea for her Girl Scout Silver Award project that she started on in June 2020.
"The idea of the award is to find a root problem in your community and work towards a solution," Tellegen said in an email. "When I was trying to think of ideas, I noticed all the city decorations for Pride Month in places like San Francisco, Emeryville, Alameda and Berkeley. I haven't noticed Piedmont doing as much as some other surrounding cities and I thought it would be nice to see if the city could implement some additional decorations during Pride Month," she said.
"I had the opportunity to speak at the city council meeting about my project and my hope that the city could implement decorations in future years. Shortly after, Gayle Lambert and the Piedmont Beautification Foundation reached out to me with an idea for flash floral arrangements. I had sent my proposal to them before, and they were very supportive. The city was also very supportive with this plan. I am so grateful for the Piedmont Beautification Foundation and everyone who helped put the flower caper together," she said.
According to the Piedmont Beautification Foundation, you can view the arrangements at these spots around town this weekend:
Rec Center (Eve Tellegen, family and friends)
Inside City Hall (Pam McBain and Patty Dunlap)
Exedra Plaza (Pam McBain and Patty Dunlap)
Bear Park (Jamie Totsubo and Patty Siskind)
Dracena Park (Gayle Lambert, Lili Bassett, Molly Ashford, and others )
Highland Ave in front of the Community Hall parking area (Gayle Lambert, Lili Bassett, Molly Ashford, and others)
The flowers will be on display until Tuesday.