Piedmont Police Department Officer Jason Germano pulled a driver out of a burning car late on the night of June 15. The man initially refused to exit his vehicle despite flames both in the engine area and underneath.

"I opened up the door said, 'You have to come out,'" Officer Germano said. "I noticed that he was disoriented. I grabbed his left arm and pulled on him. He resisted a little bit."
Eventually, Officer Germano reached into the vehicle and was able to pull the driver out by his neck and then drag him away from the flames to safety. A dog was also in the vehicle and was let out by Oakland officers.
The vehicle was on Estates Drive and Park Boulevard near the border between Piedmont and Oakland. Officer Germano was working his normal night shift and heard on the scanner that Oakland officers had a vehicle on fire and needed someone to come with a fire extinguisher. Officer Germano cleared it with his watch commander and came upon the scene around 11:20 p.m.
Officer Germano grabbed his fire extinguisher and began spraying the front of the car.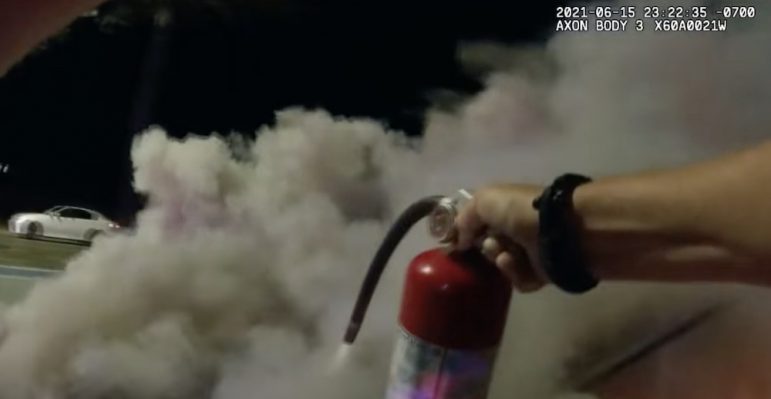 "I only slowed it," he said.
Realizing he wasn't going to put the fire out, Officer Germano then proceeded to pull the driver out.
It's not clear what led to the vehicle catching fire. Oakland police found it facing the wrong way on Park, near some yellow safety poles along the roadside. The Oakland Police Department said an investigation into the apparent crash is ongoing.
"The driver was transported to a local hospital for medical treatment," OPD said in a statement. "The quick actions of all the officers saved the life of the driver and the dog."
OPD had no information on the driver's condition and whether he is still hospitalized.
Watch the dramatic scene unfold as covered by KTVU news below.