People in the East Bay for whom an 18-inch New York-style thin crust pizza is a meal's perfect centerpiece will have another reason to rejoice when Pizzeria Violetta opens its doors on Piedmont Avenue. The new slice shop is located at the corner of Piedmont and Pleasant Valley Avenues and enters the marketplace courtesy of owners Jonathan and Sarah Ruppert. The pizzeria's name honors Violet, the couple's 18-month-old daughter.
In a phone interview June 16, Jonathan Ruppert projects an opening date no later than the weekend of June 26-27. Operating out of the same location that was since 2013 Colin Etezadi's Slicer Pizzeria,…
…Ruppert brings fresh insights, a locally sourced menu, sustainable business practices and materials, and experience gained from his 30-years working in cafés, large hotel restaurants and inevitably, eating pizza.
Asked to recall signature pizza moments in his past, Ruppert says, "That's a great question. Personally, when I was able to throw dough in the air and create something, I was happy. Consuming pizza, I recall going to Straw Hat Pizza, a California chain that started in San Leandro, and celebrating birthday parties, soccer game championships and other childhood gatherings. I have the smell of pepperoni ingrained in me."
Ethically and locally sourced ingredients
Pizzeria Violetta locally sources its organic ingredients—from California wheat milled flour to Bianco DiNapoli tomatoes, Rumiano Family Organic cheeses, Zoe's Meats and Mary's Organic Chickens and produce from a number of Northern California farms and food vendors. The menu includes sandwiches, salads and baked goods in addition to pizzas such as the Hot Italian (a meat combo), Farmer's Market (featuring fresh fruits and vegetables), and The Sweet Little Pig (with brown sugar candied bacon, pepperoni and basil).
Eclectic mix of wine and beer
A wine and beer list offers an eclectic mix of primarily Rhone varietals including imported wines from France, Spain, Italy. "A significant amount of the wine and beer list will be Bay Area or from nearby in California and will stretch across what I call a 100-mile list," says Ruppert. "Everything will come from within 100 miles of the store. Wine from vintners who are people of color that fits into the price point will definitely be on the list."
Ruppert and his wife met in wine country and for now, will continue to live in Napa. "Sarah is a surgical nurse," he explains. "She's very specialized as a first assistant to surgeons and needs to be within 30 minutes of Queen of the Valley Medical Center, the hospital where she works." Her full-time day job doesn't mean she's not highly involved in the pizzeria. "Like she always says when asked if she's in the business, she says she plays a key role as a consumer. She gets to help with quality control so yeah, we eat a lot of pizza together," he says.
Togetherness — and transparency
Togetherness is fundamental to enjoying pizza, Ruppert emphasizes. In addition to the charm of his family memories, he holds a firm belief that concepts revolving around effective teamwork are essential components of any business. "As far as food service, I'd add to important things like local sourcing, flexibility in the menu model, and the use of sustainable materials, paying attention to the people who work with you. The people are most important because they're making the products or producing the dishes on the menu and engaging with guests who come in the door. Especially in the fast casual environment, sourcing, flexibility, sustainable practices and employee management are all about engaging with the community. For us, we want to partner with people who share our values."
Ruppert says Pizzeria Violetta is working to eliminate the use of any plastic materials and is committed to using only eco-friendly, 100 percent plant-based cleaning supplies. Compostable packaging will be used for all takeout orders. With six employees hired in a mix of part- and full-time positions at starting wages between $15-18 plus shared tips, advancement opportunities include a to-be-filled manager position and cashiers already lined up for training to become cooks.
As for what he has learned during three decades in the food service industry, Ruppert says customers want to know what they're getting, be treated fairly and given honest information. "They want things to meet their expectations, whether it's the timing or hot food served hot or the price value. Respect is a good term, because this all shrinks down to being considered." In the kitchen, he is known for saying a good attitude is as contagious as a poor one. "Because that's true, I tell everyone to do everything to improve the day of the person working next to you. The team has to have the tools they need so they can have that attitude and carry that same warm and welcoming feel to the customers."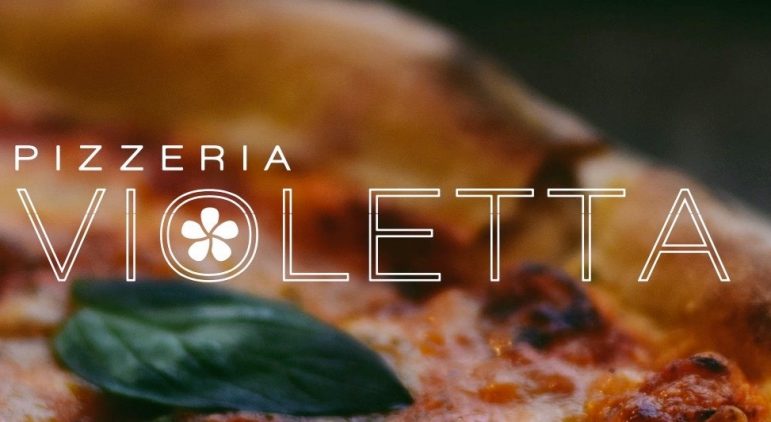 Photos from https://www.pizzeria-violetta.com/