Professional basketball and soccer may be coming to East Oakland and college basketball is already on its way, city and civic leaders said at a news conference Friday afternoon.
The news conference at noon at Everett & Jones BBQ in Oakland involved city and county elected leaders as well as the African American Sports Entertainment Group, which announced Friday it is working to bring a Women's National Basketball Association team to the Oakland Arena.
Also announced was an effort to bring professional soccer to the Oakland Coliseum and Oakland's Lincoln University will be playing basketball games at the Arena. Lincoln University basketball, coached by Oakland's own and former NBA pro Gary Payton, is working toward holding its first games in October.
"We got next," was the theme Friday afternoon, a reference to Oakland as the next WNBA franchise location, echoed by city and civic leaders alike.
"We are absolutely ecstatic to be here," said Ray Bobbitt of the AASEG, who emceed Friday's announcement. "This is something special."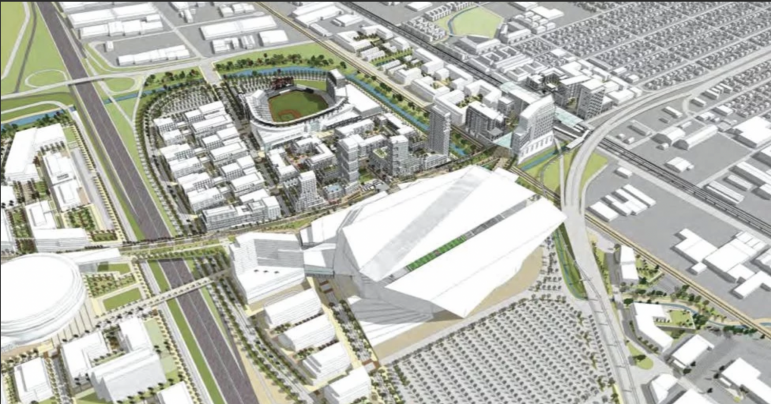 Bobbitt's goals include activating East Oakland with sports and a wide variety of economic development that will bring jobs to East Oakland residents.
"There's cranes all over Oakland, but very few in East Oakland," he said.
Bobbitt's goals have the support of about 30 community organizations including 20 in Deep East Oakland.
The Oakland-Alameda County Coliseum Authority has the power to lease the Oakland Arena to the WNBA for games. The authority's commissioners met Friday morning and decided to vote on that at their July 16 meeting.
Alameda County Supervisor Nate Miley, who chairs the authority, said of the possible WNBA franchise, "I don't see a downside to this."
Bobbitt and his team need to know whether they can lease the Oakland Arena before going back to the WNBA for a franchise. He said WNBA games could begin in 2023.
Oakland's Vice Mayor Rebecca Kaplan was even more optimistic. She hopes games can begin next year.
Few details on professional soccer were given other than to announce efforts are underway. Oakland City Councilmember Noel Gallo is working on that effort. Soccer at the Oakland Coliseum could start right away, Bobbitt said.
Lincoln University, a 101-year-old college in Oakland, is officially a tenant at the Oakland Arena. A basketball team has already started training and the university is looking at two dates in October for games.
It will be the first year for sports at Lincoln University. Athletic director Desmond Gumbs said during the first year Lincoln University teams can play Division I, II or III teams before the school chooses a conference.
University officials want to have 600 student-athletes by the fall. More than 450 have already applied, so Gumbs said they are well on their way to reaching the 600-student goal.
Bobbitt said, "We are all tired of being sick and tired" of the way things are in East Oakland. Leaders cited the incessant dumping on city streets as one example of the problems in East Oakland.
Many East Oakland residents are also upset that the Oakland A's want to leave the Oakland Coliseum for possibly a site at the Port of Oakland or elsewhere such as Las Vegas. Major League Baseball has said the Oakland Coliseum is unfit for baseball.
Gallo also said Oakland will again have a National Football League team. All Oakland must do is apply for one of 10 openings in the league, he said. Bobbitt thinks a new NFL team could play in Oakland four years from now.