On Wednesday night, the PUSD Board of Education unanimously approved a plan for a one-time grant of approximately $1.5 million to address student learning loss and social and emotional needs due to the pandemic. Some of the funds will be used to run a summer school program for K-5 students who need extra help in math and reading, while the rest of the money will be used to increase academic and social/emotional support for all students during the next school year. The district expects to tap existing PUSD teachers and paraeducators to fill roles, but will hire new staff if necessary, said district administrators.
In March, the state legislature approved and the governor signed AB 86 to encourage and support schools to reopen and to plan for expanded learning opportunities for the rest of this school year and the next. The "Expanded Learning Opportunity Grant", or ELO, comes with some caveats: Districts are required to approve plans by June 1, 10 percent of the funds must be spent on paraeducators, and the grant money must be spent by August 2022.
Parents, teachers, classified staff, high school students, and administrators developed the plan at LCAP meetings on March 30, April 27, and May 25. The grant was discussed in negotiations with teachers on May 18, and stakeholders gave input at the Budget Advisory Committee meeting on May 20, according to background materials shared with the board.
The funds will be spent as follows: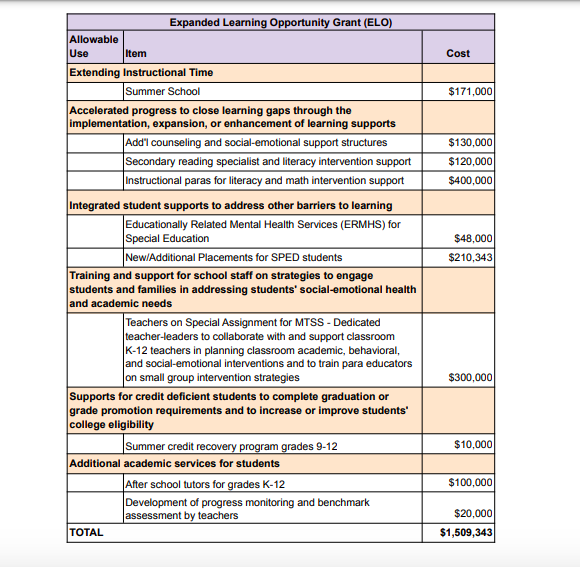 Students in grades K-5 who have been identified as needing extra help in reading and math specifically will qualify for summer school. Staffing is set and retiring Havens teacher and former assistant principal Ken Taylor will serve as the summer program principal, said Assistant Superintendent Cheryl Wozniak. Superintendent Randy Booker emphasized that the summer program is different from enrichment programs typically offered via Piedmont Rec.
Offering the same kind of summer program for middle schoolers isn't possible, said Wozniak, because it became clear that many PMS students will not be available for the full four weeks of the program and teacher fatigue was also a factor in attracting summer staff.
PHS Principal Adam Littlefield called in with a plea to hire MTSS (multi-tiered systems of support) teachers on special assignment and train paraeducators. "We have something called the the 'C- list'," he said. "As of last week, it's really alarming: fifty pages with three to six students per page. Ongoing communications from parents about social-emotional health are heartbreaking. If we don't proactively address this, the results will be devastating."
"There is also a record number of Ds and Fs" at the middle school level," said Trustee Hilary Cooper and PMS liaison. "This is still a crisis."