A social/emotional screener designed to help PUSD identify students who might be struggling with mental health issues found that while most students appeared to be coping relatively well over the last several months, approximately 20-25 percent of students in 5th, 8th, and 12th grades in particular showed signs of elevated risk. School site administrators told the board they are using the data to connect with students and their families and implement interventions as necessary.
The results were shared at the April 28 school board meeting by Assistant Superintendent Cheryl Wozniak and school principals. The screener was administered to students in grades 3-12 in March. Elementary students filled it out during class time, middle school students took it in PE classes over two weeks, and high school students took it during Monday English or social studies classes.
The BASC-3 BESS is a behavioral and emotional screening system that asks students to respond to a series of questions about their well-being. Student responses were scored on three levels: "Green: Normal," "Yellow: Elevated," and "Red: Extremely Elevated." It measures:
Internalizing risk: social stress, anxiety, depression, feelings of inadequacy
Self-regulation: hyperactivity, attention problems associated with ADHD
Personal adjustment: relationships with parents, peers, feelings of self-esteem
PUSD tried a different screener in the fall, but chose not to use it again because it was not user-friendly, said Wozniak. The BESS can be administered online and results received immediately. "It's a touchpoint in time to let us know how our students are doing," Wozniak said. PUSD said 1,895 students participated.
"We're looking at each index to understand the needs of our students," said Wozniak, who emphasized that even students in the "normal" range could show signs of stress in reaction to certain questions.
Wozniak also said that the true number of students who fell into the red zone was likely higher than 5 percent. Students who did not take the screener were known to PUSD as experiencing elevated risk. Piedmont Middle School Principal Ryan Fletcher said that PMS was aware of and tracking approximately 16 students at PMS who fell into this category.
"This is the first time we have student-driven information around social/emotional learning," said Havens Elementary School Principal Anne Dolid. She said typically it's teachers and parents who initiate concern.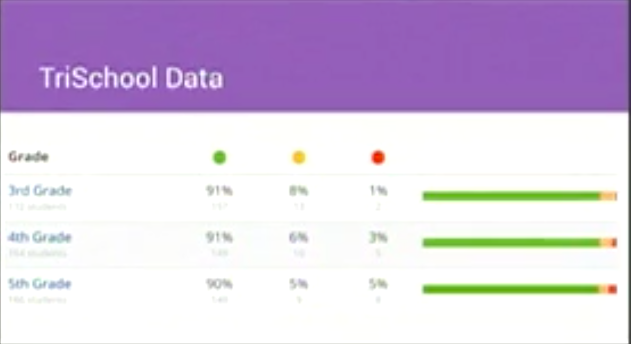 There were few red flags among younger elementary students, but as students got older and developed more self-awareness that changed. Dolid told the board that the screener will be a useful tool, especially when administered over time, for watching trends with individual students. She said school counselors and psychologists collaborate to review the data.
At the middle school level, 8th graders appeared to have higher levels of social/emotional stress than any other grade. Fletcher said that counselors have been able to use the results to reach out to individual families — for those that fall into the "elevated" category that means an email to student and family, and more interventions if "extremely elevated."
Fletcher noted that some students who popped up on the fall screener did not appear again — interventions such as Safe School Ambassadors, friendship groups, referrals to the Wellness Center, and peer coaching appeared to have helped, he said. "We've been looking at how to create better connections." Fletcher said. New students did pop up on their radar this time around, he told the board.
Fletcher also told the board that counselors have learned through their conversations with families that a record number of families are getting help outside of the school. "We know we have this need," he said, and the screener data is helping him reconsider bell schedules for the fall; i.e., adding advisory periods and how best to use that time. "We want to look at schools that have exemplary programs — see what works and bring [that here]," he said.
"We've landed on a good instrument and I'm looking forward to having year after year data," Millennium High School Principal Shannon Fierro said, speaking on behalf of MHS and Piedmont High School Principal Adam Littlefield. She said the data has helped them reach students who were hard to reach during distance learning. Interventions include referrals to the Wellness Center and the creation of a student support team.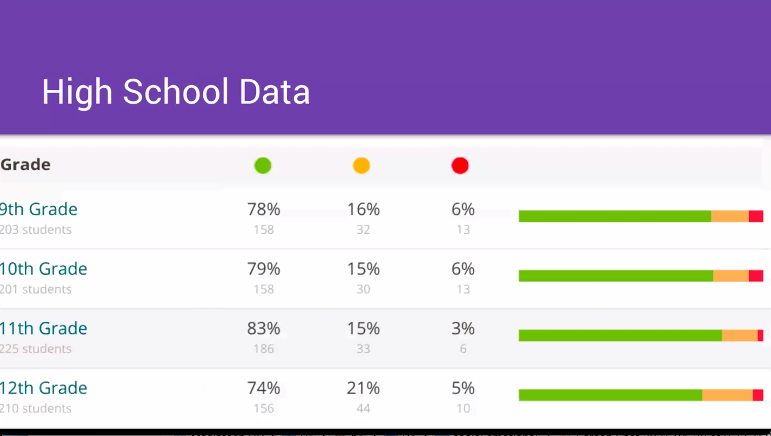 Fierro noted that "students in their culminating years might be feeling an extra level of 'missing out' this year," a trend visible in the results for 5th, 8th, and 12th grades.
Wozniak said the administrative team will consider how often to implement the screeners going forward. A TK-2nd grade assessment that uses teacher and parent observations is under consideration.