The musical MAMMA MIA (rated PG-13) will be presented in the amphitheater on the PUSD high school campus May 21-23. Direction and choreography is by PHS Dance and Musical Theater teacher Amy Moorhead, with vocal direction by Jon Gallo, and new PHS vocal music teacher Jorell Chavez. The 22-member cast has been rehearsing 100% virtually since the beginning of October. In-person rehearsals just recently began in preparation for live, outdoor performances.
The production features students from Piedmont High School and Millennium High School: Ellie Andersen, Aaron Belikoff, Lucca Carr-Veramo, Nellie Daniels, Sophia Ethington, Cole Garcia, Alex Guevara, Shari Lynn Halden, Maya Hollingsworth, Charlie Lucas, Scott McKenzie, Graham McWeeny, Molly McWeeny, Emma Moorhead, Payton Morell, Quincy Munyan, Corinn Richards, Zoe Saldanha, Katherine Stormer, Gabe Symkowick, Holden Temple, Aidan Weiss.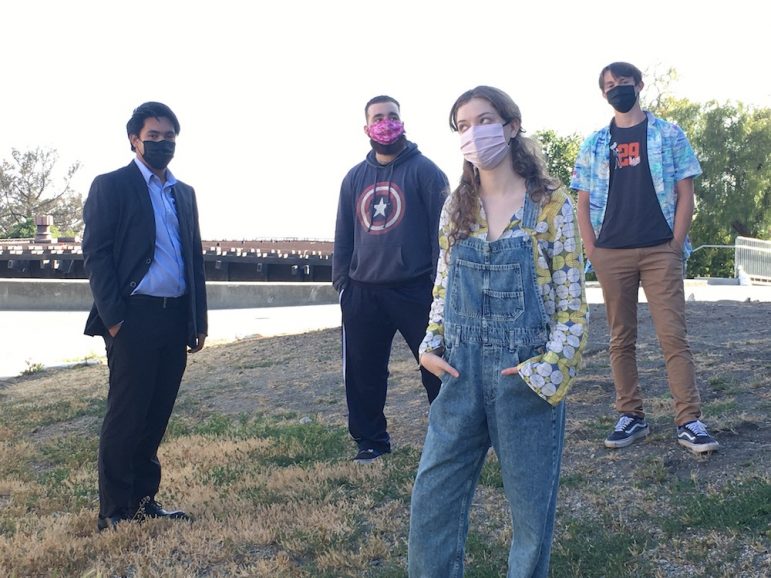 ABBA's hits tell the hilarious story of a young woman's search for her birth father. This sunny and funny tale unfolds on a Greek island paradise. On the eve of her wedding, a daughter's quest to discover the identity of her father brings three men from her mother's past back to the island they last visited 20 years ago. Music and lyrics by Benny Andersson and Bjorn Ulvaeus and some songs by Stig Anderson; book by Catherine Johnson.
WHEN
Friday, May 21 @ 6:00 pm
Saturday, May 22 @ 2:00 pm & 6:00 pm
Sunday, May 23 @ 6:00 pm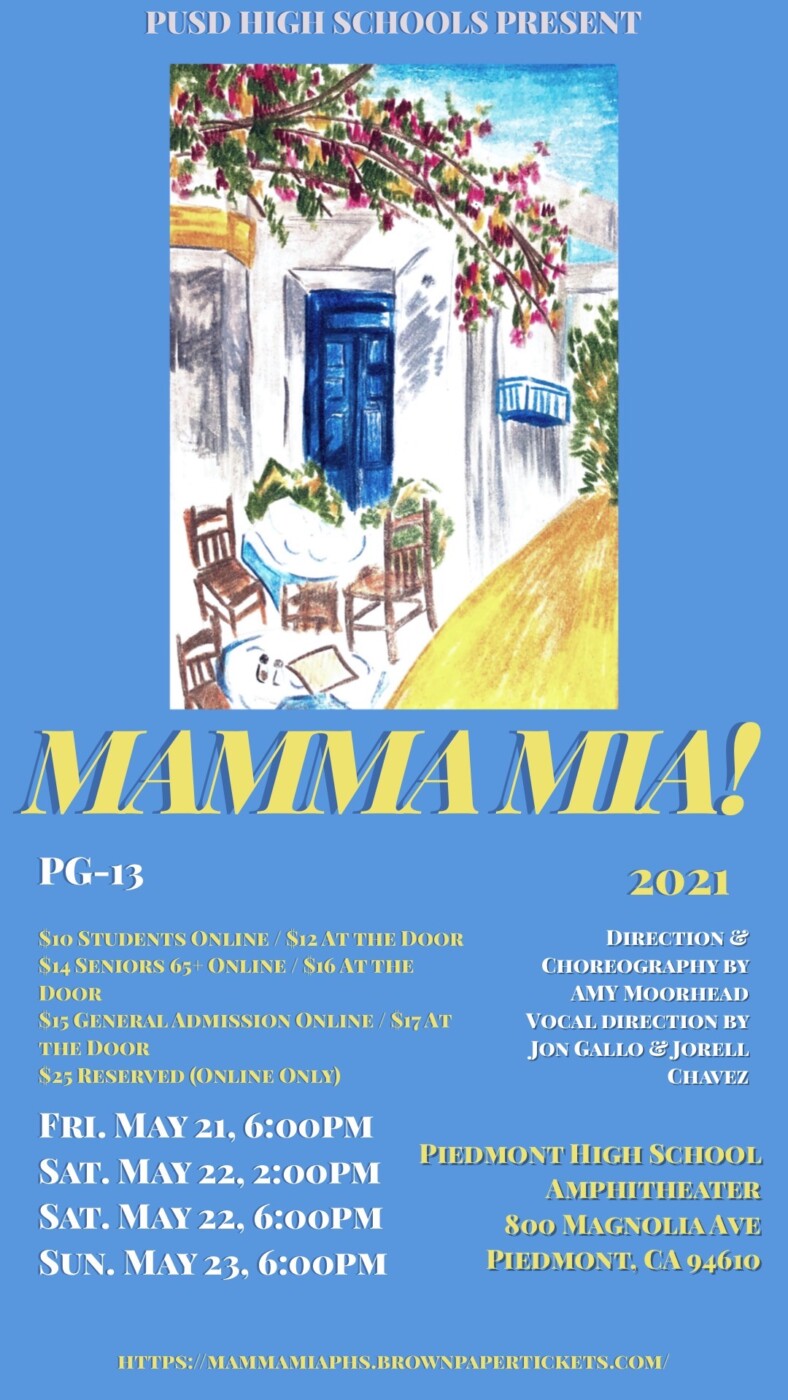 ---
WHERE
Piedmont High School Amphitheater
Audience members are required to wear masks and social distance. Audience members will likely be asked to complete a health screener before coming to campus. Those who purchase tickets will be contacted with details closer to show time.
Performances are OUTDOORS in a concrete amphitheater. Hats, sunglasses, and water bottles are recommended for all performances due to the afternoon sun, and the setting sun in the evening. Stadium cushions and blankets for seating comfort are allowed. Items NOT allowed: Chairs with legs (including beach chairs), sun umbrellas, or anything that will block the view of the performance for the audience members behind you, food, ice chests, picnic baskets.
Those who purchase RESERVED seats ($25/online only) can arrive at the amphitheater closer to show time and will have a reserved seat waiting for them.
Reserved tickets are the same price for all, including seniors and students.
Please allow time for will call check in, and health screening when you arrive.
There are four performances: Friday, May 21, 6:00pm, Saturday, May 22, 2:00pm and 6:00pm and Sunday, May 23, 6pm
Link for ticket purchase: https://mammamiaphs.brownpapertickets.com/
EVENT ORGANIZER:
Amy Moorhead, PHS Dance/Musical Theatre
Please email amoorhead@piedmont.k12.ca.us with questions.

---
Photos by Julie Reichle