Michael Frederick Cavenaugh peacefully passed away on May 1, 2021, at his home in Walnut Creek, Calif., with his family at his side. Up to his last days, he remained joyful and happy, always with his sense of humor that those who knew him fondly remember. He is survived by his loving wife of over 56 years, Frances Rebecca (Glass) Cavenaugh; his daughter, Lisa; his son, Dan; his daughter-in-law, Jennifer (Smith); and grandchildren Jackson, Salem and Shelby. Michael was preceded in death by his brothers, Alan and Harry Cavenaugh. The family will have a private service for Michael in June at Mountain View Cemetery in Oakland, Calif. In lieu of flowers, the family requests donations to Hospice East Bay (hospiceeastbay.org).
Mike was born in Yonkers, N.Y., on Nov. 17, 1932, to Harry Taylor Cavenaugh and Ruth (Andrews) Cavenaugh. His mother performed on Broadway before passing away at the age of 39 from pneumonia in 1941. After his mother's passing, Mike was sent to boarding school as his father, an engineer, struggled with the loss of his wife. Mike inherited her gift of music, as he was an avid organ player and could play any song simply by ear. Years later, every day after work, Mike would sit at his organ and play. He found joy in the music that warmed the house every evening.
After high school, he joined the Air Force and was honorably discharged a year later after earning acceptance to West Point. He graduated from West Point in 1956 as the fourth generation of the Cavenaugh family to do so. During his six years in the military, he was an expert marksman and served as a general's aide while stationed in Panama, South America and Korea. He also served in the Old Guard in Washington, D.C., and had the distinct privilege of leading the Inaugural Parade for John F. Kennedy. His time at West Point shaped his life, built on hard work, honesty and integrity. He was known by all as a true gentleman, kind to strangers, gentle, warm and always with a great sense of humor that he seemed to enjoy as much as anyone.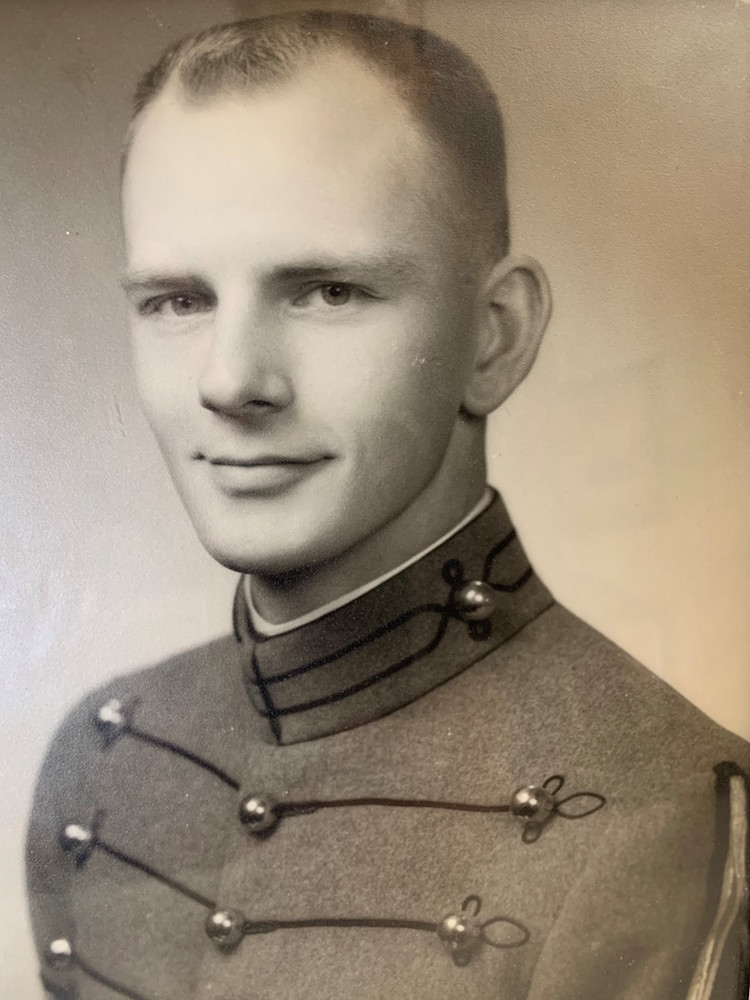 He left the army in August 1962, as he longed for a more traditional family life, something that he had not had since he was 9 years old. He started this journey by joining Merrill Lynch in 1962 in Baltimore, Md., as a financial advisor. In September, he answered the ad for a rental apartment, then occupied by Frances Rebecca Glass from North Wilkesboro, NC. There he met a charming Southern red head full of energy and donning a big smile. She was making plans to move to New York when Michael visited the apartment in downtown Baltimore. The two of them talked for three hours that day. Afterward, Fran called her friend and said she had met the man she was going to marry, despite not even knowing his name. He clearly felt the connection and knocked on her door a week later. Having fallen in love at first sight, Fran decided not to move to New York. Two years later, they were married on Sept. 5, 1964.
While at Merrill Lynch, Mike rode the ups and downs of the stock market for 35 years before he retired in 1997 in Baltimore. In keeping with his work ethic, he missed only one day of work due to illness in his entire career while faithfully working in the best interests of his clients. He worked with good friends Bob Sanford and Steve Griswold there, and almost daily would have lunch with them while playing pinball. Watching Mike play pinball was a spectacle in and of itself, as he energetically made it an aerobic exercise.
Mike was a loving husband and father. He and Fran (CEO of Cytodiagnostics, Inc.) lived most of their lives in Baltimore, ultimately settling on Northern Parkway in Roland Park, where their children, Lisa and Dan, attended Roland Park Country School and Gilman, respectively. He was an avid tennis player his whole life, a great dancer, an occasional artist (painting and stained glass), a lifelong genealogist, a restorer of antique cars and a regular handyman. Perhaps his greatest passion though was his family. It was rare to have a conversation with him where he was not fawning over the one and only love of his life, Fran. If you knew Mike at all, you knew how much he loved Fran. His lavish praise was also spent on his children, where he always saw the best in them.
To talk of his life and leave out his warm sense of humor would be the grandest of oversights. He was a lover of Peter Seller's movies and would often start laughing while telling jokes before others could even understand or appreciate the punchline. During his last moment of consciousness, he tried to tell a joke with a twinkle in his eye. He was always wanting to make people smile and laugh. He would often say, "I love my sense of humor." We all did.
Mike was also an incredibly patient man and full of great advice. He shouldered the role of the family patriarch in his 20s, providing both thoughtful counsel and financial support to his father and brothers. He did so with no expectation, but rather out of love and his belief that there was nothing more important than family.
His love of family expanded to embrace Fran's mother and father in North Carolina. During their trips to North Wilkesboro, he would spend his days working on the home of Mansfield Glass and Novel (Kemp) Glass on Armory Road. He could also be found at the local library investigating their family history, talking to cousins, aunts and uncles to soak up everything there was to know about his extended family.
With family always a priority, Mike and Fran daringly moved to California 2004 to be closer to their grandchildren, kids, and daughter-in-law. Mike helped his son fix up their new home in Piedmont, Calif. He loved his house projects, whether he was putting up crown molding or painting bold colors throughout their home. He was a true perfectionist. He liked to stay busy and remained his always active self while playing tennis five days a week until he was 84.
While his physical stature was remarkable for a man his age, advanced dementia impacted him materially during the last seven years of his life. Through this time, he remained joyful and happy, sensing and returning love to his family around him. Fran cared for him every step of the way, along with the help of his daughter, in their home in Rossmoor. The life of a caregiver is very hard, especially as memories fade of their shared experiences together. If you know a caregiver, give them a hug today.
Mike had a life of rich memories, as his favorite saying was "Life is a Collection of Memories." While this fact seemed sad as dementia robbed him of those memories, what we have all learned is that he meant that a measure of one's life is the memories made for others. By that measure alone, Michael Frederick Cavenaugh had a life better than he could have ever imagined as a young man…a family, a home, a love. Best of all, he knew it. His last words to Fran were "I'm happy."