Piedmont Unified School District superintendent Randall Booker said on May 25 that the Piedmont High athletic director position will return to full-time in the next school year.
That is a relief to PHS parents and coaches, who have expressed support for AD Bradley Smet. Smet has been working at 60% of full-time during 2020-21.
"We're really excited to have Bradley on board," Booker said. "He has been fantastic. I agree with all the sentiment that parents have been communicating. In conversation with the Board of Education and my (Chief Financial Officer), we are committed to raising the director of athletics to (full-time status) for next year."
Several parents had sent two letters to Booker and the School Board asking that Smet be moved to full-time status. The AD had been a full-time administrative position for a couple of years until the Covid-19 pandemic led to the district cutting it to 0.6 FTE (full-time equivalent), meaning it was only paid for the equivalent of 24 hours per week.
The cut of hours led former athletic director Alfonso Powell to leave for California High School in San Ramon. Once Smet was hired, parents were worried he could also leave if the position was not restored to full-time.
"We've got this person who has come in and just done a phenomenal job," parent Zoa Town said. She has two daughters currently playing in the volleyball program.
"All sports getting the green light at the same time with all kinds of controls and Covid-specific protocols? You can't expect him [Smet] to stick around if he's not guaranteed a full-time position in the fall."

Zoa Town, Piedmont parent
Added Kiel Murray, who also has a daughter playing volleyball, "We have one person getting paid 60% of his salary working 70 hours a week, opening up the gym, serving as trainer."
Smet is grateful for the support.
"I know parents have been sending out letters on my behalf, which I 100 percent appreciate," he said. "I never asked for anything like that."

Piedmont AD Bradley Smet
Smet was hired as athletic director at the school board's October 14, 2020 meeting. The 30-year old grew up in Southern California, played football and baseball at Atascadero High School, and earned a master's degree in coaching and administration from the University of Concordia in Irvine. Smet is the fourth athletic director at Piedmont High in the past six years.
When he was hired, sports were on a temporary hiatus in the Bay Area. At the time, plans were to start back up in January, but Covid-19 infections and deaths surged during the winter. Finally, sports re-started in March with a short "first" season for football, baseball, softball, tennis, girls lacrosse, and track/cross country. The rest of the sports began in April and are winding up in the next two weeks.
Smet had originally hoped to fill out the hours by teaching in the district, but as an administrator, that wasn't allowed.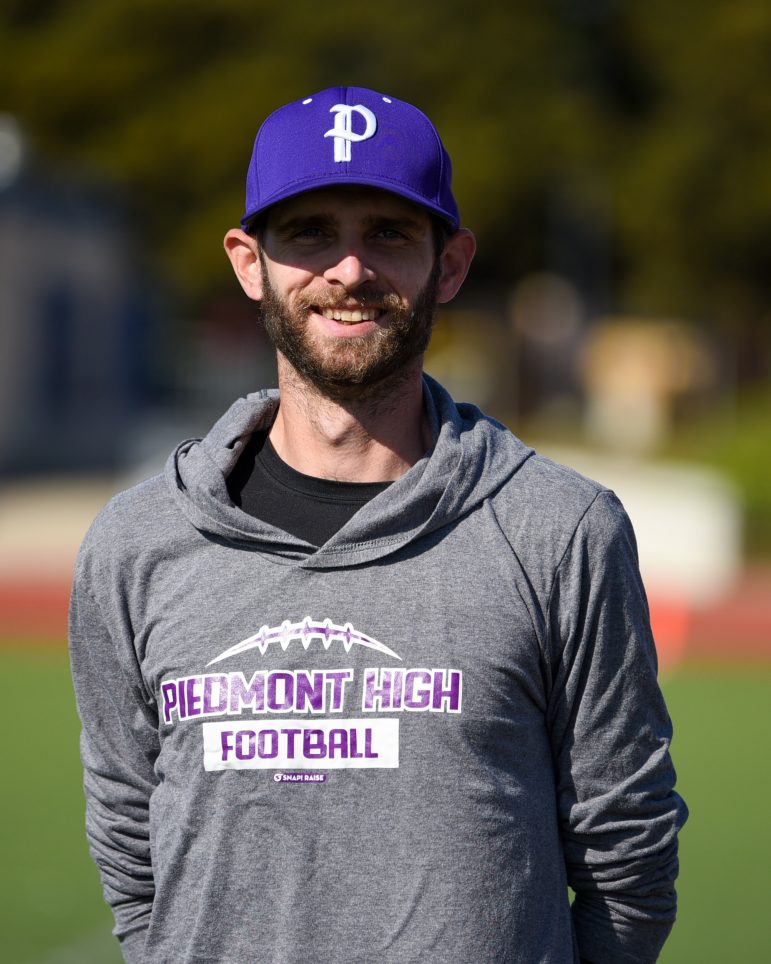 Parents have also asked the district to reimburse Smet's time for the current school year given the extra hours he has put in. Smet has also served as athletic trainer, since no one from Children's Hospital was secured for this school year. Several coaches at the school have also told the Exedra that Smet is doing a great job.
In any case, Smet is focused on the future. "I came in knowing it was a 0.6 FTE position with the understanding that at some point it would be reinstated to the 1.0 full time position," he said.