This piece is one in a series of occasional articles about how local residents kept busy and adapted to the "new normal" over the past pandemic year.
For Suzie Skugstad last year's pandemic and lockdown came on top of two more immediate crises. In February 2020 one of her closest friends lost a son to suicide. That was just the start to what would be a grinding year. Between consoling her friend and teaching after school art at Wildwood elementary, where Skugstad has worked for two decades, she was also caring for her own parents, both in hospice in Los Angeles, and also under lockdown. Although she spoke to her mother every day by phone, no visitors were allowed in: the risk of spreading Covid-19 was too high.
It was this avalanche of gloomy stuff that spurred Skugstad to use her days shut in at home to begin whipping up ideas to relieve the isolation and help get around the wall the pandemic had put up between her, her family, and her friends.
"I have a friend who has always been a guru of letter-writing," said Skugstad. "She never sends the same card twice. She makes an art form of it. So I wrote a letter to her mom. She wrote back. And then I began writing to my mom. Who doesn't like to receive a postcard?"
And an idea was born.
Skugstad's home art workshop, which occupies a growing corner of her dining room, soon filled up with new paints and stacks of blank postcards. She began painting unique cards that she named Cards for Kindness. When she put a few samples up on Instagram they took off. Orders came from friends, fellow teachers, even strangers — requesting painted images of the family dog, landscapes, pretty much anything anybody wanted. Customers would get a card, write on the back and mail it to their loved ones.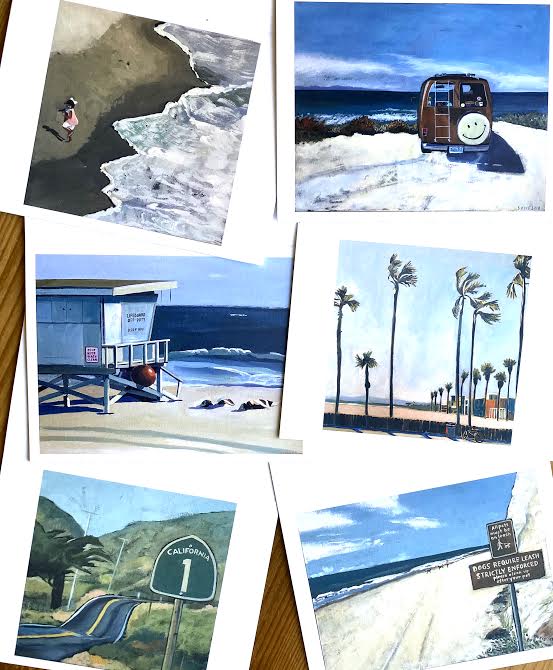 Each card took several hours to complete, but Skugstad says she enjoyed the release she got from focusing on something creative instead of fretting about the pandemic. "I was able to break out of any kind of rut I may have been in and it allowed me to re-evaluate. And then things started coming to me. Ideas started rolling in." The popularity of the first round of cards led to a spin-off line that Skugstad named Going Coastal, featuring favorite beach scenes. Skugstad gave the money to Meals on Wheels.
The release Skugstad got from her postcard projects also helped her cope when in September, just one week apart, both of her parents passed away. She and her four siblings were able to convince the hospice to allow them to be there with their parents at the end.
"My world got turned upside down with the death of a family friend and then my own parents dying," Skugstad remembered. "Covid disrupted everything. But I was on a journey anyway. It helped me tap into something new."
Looking back on the year, Skugstad has at least one important takeaway: "How many times do we think about people we love but don't acknowledge it? Put it in writing. You'll be glad you did."

Check out Suzie's art work on Instagram: @artbysuzieskugstad