Piedmont residents don't have to travel far to make a difference for the planet. The first steps can be done right at home and the next come when venturing outside, participants were told at an Earth Day update on the Piedmont's Climate Action Plan hosted by the city Thursday via Zoom. "Every time you turn on your stove, heat water, turn on your furnace you're using natural gas," which is one of the most potent and commonly used greenhouse gases, said Nate Redinbo, the Civicspark Fellow at the city's Planning and Building Department. Travel, in the form of driving and air travel, are also major contributors.
The community has made significant gains from the 2005 baseline of greenhouse gas emissions, reducing annual output from 50,000 tons of CO2 to 34,000 tons in 2018. That puts Piedmont in reach of its goal of 30,000 tons by 2030 under its Climate Action Plan, but there is a major caveat.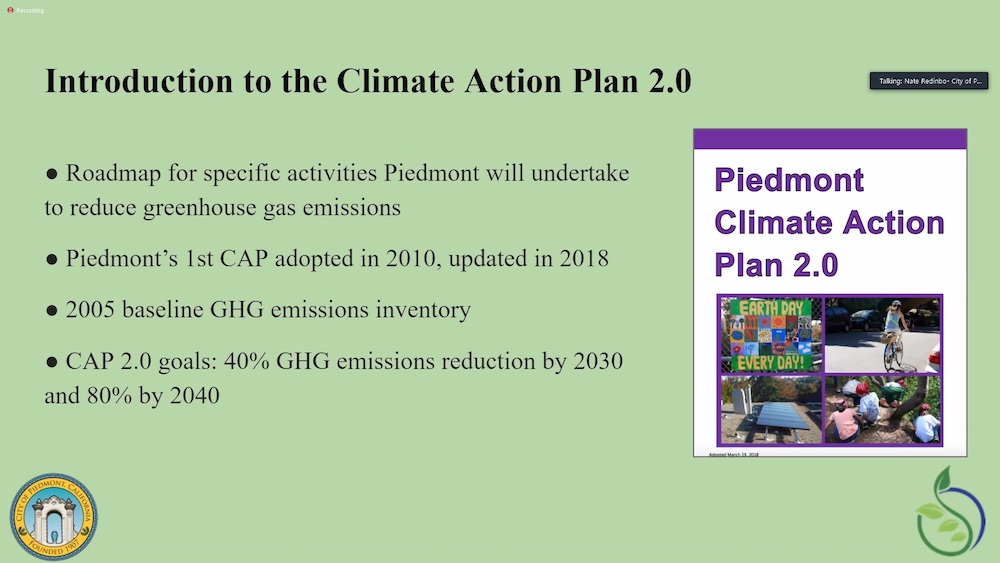 Consumption outside city boundaries does not count in the city's greenhouse gas inventory. If included, the figure would be about seven times higher and "Piedmont is already the highest per capita emitter in the Bay Area," Redinbo said.
"Piedmont is already the highest per capita emitter [of greenhouse gases] in the Bay Area."

Nate Redinbo, the Civicspark Fellow at the city's Planning and Building Department
Unlike other cities, 75 percent of emissions in Piedmont come from households, he said. The top three ways to reduce emissions in Piedmont, attendees were told, are limiting consumption of high emissions foods, goods, and services to sustainable levels; eliminating natural gas use in homes by switching to electric appliances, and supporting and purchasing electricity from 100 percent renewable resources; and driving a zero emissions vehicle, and walking, bicycling or taking public transportation when possible. (Air travel, which happens outside the city and is not calculated in the city's emission figures, is also a major contributor, with Piedmont having a much higher rate than other areas.) 
Other steps that can be taken include encouraging green business practices and sustainable economic development in the commercial sector, and enhancing drought resilience by reducing water use and employing graywater recovery, said Alyssa Dykman, the city's sustainability program manager.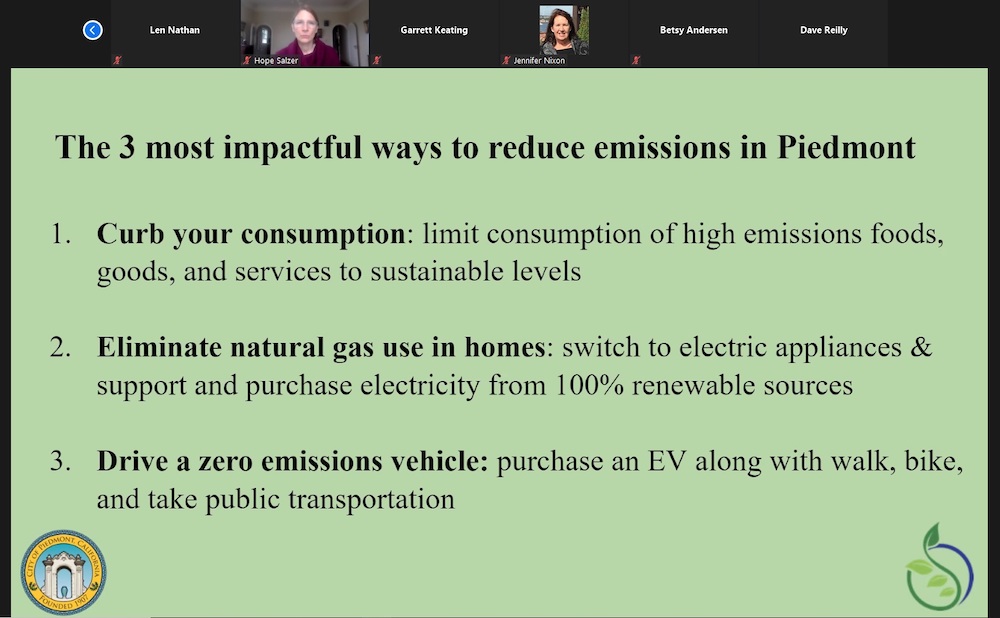 Limiting emissions from the consumption and disposal of goods is "one of the most important aspects of our carbon footprint," she said. More outreach and education are needed to promote electrification of buildings, adoption of electric vehicles and ebikes, use of alternate methods of transportation, and other green practices, Dykman said, adding, "We hope to engage with the community in-person again" once pandemic restrictions are lifted.
The city's new Reach Codes are another step in the transition to electrification of buildings and plans call for updating them in 2022. The city likewise needs to transition its facilities and vehicles as much as practical, the presenters said, noting a goal of a carbon-neutral aquatic center when its renovation is complete. 
The afternoon presentation concluded with an online appearance by Sophia Ware and Mara Lovric of Students for Solar, which has a goal of raising $400,000 toward installing solar panels on the STEAM building at Piedmont High School. Students for Solar is holding a virtual auction from June 3-12 and needs donations of auction items by May 29. For more details visit piedmontstudents4solar.org or email greenclub@gmail.com. 
View the Climate Action Plan slideshow HERE.