According to the most recent update from the Alameda County Office of Public Health on Apr. 6, total coronavirus cases in Piedmont as of today stood at 172, a slight uptick from the 168-169 numbers that have held steady through most of March and into the first week of April.
As of today, approximately 39% of Alameda County is at least partially vaccinated, according to the LA Times tracker. Almost 70% of Piedmonters over the age of 16 have received at least one dose, according to the county's database.
Californians ages 50 and older have been eligible for the COVID-19 vaccine since April 1; all people ages 16 and older will become eligible starting on April 15. Nationally, nearly a third of the U.S. population has received at least one shot of a Covid-19 vaccine, according to CDC data, with 18.8% of Americans fully vaccinated.
Despite progress rolling out vaccines, the CDC is tracking a fourth straight week of increasing COVID-19 cases in the country: "We know that these increases are due, in part, to more highly transmissible variants, which we are very closely monitoring," Dr. Rochelle Walensky, director of the U.S. Centers for Disease Control and Prevention said on Monday. She also said the agency is watching several outbreaks tied to youth sports and extracurricular activities — urging caution in resuming high risk activities too soon. "I understand that people are tired and that they are ready for this pandemic to be over, as am I," she said. "Please, continue to hang in there, and to continue to do things that we know prevent the spread of the virus."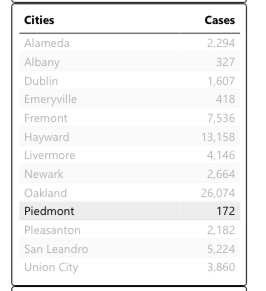 (Note: The county database is updated daily, but counts for a particular past date can change as records are adjusted, per a caveat on the county's data dashboard.)
The Alameda County dashboard now includes vaccine data. View the complete Alameda County Health dashboard HERE.