This quintessential spring stew from France, called navarin printanier, traditionally features lamb. Named for the French word for turnip, navet, the dish perfectly captures the transition from winter to spring with its mix of roots and shoots in a bright broth. My vegetable navarin takes its flavor cues from the tarragon plant that sprouts in my yard each spring, and layers in more anise flavor with fennel bulb, ground fennel, and pastis liquor. Eat the rainbow with this colorful, celebratory dish.
INGREDIENTS:
18 bite-sized red new potatoes, or 9 larger ones cut in half
12 bite-sized baby turnips, or 3 medium turnips cut into quarters
9 small carrots, cut in half lengthwise and crosswise
1 bunch thin asparagus spears (10-12 spears), tough bottom third removed
3 lbs English peas, shelled to yield about 2 cups
1 fennel bulb, trimmed of fronds, sliced lengthwise into 6 slices, roughly 1/4" thick. Clean and chop fronds for garnish.
4 tablespoons of olive oil, unsalted butter or a mix of the two
1/2 cup chopped shallot or red onion
1 bunch of green garlic or spring scallions (8-10 shoots), trimmed of root end, chopped crosswise, whites and greens separated
4 threads saffron (optional)
1 teaspoon of ground fennel (optional)
1 cup pastis liqueur (such as Pernod or Ricard), or dry white wine
4 cups vegetable stock
2 tablespoons each of fresh tarragon, chives, parsley, minced
Salt and pepper to taste
Store-bought or homemade aioli [LEARN MORE] (optional)
DIRECTIONS:
Set a steamer basket over a pot of water. Steam each type of vegetable—potatoes, turnips, carrots, asparagus, peas and fennel—separately until just crisp-tender, setting each aside in a single layer on a cutting board to cool. You can prep each vegetable while the prior one steams while staying close to the stove to check for doneness, which saves a lot of time.
Once the vegetables are steamed, melt the oil and/or butter together in a medium-sized dutch oven or soup pot over medium-low heat. Add the white part of the chopped green garlic/scallions and the shallot/onion. Cook for 5-7 minutes, stirring frequently, until the scallions and onion start to soften and sweeten. Add the green garlic/scallion greens, the saffron, and the ground fennel, if using. Sauté for another 2-3 minutes until greens soften and saffron threads melt.
Add the Pernod (which lends a sweeter, thicker texture and anise flavor to the broth) or wine, stirring for 2-3 minutes to lift up any browned bits from the bottom of the pan and to allow the alcohol to cook off. Add the vegetable broth and bring to a simmer.
Turn the heat to low. Gently stir in all the vegetables to coat with the broth and gently heat until just warmed through. Season to taste with salt and pepper.
Serve in shallow bowls, topped with the chives, tarragon, parsley and chopped fennel fronds, alongside the hearty bread of your choice to mop up the broth. This a full meal in a bowl – you'll want a spoon for the broth, and a knife and fork for the tender but firm vegetables.
You can also add richness to the soup with a spoonful of store-bought or homemade aioli, similar to the way the French enjoy another classic stew, bouillabaisse.
---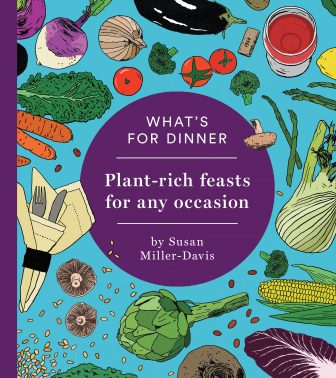 This recipe will appear in my forthcoming What's for Dinner: Plant-rich feasts for any occasion, available for pre-order now. The book is the first volume in an eco-cooking series, meeting the dinner challenge with a set of full-bodied, vegan and vegetarian entrées, plus plant-based starters, sides and desserts, meant to anchor celebratory meals.
Reprinted with permission from Stone Pier Press