A rash of over 20 car burglaries were reported in Piedmont on the night of April 23. Piedmont Police Department Captain Chris Monahan said it was an unprecedented number and that the department is bulking up staffing.
"We have additional overnight staff and are working some leads," Captain Monahan said.
Car break-ins have been a problem in the Bay Area for years but to have so many in a single night in a relatively small city like Piedmont is unusual. Piedmont Police posted on its Facebook page a "Core Four" flier with safety tips for reducing crime. They include not leaving valuables in your car and parking in a well-lit area if possible.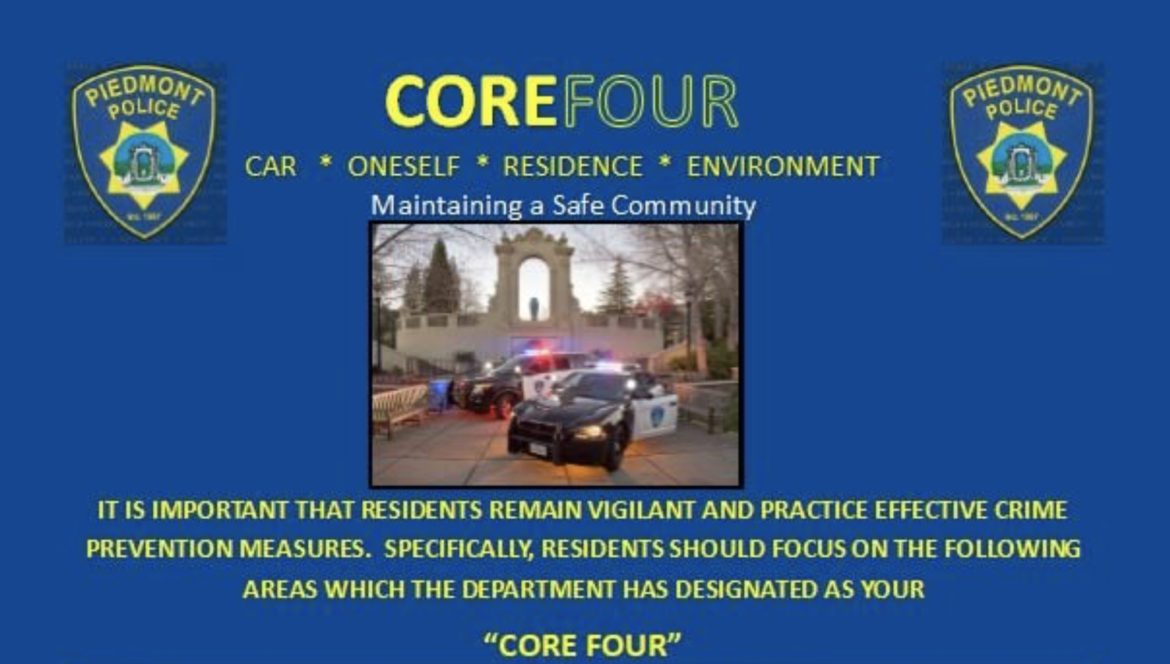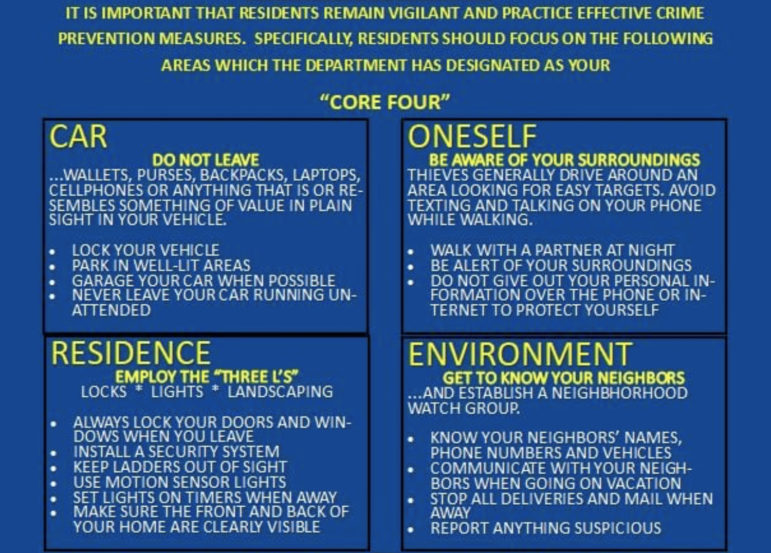 Daytime burglary
On the morning of Saturday, April 24, a burglary was reported at a house on Estates Drive. The residents weren't home as multiple thieves broke in a stole money, jewelry and electronics. Captain Monahan said that detectives are "actively following up on some leads."
The resident of the home reported on NextDoor that valuables and keepsakes were taken.
Stolen car leads to arrest … and later release
In other crime log news, on April 19, officers observed a white Chevrolet Malibu fail to stop at a stop sign at the intersection of Wildwood Avenue and Nova Drive. The car was pulled over and it was determined it had been stolen out of Hayward.
The driver refused to identify himself, but officers using CRIMS to do a background check identified him as Anthony White (born 1992), who was a suspect in the theft of the vehicle.
White was also on probation for domestic violence. He was arrested for possession of a stolen vehicle and probation violations.
White was refused at the Santa Rita Jail in Dublin due to a medical issue, according to Captain Monahan. He was transported to John George Hospital in San Leandro and was cited and released.