A survey of over 1,100 parents, teachers, and staff conducted in March found that trust and confidence in the school district has eroded this past year, a finding that came as no surprise to those in attendance at Wednesday night's Board of Education meeting. The "Piedmont Pandemic Response" survey was designed to take the temperature of the school community and to use the findings as a baseline to measure progress as PUSD works to improve its communications after a tumultuous year of school closures and distance learning due to the pandemic.
Naomi Hunter, a communications consultant hired by the board in January to assist the superintendent and to administer the survey, presented key data findings and an overview of the 2,700 open-ended comments the survey generated.
She told the board what struck her most about the results was not that the community was polarized into two distinct camps, but rather that the responses reflected a wide range of trust issues. She also said many respondents expressed a desire to heal and rebuild trust and she recommended steps the district could take to improve.
Her key findings were:
Communication needs to be better coordinated, more consolidated, and more concise.
The pandemic has taken a toll on trust in the district; many respondents expressed disappointment, anger, and frustration
Levels of trust are evenly distributed along a spectrum, rather than divided
Stakeholders trust the district to take care of other's interests more than their own
Parents and staff seek more opportunities for engagement, sharing their opinions and participating in decision making
Parents, teachers, and staff long to heal and rebuild trust; it is widely recognized that the pandemic took a severe toll on the culture of the district.
Parents represented the majority of respondents (972) followed by teachers (102), non-teaching staff (58), community members (20), and administrators (7). Results were anonymized but respondents were asked to identify their role in the community.
Broken trust
According to the survey results, more than half of respondents said their trust in PUSD had declined over the past year. "This is an important barometer," said Board President Cory Smegal. "Setting this as a baseline and recognizing where we stand. Strengthening our communications is key."
Hunter noted common themes that emerged after sifting through the comments. They were:
Disappointment in past decisions and how they were conveyed
Stakeholders trust the district to take care of other's interests more than their interests. This sentiment is most apparent in a graph that shows parents overwhelmingly believe PUSD puts the needs of teachers and staff above students: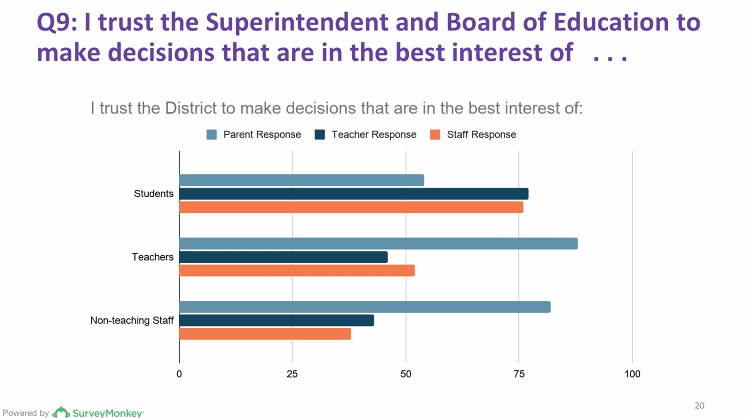 Lack of transparency around negotiations
A sense that the loudest voices prevail and get heard
Appreciation for the survey
"Too much and not enough."
The quantity of information from PUSD did not appear to be an issue, with most respondents (approximately 54%) saying they had enough, or were even overwhelmed by the amount. Hunter told the board that information overload was a common problem for all organizations. Thirty-three percent of respondents said they did not receive enough communication.
District messaging was taken to task for being contradictory, confusing, lacking explanations for decisions, and opaque. It wasn't all bad, however. Some said the district was doing the best it could under changing circumstances.
Desire to be heard
Almost 60% of respondents said they felt they had adequate ways to express their viewpoints. Recurring themes in comments revealed that respondents wanted more dialogue with district leaders outside the constraints of a school board meeting, they favored more surveys, and did not feel heard or felt like only the loudest voices dominated school discussions.
Hunter's recommendations to the board included: conduct quarterly surveys, schedule quarterly "community conversations," conduct a teacher appreciation campaign for the fall, form a superintendent's advisory council, and launch a mental health initiative.
She also recommended hiring a staff communications person, redoing the district website and communications structure, to keep publishing "Piedmont Ahead," holding a public workshop facilitated by an outsider to explain the PUSD/APT negotiation process, and forming a community-building task force. (Comments revealed a wide unfamiliarity with how public schools are governed and structured, which is why Hunter said she suggested the workshop.)
Trustees, who each received the full hundreds-page long report to review before the meeting, expressed their support for the recommendations and gratitude to finally have data on which to base decisions going forward.
Small school districts like Piedmont's are at a disadvantage for communications, said Hunter, explaining why she is often called upon to provide extra support.
"For the longest time we've been anemic on the administration side," said Trustee Amal Smith, who has been on the school board since 2014. "In all honesty, we have to have a robust infrastructure, and that requires having a skilled communicator on staff." Trustee Hilary Cooper said she was in favor of allocating funds for a communications position.
Regarding the establishment of a superintendent advisory council, Trustee Veronica Thigpen said she wanted to make sure a wide net was cast to form one; Hunter noted that using an application process is a way to bring in new perspectives so that the same voices don't dominate. Smith noted that "every decision requires balancing all the needs of all constituents. The size [of the council] can't be unwieldy. These are advisory councils to decision makers and it's about setting expectations appropriately."
Hunter commended the school board and administration for their willingness to receive negative feedback. "Not everyone is willing to listen the way you are," she told them. "It is the only way forward."
You can read the summary report and analysis HERE.