Frustrations abound in every corner of the Piedmont Unified School District as the COVID-19 pandemic drags on, with tempers reaching a breaking point for students, parents, teachers, and administrators. With public health conditions changing rapidly in recent weeks, much of the frustration is focused on Superintendent Randall Booker, the district's top administrator and the target of criticism that at times has gotten personal in tone. Booker, likewise, carries frustrations as he tries to guide the district in responding in a timely manner to changing conditions and increasing divisiveness in the community.
"It's been the biggest challenge of my career to say the least," Booker said in an interview last week. "There's no preparation for this. There's no manual or precedent or template."
The accelerating rollout of vaccinations has changed the overall outlook dramatically in a short time span, helping Alameda County move into the less-restrictive orange tier of the state's COVID-19 "Blueprint for a Safer Economy" and creating a sense many hold that the pandemic has ended. That, in turn, has increased pressure on school districts to reopen classrooms for in-person learning from school families that have reached a breaking point after a year of remote instruction.
That outlook could quickly be altered again for better or worse, depending on how well the public continues to adhere to safety protocols. In recent days, the CDC has warned of the possibility of a new surge of COVID cases nationwide as restrictions ease, imploring the public to continue to follow safety measures.
Changing public health guidelines complicate decision-making
"The ever-changing landscape, the ever-changing rules and regulations, that has been extremely challenging to keep up with because you make decisions based on what you need to know today — and then those policy factors change two days later," Booker said.
"You can't turn on a dime like that. I think that's been one of the biggest challenges," he said. "That's not possible on the public school ground, not when you have collective bargaining agreements, and different unions and different stakeholders and different levels of elementary, middle, and high school that have different needs."
Factors around reopening changed again around mid-March, when the CDC updated its recommendations to allow 3 feet of distance between students (with masks) in classrooms, rather than 6 feet, meaning a major jump in potential classroom capacity. "I didn't anticipate the CDC and California Public Health and Alameda County Public Health so quickly shifting from 6 feet to 3 feet social distancing," Booker said. "I don't think anyone saw that coming. Everyone's been so steadfast about 6 feet and then all of a sudden we're at 3 feet. Well, when the community sees that — I don't mean just the Piedmont community, any community — they want to see school districts adjust very, very quickly."
MOUs negotiated months ago now appear outdated
Even though PUSD was the first district in Alameda County to reopen campuses to students, the latest changes make the district's move late last month to reopen its middle and high school campuses for limited in-person instruction — two periods of in-person learning once a week in middle school and at least one period a day, four times a week in high school — appear outdated and inadequate.
But that limited reopening was a major step forward at the time, Booker said. "When we cut this deal with the teachers union, we cut it at a time when we were in deep purple," he said. "And we had no idea about the vaccination rollout. Now we're making collective bargaining agreements, MOUs, with the information we know in the moment."
Regarding ongoing talks with teachers, "We're not at an impasse or anything like that. I do give teachers a lot of credit," Booker said.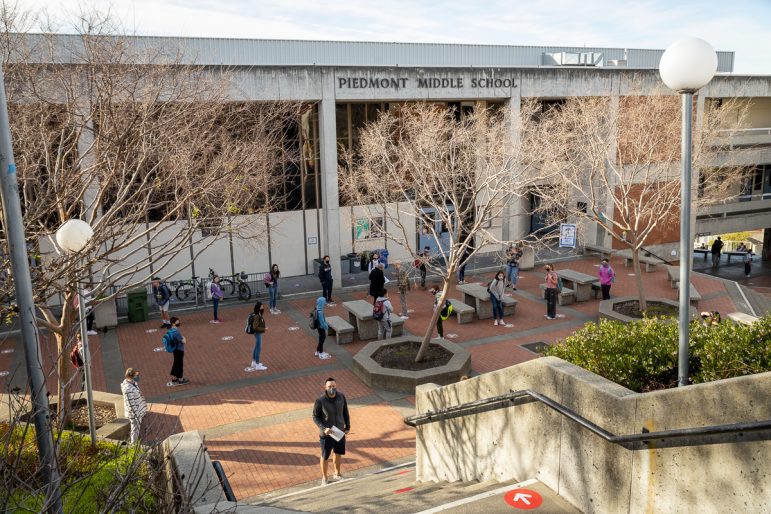 "I agree we need to have more in-person time, not just at the middle school, but elementary and high school," Booker said. "But to accomplish that takes additional negotiations, and compromise, and planning," he said. "I don't have the authority to just change the schedule; that has to be bargained. And I don't say that as if our bargaining groups are in the way or stonewalling or anything like that. It's just a fact."
Booker noted that the district is now at the negotiating table again "to try and expand that in-person, on-campus time."
(On Friday, April 2, Booker emailed families to say that APT and PUSD were able to reach a tentative agreement on the expansion of in-person learning hours for secondary students at PHS, PMS, and MHS. APT is voting on the agreement this week. If APT passes the agreement, the school board will meet on Wednesday night to vote on the agreement. At the Tuesday, April 6 board meeting, Booker also said that PUSD is continuing to negotiate around an expansion of elementary school hours.)
That counts little to families still tethered at home, however, some of whom have organized a campaign calling for faster reopening of schools.
"I think on the student/staff/interpersonal relationship side of things it's been painful and discouraging at times, just seeing how the isolation has set in, how challenging it is to be a student in this time. I understand wanting to fix that so terribly and struggling to do so," Booker said. "We're up against a global pandemic and struggling to keep people safe while at the same time trying to provide an education and trying to follow all the county and state guidelines. That's been tough."
Unity in the school community has broken down and patience tested as restrictions are relaxed
Booker acknowledged increasing displeasure, frustration, and impatience. "We're doing the best we can. We're trying to make the best decisions we can for the sake of students, for the sake of staff, for the sake of families. I understand that people want things to happen more, faster, sooner. And some families see it as a lack of planning, a lack of understanding, a lack of creativity. It's none of those things," he said.
"We were the first district in Alameda County to open up. That happened because we have strong teams in the district that figured things out. And I think we'll continue to do so over time."
Asked how he keeps focused as demands — and threats — grow more adamant, Booker said, "It's not easy. I've been in the district now 17 years and it's hard to hear some of the comments that we're hearing." (Prior to becoming superintendent, Booker was an assistant superintendent and the principal of Piedmont High School.)
"I don't mind at all the disagreements or the suggestions, or we should think about doing things this way or we want it done that way. I mean, that comes with the territory. But I think some of the more personal attacks and things like that, they don't serve a purpose and they don't inspire, certainly."
Personally, Booker said he has concentrated on "just keeping my focus on what do I think is best for students, and what do I think is best to keep our community moving forward, intact, focusing on education, focusing on emotional health of students and at the same time keeping everyone safe."
Most recently, he said, "There's this sense that I feel people think COVID's not here anymore. The emails I get or the comments that I'm hearing — and I even said this at the board meeting — it's as if COVID doesn't exist any longer and that's just not true." He stressed the importance of the community not letting its guard down. "In many ways we're getting close to the finish line, and we need to finish strong," Booker said. "We've been smart over the last year, I think. We haven't had any outbreaks at our schools or with our staff or our students because I think we've done things the right way."
Too much stress on administrators
Asked if, looking back, there was anything the district could have done differently, Booker said, "I think from the get-go, the planning and organizing and reacting, and the re-planning and reorganizing — that has taken such a toll on my administrative team that if I could go back in time I would have hired some project managers to help with the planning and logistical day-to-day tasks," he said. "What we've asked our administrators to do is run the school, plan for next year, oh, and by the way, react and re-plan for all the contingencies that have come our way. Do all of that."
Booker said that expectations of administrators was "just too much and we're already short-staffed as it is."
Pandemic pain is personal
"That's one of the biggest challenges that I have when I talk to families or I'm at board meetings listening to families speak about the pain that their kids are feeling, that they're feeling as parents for their kids, that I don't understand all these kinds of things," he said. "I think that people forget that I have a senior at Piedmont High School who has missed half of his junior year, all of his senior year."
Booker said he and his family are sharing the experience, hardships, and loss of prolonged remote instruction. "I very much empathize with our families who have children with special needs. My son has significant special needs," he said. "Distance learning, as much as the teachers are trying — and I give them so much credit that they're doing an amazing job — it's just not a great environment for our son," Booker said. "It's frustrating a little bit when I hear from families that I don't understand. I don't think they understand that I have personal skin in the game as well."
Looking ahead
The issue of rebuilding trust is a "two-way street," Booker said. "I don't think that it's all on the shoulders of the district. I think that there's some rebuilding of trust that the community is going to have to take on itself," he said. "There has been some behavior in the community that has broken trust on the school district side as well."
Booker was asked what his message to the community is. "I think our overall message is that we are planning for and committed to reopening full-time in the fall. I think that's the biggest message. The second message is that we are continuing to work with our labor partners to expand on-campus instruction for the spring," he said. "Those are our two messages."
Editor's note: This interview was conducted at the end of March and updated to include new information regarding the state of negotiations in early April.