Almost 75% of Piedmont residents over the age of 16 have received at least one vaccine dose as of Friday, April 9, and about 49% are fully vaccinated, according to Alameda County's Public Health Department. These numbers are far higher than any other city in the county, with Albany and Alameda next in line.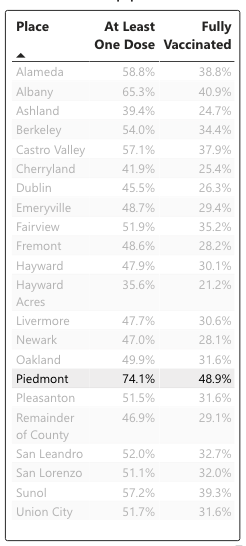 A recent story in SF Gate highlighted the reasons why: Piedmont has a larger population of over 65-year-olds relative to other cities, and is also home to many healthcare professionals — both categories of people eligible early on for vaccines.
Wealth and education also play a role: "It's a very wealthy community — the wealthiest in Alameda County and among the wealthiest in the Bay Area — and we know access to the vaccine is facilitated by wealth," said Dr. John Swartzberg, a professor emeritus of infectious disease and vaccinology at UC Berkeley in the SF Gate article. "We've seen that over and over again. It's also a highly educated and well-informed community. All of those thing play into its high vaccine rate."
Piedmont families have been actively sharing vaccination information and opportunities on social media and within their friend and family groups, sometimes driving well outside the county to grab appointments at a CVS and Walgreen's or at community-based locations in nearby cities. Children's Hospital Oakland just started opening appointments for ages 16 to 21; the state expands eligibility to all over the age of 16 on April 15. Current vaccine eligibility criteria (50+ and other special categories) are outlined HERE.
Alameda County and CalOES will continue operations at the Oakland Coliseum vaccine site for the next four weeks. Drive up and walk up appointments : https://myturn.ca.gov