The Highlanders had a great day on March 24, defeating visiting De La Salle, 8-1.
Charlie Lambert outlasted the Spartans Bob Beernink in the No. 1 singles, 6-7 (3), 6-4, 10-8.
"Charlie had a chance to win the first set, serving for it at least twice, but ended up losing it in a tiebreak," Piedmont coach Jim Landes said. "Towards the end of that set, Charlie lost his way a little, netting too many backhands. In the second, particularly near the end of it, he found his form blasting forehands and serves. He continued this play in the final breaker when he was down 3 – 1 and won 5 straight points to turn things around."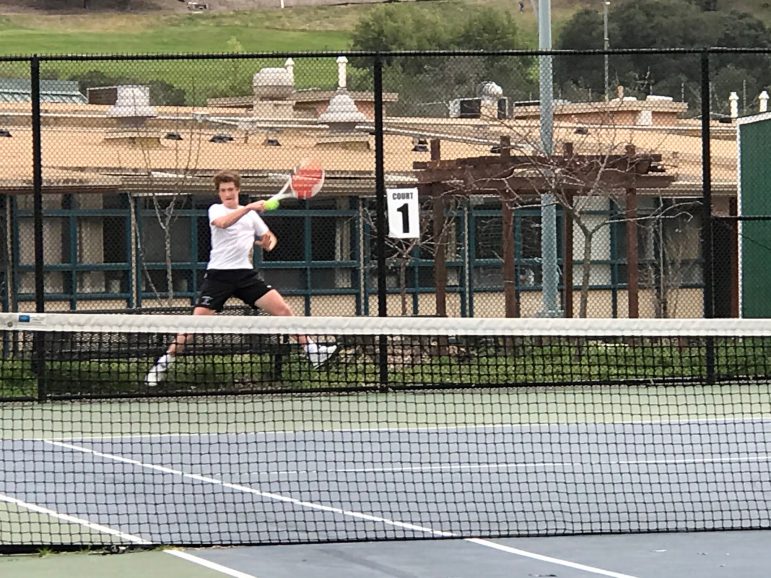 The No. 2 match was just as good, with De La Salle's J.R. Easly beating Sajan Srivastava, 6-4. 2-6, 10-3.
Piedmont's Monte Imburg and Kai Baudendistel won the No. 1 doubles match over Cameron Mayer and Luke Trinkas, 6-1, 6-4. Ethan Pham and Oliver Maxwell won the No. 2 doubles for the Highlanders, downing Amir Desai and Ben Shmain, 6-2, 6-2. Linus Lee and Charlie Sullivan beat Ryan Gandy and Edgar Sandoval, 6-2, 6-3.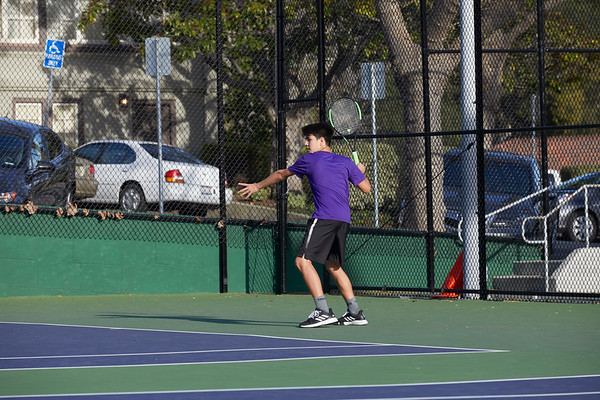 In No. 3 singles, Piedmont's Ben Breber beat Thomas Cumbelich, 6-4, 7-6 (2). Luke Hawkins defeated Max Corner at No. 4, 7-5, 6-3. Charlie Olcott took No. 5 over Jake Ball, 7-5, 6-1. Akash Kothari won over Aiden McNamara at No. 6, 6-4, 6-3.
The Highlanders continued to roll with a pair of West Alameda County Conference victories.
The Highlanders beat Berkeley 6-1 on March 25, then came back to beat Bishop O'Dowd 7-0 on March 27.
The home match against the Yellowjackets saw Piedmont drop just the No. 1 singles match between Charlie Lambert and Mikey Wright. Berkeley's Wright had a solid win, 6-4, 6-1. At No. 4, the Highlanders Luke Hawkins outlasted Leighton Sproul, 5-7, 6-1, 10-8. No. 3 was also a tight match, as Piedmont's Ben Breber scored a 7-5, 7-6 (3) win over Michael Alharazy.
"Ben Breber continued his strong play against a good opponent winning with some nice net play," Highlanders coach Jim Landes said.
The No. 1 doubles team of Charlie Olcott and Kai Baudendisel beat Flynn Mager and Diego Riverbay, 6-0, 3-6, 6-2. The No. 3 match also went the distance, with Piedmont's Oliver Maxwell and Ethan Pham beating Nicholas Underwood and Andy Zhang, 0-6, 6-1, 6-3.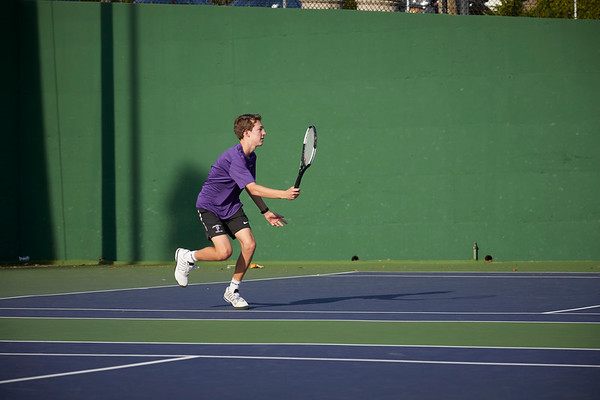 Lambert came back strong against Bishop O'Dowd's Cole Forth, winning 1-6, 6-3, 10-7. Breber again won a tough match, beating Alex Baertsch-Chow, 6-1, 3-6, 7-5.
The Highlanders Sajan Srivastava was dominant at No. 2 singles, beating Isaiah Ntekop, 6-1, 6-1.
"(He) was hitting so hard you could hear it from the bleachers as if he was on court 1," Landes said of Srivastava.
Hawkins teamed with Monte Imburg to win No. 1 doubles over Felix Moon and Elias Cross, 6-1, 6-3. Linus Lee and Pham won the No. 3 match, 6-1, 6-0 over Charlie Bonneville and Leo Schwenk.