In the year after the WHO's declaration of the COVID-19 pandemic, It Takes A Village (ITAV) celebrates the efforts of its volunteers in donating over 145,000 pieces of PPE, and yet their work is not done.
Since responding to the shortage of personal protective equipment (PPE) in March 2020, ITAV's 500 volunteers, organized in Piedmont but located in 5 Bay Area counties, have sewn 45,000 fabric face masks, refurbished 43,000 N95s, and assembled 51,000 face shields, delivering PPE to Greater Bay Area safety-net hospitals and federally qualified community health clinics serving medically underserved populations, and food banks.
The group's grassroots community effort has brought together volunteers from several generations, and service groups such as Girl Scout Troop 555 Fremont, Boy Scout troops 11 Piedmont, and 468 Orinda, middle and high school service groups, Piedmont Community Service Crew, Boy's Team Charity, Open Families and Team Orinda. On the Presidential Inaugural Day of Service on Martin Luther King Jr. Day on January 18, 2021, over 200 volunteers assembled 19,000 face shields. Over 200 sewers and volunteers have sewn masks and assembled fabric mask kits.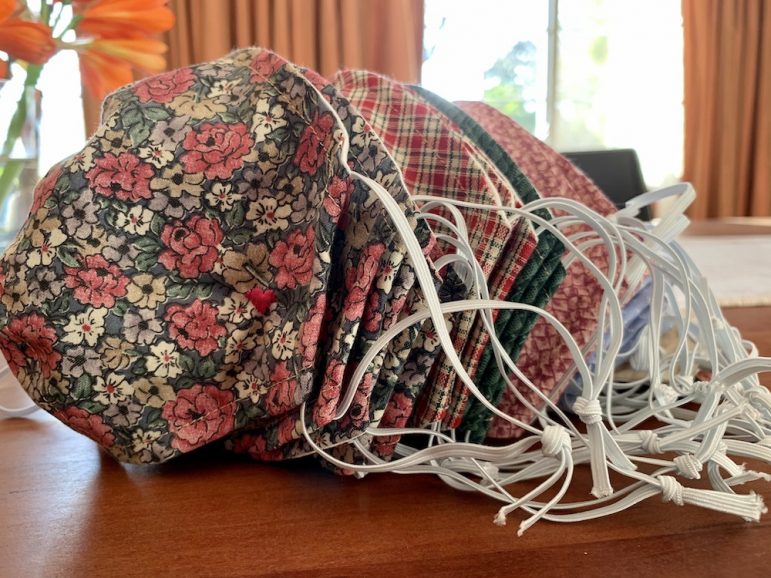 ITAV has donated to 110 different recipients in San Francisco, Alameda, Contra Costa, San Mateo, and Santa Clara Counties. Major donations have been made to safety-net hospitals such as Alameda Health Systems, UCSF Zuckerberg SF General, UCSF, San Mateo County Health, Contra Costa Health, and Valley Medical Foundation. Numerous community health centers have benefited from ITAV donations including Healthright 360, La Clinica, Roots Community Health Center, and Central Valley Health Network. Community organizations such as Second Harvest Food Bank of Silicon Valley, St. Anthony's Kitchen, Downtown Streets Team, and First Five Oakland/San Francisco/Santa Clara have received donations. The group's generosity has extended to the Navajo Nation and hospitals and clinics in New York and New Jersey during surges in those locations.
As California reopens businesses and children go back to school, PPE such as fabric face masks, remain the first line of defense against the virus. The group continues to make much-needed fabric face masks and refurbish N95s. ITAV is seeking volunteer sewers, donation drivers, fabric and elastic cutters. Please visit our website to volunteer or donate fabric: ItTakesaVillage.org.
Donations to ITAV are tax-deductible through our fiscal sponsor, Oakland-based TMC COMMUNITY CAPITAL, a 501c3.