Friends and family remember the former PMS science teacher (2002-2014) and PHS track and cross country coach (2009 – 2013)
Former Piedmont High School track and cross country coach Chris Thayer died at his home in Concord on March 25 after an illness. He was 52.
"He changed the energy of a room when he entered," longtime friend Jeff Wuopio said. "He just had a very magnetic personality that people wanted to be around him."
Said son Trevor Thayer, "The big thing is no matter what we did, he supported us no matter what. That was always nice. Anytime we were just hanging out, he knew how to talk to me. He always could lighten my mood."
Chris Thayer was a teacher at Piedmont Middle School for many years and served as an assistant coach for the track and cross country teams for several years before assuming head coaching duties in 2008. He left in 2013 and also coached at Oakland Tech and Terra Linda high schools.
"Chris got along well with kids," said Doyle O'Regan, who preceded Thayer as head coach. Thayer was an assistant on his staff.
"Aside from just the Xs and Os of running and his own experience, he was really, really good with people and really, really good with kids. If I was being the hard ass, he could be the one to pick a kid up and help him become more confident."
Added Thayer's former wife Denelle Dixon, "Chris was an amazing cross country coach. He was so dedicated."
Christopher Paul Thayer was born on April 29, 1968 in Silver Spring, Maryland. He graduated from Terra Linda High School, where he was part of a strong track and cross country program. Thayer finished ninth at the 1985 North Coast Section 2A North cross country meet, helping his team finish fifth.
Thayer studied international relations at UC Davis and served four years in the United States Air Force Reserve after graduation. After obtaining his teaching credential from Dominican College, he began teaching at Piedmont Middle School in 2002.
He was a natural as a coach. "When he said he was going to start doing coaching, that seemed like a perfect fit for him," Wuopio said. "He loved competing and had a very competitive spirit about him. Trying to help a younger generation master that was a good fit for him."
Said Chris Smith, who spent several years coaching with Thayer, "He had certain kids who stood out like every coach did. But he was very consistent with his effort with all of the kids."
Smith said Thayer always kept things positive.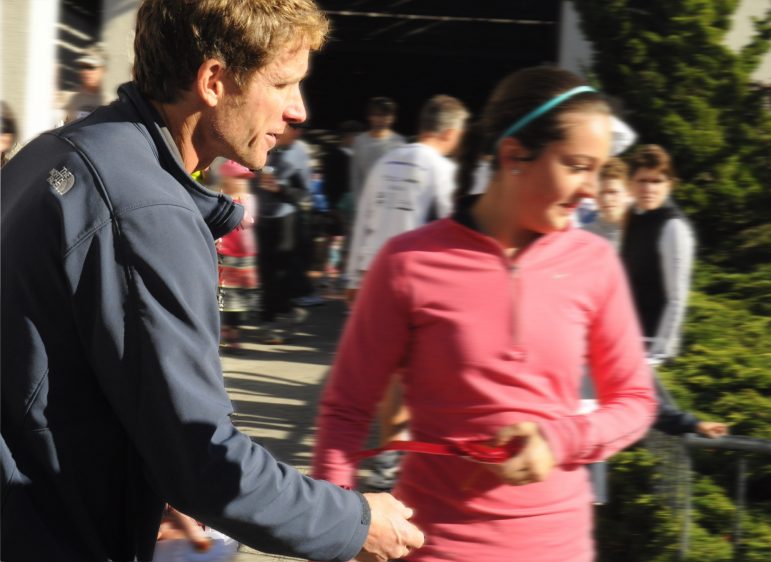 "If it was a warm day in practice, he'd tell the team, 'We're going to run this route and were going to wind up at Yogofina and we're going to have yogurt treats,'" Smith said. "Or, 'We're going to do this route and end up at Lake Temescal and take a dip.' He would add those elements to the practice that were looked forward to by the kids. It wasn't just the humdrum, 'Oh, we're going to run there and back.'"
Added O'Regan, "He was good at getting our kids to be more confident and trust their training. He didn't lie to kids. He told them the truth and I think kids really respected that."
Thayer and Dixon have three children – Dylan (a Piedmont High School graduate), Trevor (currently a senior at PHS), and Jax (11).
"My goal is that each of you understands that you carry with you the best parts of your dad," Dixon wrote in a letter to the children. "At his best he was funny, quirky, kind, determined, competitive and loving."
Health issues including a brain injury a year ago complicated the last year of Thayer's life.
Thayer is survived by his former wife, their three children, his parents Joan and John Thayer, his brother and sister-in-law Kevin and Carol Thayer.
A celebration of Thayer's life is scheduled for April 25 at 4 p.m. at Keaton's Mortuary in San Rafael (1022 E Street, San Rafael, CA 94901). It is open to the public but space is limited due to COVID-19.