The Piedmont Pioneers, a middle school First Tech Challenge (FTC) team, announced our advancement to the NorCal Regional tournament on Sunday, May 2. We placed second out of 24 mostly high school teams for our high cumulative score at the San Jose tournament on Saturday, April 10th. We also won the Control award after earning the highest autonomous score in the tournament.
At our March 21 tournament, we won the Think award for our thoughtful engineering design process, but fell just short of advancing, so we are especially gratified [by this recent success].
In FTC, teams have a number of tasks each year. This year the main task was to collect rings from the ground and shoot them into a goal to get points. The robot does 30 seconds of autonomous scoring, where pre-programmed instructions allow it to shoot rings into various targets, followed by two minutes of driver controlled play where two drivers collect and shoot rings. Our drivers, Vaughn Khouri and Nate Welch, successfully scored a lot of high goals, to earn second place, just a few points behind the highest scoring team.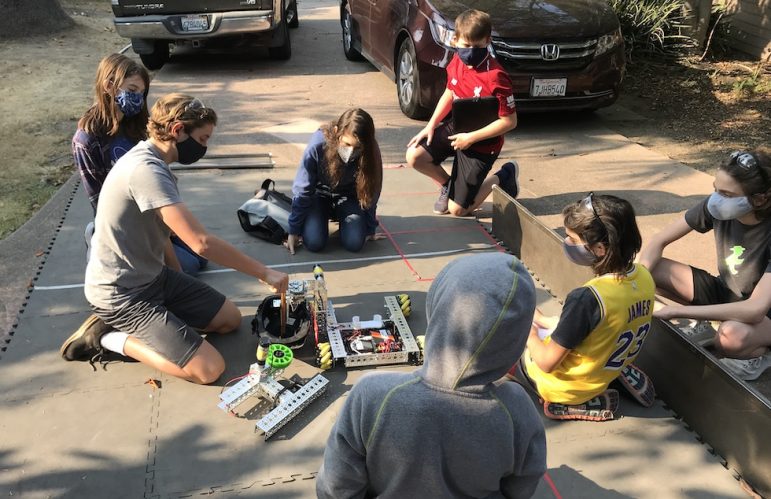 The COVID restrictions of this season have been challenging. Early in the school year, we were able to meet while wearing masks and remain socially distanced. Our coaches made us a large outdoor arena so that we could spend lots of time working on our robot outside. The NorCal F.I.R.S.T. organization had to overhaul the tournaments to be virtual. Still, our first three tournaments got cancelled when the strict shelter in place was mandated and the whole tournament season got pushed back a couple of months.
Despite [COVID-related] challenges, our team of six rookies out of seven members has been able to work well together to create a strong team with a competitive robot.
Fundraising and outreach are important aspects of any FTC team, especially this year. We reached out to companies that had family or friend [with] ties to us. We got three corporate sponsors and the rest of our budget came from a Go Fund Me where family members and friends could donate smaller amounts of money. An additional benefit is that Go Fund Me lets us share updates with our donors so they can follow our progress. We are grateful for our sponsors' support and also the support of the Piedmont Makers organization.
The Piedmont Pioneers is a legacy middle school FTC robotics team, meaning it will continue even when current members move on to high school. We are currently recruiting robotics enthusiasts for next year and interviews have begun. Interested rising 7th and 8th graders can contact us at piedpio11201@gmail.com.
---
Contact: Larraine Seiden lms@larraineseiden.com or 415.307.3592 or Lewy Seiden: lewy@seiden.us