In a move that would impact more than 1 million individuals across 33 campuses, the California State University and University of California systems intend to require students, faculty and staff who will be on campuses this fall to receive a Covid-19 vaccination.
"This is the most comprehensive and consequential university plan for COVID-19 vaccines in the country," CSU Chancellor Joseph Castro said in a statement announcing the plans.
The requirements are contingent on the Food and Drug Administration giving full approval to at least one of the existing vaccines, and it's not yet clear when that will happen. The FDA so far has authorized emergency use for the Pfizer-BioNTech, Moderna and Johnson & Johnson vaccines. Distribution of the Johnson & Johnson vaccine is currently on hold as federal agencies study rare cases of blood clots in women who received the vaccine.
There is "no guarantee" that full approval of a vaccine will happen before the fall, but the CSU chancellor's office chose to announce its intentions now "based on potential for an approval sometime between now and the beginning of the fall term," Mike Uhlenkamp, a spokesman for the chancellor's office, told EdSource.
If no vaccine is approved before the fall, that would delay the implementation of the vaccine requirements at UC and CSU campuses. The systems also plan to engage with students, faculty and staff before formalizing the requirement. Students and staff across the systems would be able to seek an exemption from the vaccine for medical or religious reasons, as they can with other vaccines that are currently required.
The state's other public college segment, the system of community colleges, is not currently planning to have a system-wide requirement for students and staff to get vaccinated. Instead, the state chancellor's office is leaving it up to 73 local districts, which oversee 116 colleges (Calbright College is online only), to decide whether to require vaccinations.
The community colleges enroll about 2 million students, the most of any college system in the country.
"I fully expect districts will do whatever they can to ensure the safety of everyone returning to our campuses, and everyone should make a plan now to get vaccinated if they haven't already," Eloy Ortiz Oakley, the statewide chancellor of the community colleges, said in a statement Thursday.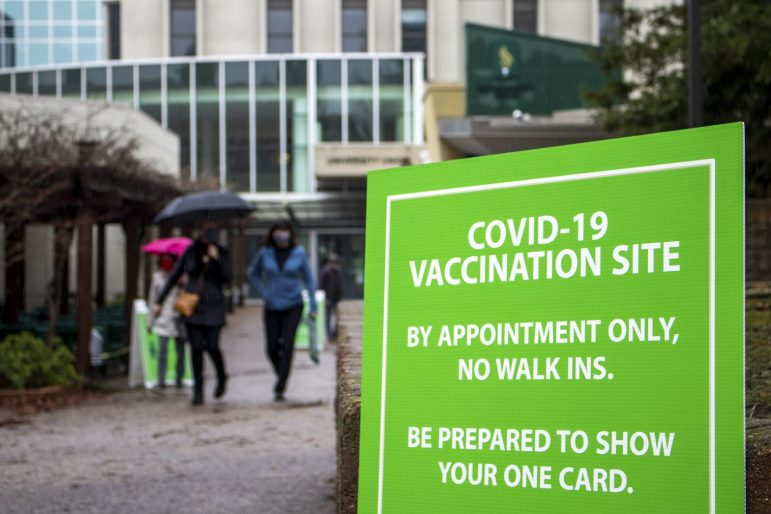 Administrators across California's public colleges and universities have said that the ability to repopulate campuses and resume more in-person classes this fall hinges on the distribution of Covid-19 vaccines to staff and students. The extent to which campuses will welcome back students, faculty and staff will likely vary from campus to campus.
"Receiving a vaccine for the virus that causes COVID-19 is a key step people can take to protect themselves, their friends and family, and our campus communities, while helping bring the pandemic to an end," UC President Michael Drake said.
California's public universities are now among dozens of colleges and universities across the country planning to require Covid-19 vaccinations this fall. Some other universities are only planning to require students to get vaccinated, but not staff.
Stanford University, a private college in Santa Clara County, on Thursday became the latest to announce it will require that students be vaccinated. Stanford has not made a similar mandate of faculty and staff.
Thursday's joint announcement by UC and CSU leadership was welcomed by the UC Student Association, said Aidan Arasasingham, the group's president and a student at UCLA. Arasasingham said the student group has pushed for such a requirement.
"Should these vaccines receive full use authorization over the summer, then it makes perfect sense why we should have a vaccine mandate for the fall to ensure that we're able to have the kind of health and immunity needed to have the in-person experience that students are looking forward to," he said.
The system-wide organization representing CSU students, the Cal State Student Association, has not yet taken an official stance on whether a Covid-19 vaccine should be required of students, said Zahraa Khuraibet, association president. She said the group will vote on whether to support a requirement in early May.
Khuraibet said the association has been "really pushing our students to take the vaccine if it is available for them."
It's not yet clear whether faculty members across the CSU and UC campuses will support the requirement.
Charles Toombs, the president of the California Faculty Association, the union representing faculty across the CSU campuses, said he and other union leaders will need to get feedback from members and negotiate the matter with the CSU chancellor's office.
"This is a change to our working conditions, so we'll need to get input from our members on what a required vaccination would mean to them," Toombs said.
"Our position has always been that we want the vaccines accessible and available, and we hope as many people will get it as possible, but some people may not for either medical or religious reasons, or there could be other grounds that we are not aware of yet," he said.