Vex Robotics Team Double Play (#8OOO1B ) Members Eva Swei (10th Grade, PHS), Mikey Swei (6th Grade, PMS) and Jasper Schuetz (7th Grade, PMS) competed in the Vex Robotics NorCal High School State Championships competition on Saturday March 27, which was held as a live remote tournament amongst the top 18 teams in California.
The California State Championship included strong teams from Silicon Valley, Southern California, and Northern California. Team Double Play won the Design Award and has earned a spot at the Vex Robotics World Championships, which will be held in a live remote format from May 17-22, 2021.
Vex Robotics is a robotics competition format, like First Robotics and First Lego League, and uses the Vex V5 system. More than 11,500 teams from 40 countries play in over 750 tournaments at the local, regional, national, and world competitions. The standard match involves two alliances of two teams each playing against each other. Matches include both an autonomous and a driven portion to test different skills.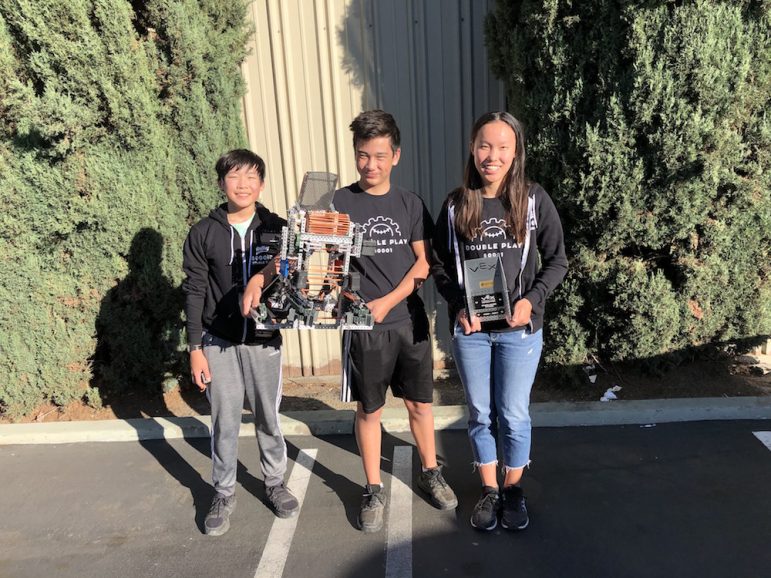 This is the third year that Eva and Mikey have competed and the first year for Jasper. Team Double Play have worked independently on their robot starting in June 2020, doing everything from design to building alliances with other teams. The design of their bot has been incrementally improved since virtual competitions resumed this Fall.
The team produced a video of their robot, which plays a game similar to basketball with nine goals.
Team Double Play families congratulate the team for working so hard and making it to Worlds.