The point ended and Makenna Thiel walked to the fence behind the baseline of court No. 2 at Mountain Lake Park in San Francisco. A friend was sitting in a lawn chair, snuggling her dog in her lap, belly up to the world.
The dog, it should be mentioned, was a little big for a lap. Forearms and head were lolling over the friend's shoulder, back legs extended to the ground.
"That's so cute," Thiel exclaimed in delight. "Oh my gosh!"
Thiel then headed back to the baseline to serve. She uncoiled her body and blasted the ball towards opponent Jane Shvartsman, who could barely get her racquet on the ball. Service winner: Thiel.
Thiel is back for her delayed senior season at Piedmont High School. She took her junior year off to study online and compete in high-level tournaments in an effort to secure a Division 1 scholarship to play tennis. The reward: Thiel will start at the University of California in the fall.
This spring is about two things: getting as many matches in as possible, and having fun.
"College tennis was definitely the ultimate goal, definitely playing for a D1 school," Thiel said. "When I first started playing, I wanted to be a professional tennis player. College was the first step. I wanted to go to an elite school for tennis and academically, so Cal was a perfect fit."
Thiel started out with gymnastics when she was 5. But her older sister Kaelli started taking lessons from their grandfather's cousin in Castro Valley, and Makenna would tag along to watch. Pretty soon, she was on the court herself, around when she turned 9.
"She (Kaelli) started maybe when she was 13, and I would watch her lessons and I just picked it up one day," Makenna Thiel said. "I was naturally talented and I just loved it. Compared to other players, that was late. I know other players start when they can walk."
She also played some basketball but at some point …
"I played basketball on the elementary school team but then everybody got taller," Makenna said. "I stopped because it was dangerous and I wanted to concentrate on tennis."
The connection to Cal was that Thiel's mother went there.
"I grew up going to the Cal men's basketball games," Thiel said. "I wasn't sure if I wanted to stay close to home. I was looking outside of Cal but once I started the recruiting process, I realized that Cal was my pick. I love the coaches and the team is great. I know a few of the girls. I was looking at a few other schools, but I didn't think the team dynamic was the best. But I felt I'd definitely fit in the with the girls at Cal."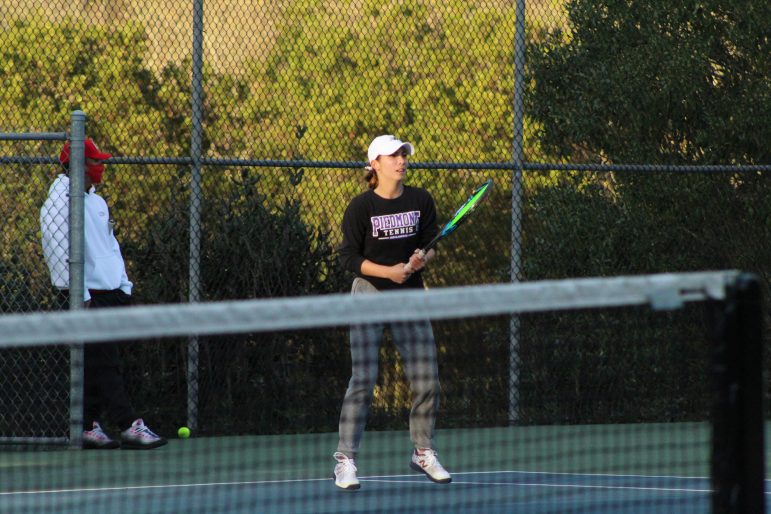 Kaelli played tennis for Piedmont before graduating in 2016. She then went to Harvard, where she walked onto the tennis team as a freshman, before joining the equestrian polo team. In addition, when she was in high school, Kaelli started a non-profit called Love All, which takes donated tennis equipment and gives it to underprivileged youth. Makenna has joined up and is listed as the President and Director of Marketing Strategies on the website (love2lovetennis.org).
"When my sister was playing high school tennis, one of the other teams was sharing racquets and their running shoes had holes in them, and my sister was trying to think how to help them," Makenna said. "It's to donate new or slightly used equipment to high schools in the Bay Area. We've done quite a few donations.
"I really like the idea and I'm glad she came up with it."
The Thiel sisters solicit donations, and schools and clubs can submit forms with what they need.
"We got some really nice shoes that we were able to give to a men's team," Makenna said. "Last year, we donated a ton or racquet bags. I just had so many from winning them in raffles and sponsorship deals.
Thiel said Piedmont assistant coach Neil Rothenberg helps get donations as well.
"He knows all the coaches," she said. "He has been a huge help."
Thiel said she also gets donations from the Berkeley Tennis Club, where she is a member.
One idea on the backburner during COVID-19 has been holding a tournament.
"We wanted to give the kids an idea of what a tournament feels like, but without the fees," Thiel said.
Thiel would like to get into the Haas Business School at Cal, but otherwise isn't sure what she wants to do for a career. Until then, there are plenty of matches to play.
Photos by Damin Esper