Piedmont High School's girls tennis team lost a tight match to University-San Francisco at the Mountain Lake Park courts in San Francisco on March 11. The Highlanders fell 4-3, with the final match ending in a tie-breaker as dusk fell in the city on a cold, windy evening.
Piedmont's No. 3 doubles team of Rosie Siemers and Audrey Frankel battled back against Alara Ozturk and Jasmine Bartlett to tie the match at a set apiece. With all the other competition over and the team match tied at 3-3, a tie-breaker would determine the winner.
Siemers and Frankel fell quickly into a 6-0 hole, and lost for a match score of 6-1, 3-6, 10-1. However, a tough battle on the road against a quality program that perennially qualifies for the North Coast Section playoffs is a pretty good result, especially given that nobody knew whether anybody would be playing tennis this school year.
Rosie Siemens

Kate Dorman
"I think, given this crazy season, I'm kind of happy with how everybody is playing," Highlanders assistant coach Neil Rothenberg said.
Siemers and Frankel weren't the only doubles team to go long. Piedmont's No. 2 team of Kate Dorman and Mara LaForte defeated Annie Stegall and Isabella Caro, 2-6, 6-2, 10-8.
Makenna Thiel was again dominant at No. 1 singles, beating Jane Shvartsman, 6-0, 6-0. Thiel, who will play at Cal in the fall, has returned to high school play this year after spending her junior year studying online and playing high-level tournaments.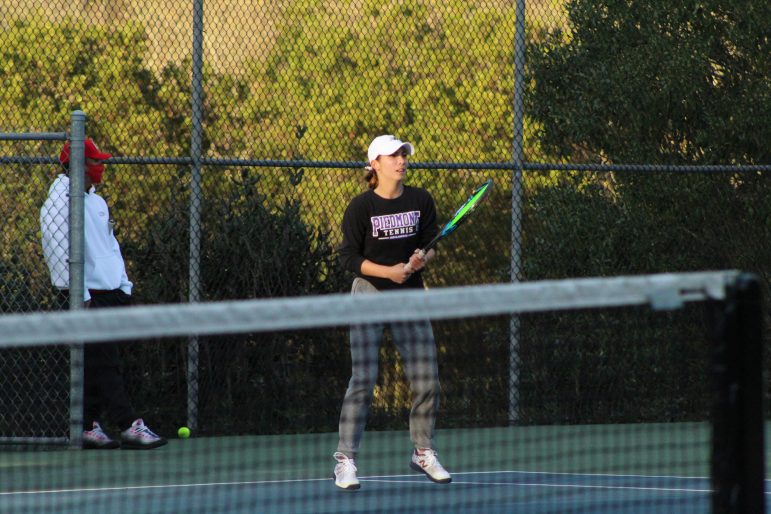 "I thought I played pretty well," Thiel said. "I thought it was a little windy. I stayed focused and played solidly. My eyes were watering at the end and I didn't want to touch my face.
"I was lucky I dressed in layers."
The Highlanders other victory came at No. 3 singles, where Bridgette McEfee downed Sophie Nutting, 6-2, 6-0.
University's Arya Duggal beat Audrey Edel in the No. 2 singles match, 6-4, 6-3. The Devils' Alison Connor beat Anne Jumper, 6-1, 7-6 (5) in the No. 4 singles match.
Anne Jumper

Audrey Edel
Piedmont's No. 1 doubles team of Amanda Becker and Audrey Mahany fell to Ella Marks and Malia House, 6-4, 6-3.
With no NCS playoffs this year, matches like these are the best substitute available. And a chance for the Highlanders to show they are still a top team.
"I think we are a pretty strong team," Thiel said. "I'm really glad to be out here and support the team and see everyone play."
The girls team opened its season with a 5-2 victory at home against Berkeley on March 6.
The Highlanders Makenna Thiel was dominant at No. 1 singles, beating Maya Curry, 6-0, 6-0.
"There were some great points with Makenna striking winners from all positions, backcourt, mid court and the net," Piedmont coach Jim Landes said. "Great to see her playing so well."
No. 2 Audrey Edel also was victorious for Piedmont, beating Andrea Morales-Mendoza, 6-4, 6-1.
The Highlanders swept the doubles matches. Amanda Becker and Michaela Bini teamed up at No. 1 to defeat Isabella Ingersaall and Lydia Schrag, 6-4, 6-4.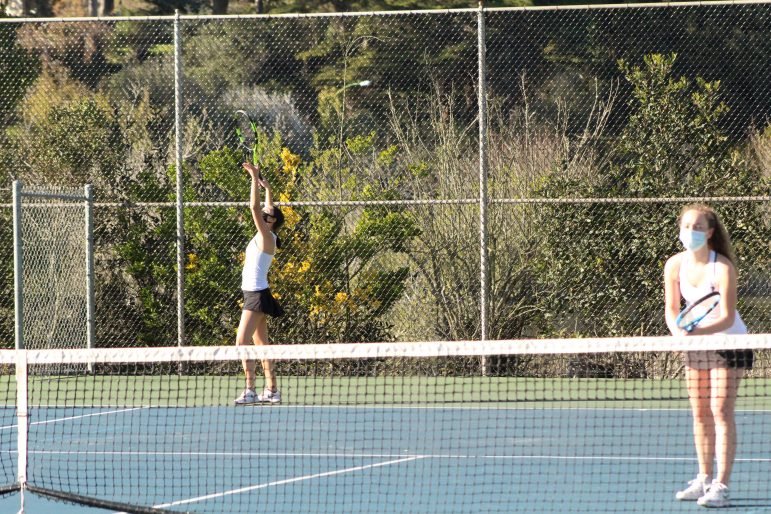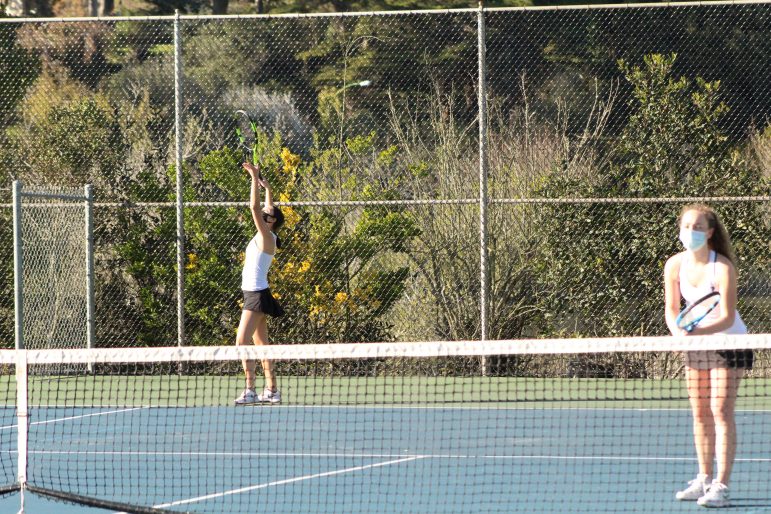 Audrey Mahany and Mara LaForte won the No. 2 match over Naia Valenzuela-Aperribay and Cadie Muteer, 6-2, 6-3. At No. 3 doubles, Piedmont's Rosie Siemers and Kate Dorman downed Ava Kurapkaa and Rowan Kennedy, 6-3, 6-2.
Berkeley got wins at the Nos. 3 and 4 singles. In the former, Estelle Handa defeated Bridgette McEfee, 6-1, 6-2. In the latter, Hannah Groth-Reidy beat Anne Jumper, 6-1, 7-6 (1).
Piedmont is now 1-1 on the season and play an away match against Alameda on March 13 at 10 a.m.
Photos by Damin Esper