A very abbreviated five-game football season for Piedmont High School opened on March 19 when the Highlanders hosted Castro Valley.
"We're excited for these kids," Piedmont coach Jerome Johnson said.
The COVID-19 pandemic caused fall sports to be postponed. For a while, some didn't think football would be played. But new statewide guidelines were adopted by Alameda County in February, allowing games to start up.
Johnson is in his first official year as head coach – he took over as interim coach just before the start of the 2019 season.
Senior Tommy McNeil (5-foot-11, 175 pounds) is slated to be the quarterback. Johnson said McNeil has both running and passing skills.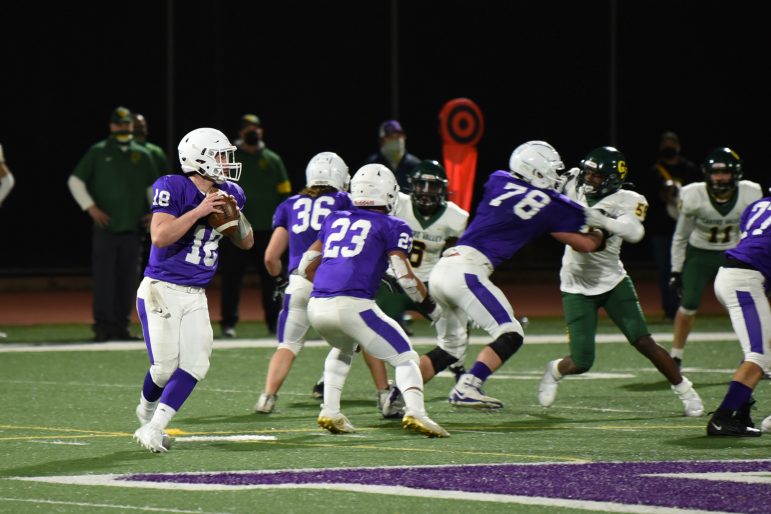 "He's a great leader," Johnson said. "I want him to command the huddle a little bit better. I want him to make basic reads and be a great game manager. That's what you want out of a high schooler."
Brian Cain, another senior, will be the top running back. Cain is 5-7, 190.
"He works harder than any kid I've seen in my life," Johnson said. "I've been coaching a long time."
Alex Hilton, a 5-11, 175-pound senior, should be one of the top receivers.
"Alex can stretch the defense," Johnson said. "(He's) pretty quick, great hands, great vision. I think he's much better than he thinks he is. He's very humble."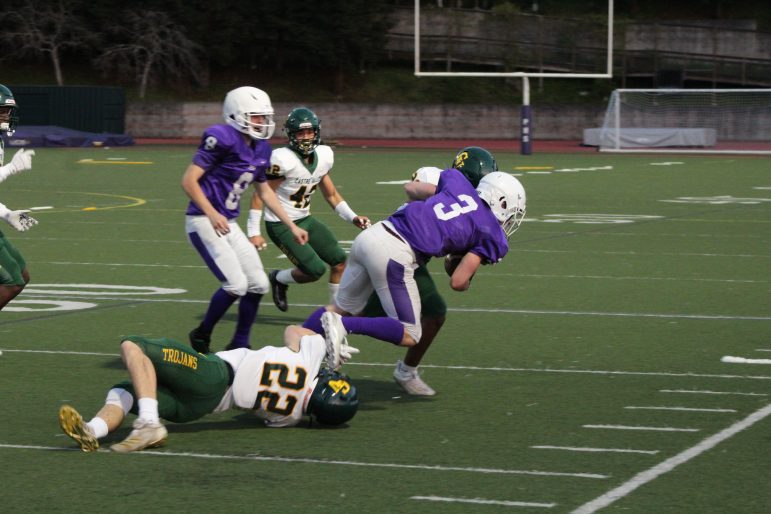 Senior Ben Marshburn will also be a top receiver. The senior is 5-7, 165.
Patrick Selna is gone to UCLA, but the Highlanders have several experienced players on the line. Junior Mason Kimball (6-5, 225) will start at left tackle. Senior Andy Melian (6-3, 255) will line up opposite. Senior center Trevor Thayer (6-0, 210) and senior guard Jordan Bowers (5-9, 190) will also be keys.
With only about 25 players on the roster, many will have to play both ways. Kimball, Melian, Thayer and Bowers will all be part of the defensive line. Cain will play linebacker, while Hilton will take one corner and Marshburn will play safety. Marshburn will also handle kicking duties.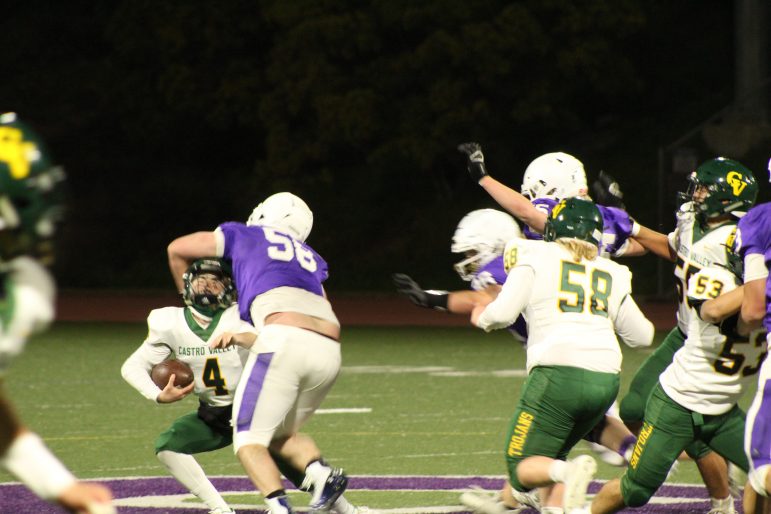 Johnson will utilize a spread offense that he hopes will show a good balance between running and passing. The defense will use a flexible scheme, but will start with five defensive backs on the field to combat some of the high-powered offenses Piedmont will face.
"We need to be physical all four quarters," Johnson said. "To stay truly engaged. They were pretty young last year. They know what they got to do this year."
"Just to compete," Johnson said of his main goal for the season. "To compete, to enjoy, to have fun. To have a memorable and remarkable senior year. Five games, we just want the kids to get out there and enjoy themselves and may the chips fall where they may."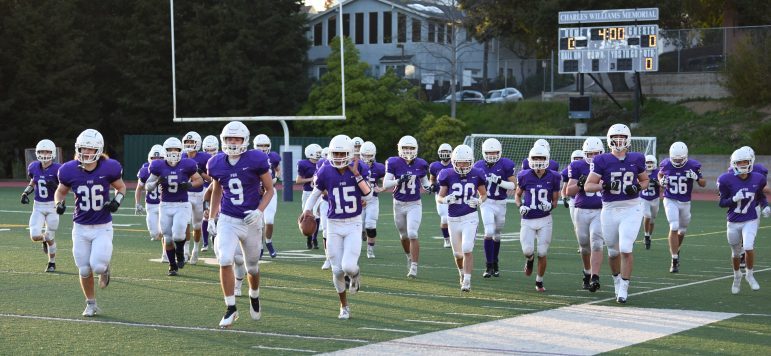 The Castro Valley game went to double-overtime, when Cain scored on a 3-yard run for a 20-14 Piedmont win.
The touchdown came on a third down play. Cain said the Highlanders coaching staff was considering sending the field goal team out during a timeout before the final play.
"We got stopped the two plays before that and I was pretty frustrated," Cain said. "They were going to kick (the field goal) on third down, but we were begging for one more shot. I don't even remember the play, but I knew I had to get in."
Cain finished with 111 yards on 26 carries and two rushing touchdowns. He had earlier returned an interception 72 yards for a touchdown as Piedmont built a 14-0 lead in the first half. The Highlanders stifled the Trojan offense for most of the night. Castro Valley needed a late touchdown and two-point conversion in regulation to force overtime.
Melian had a sack and three tackles for loss, and senior Jet Moxley had six solo tackles and four assists to lead the Piedmont defense. Michael Lewis rushed for 155 yards on 31 carries for the Trojans, but the Highlanders were able to limit his damage most of the night.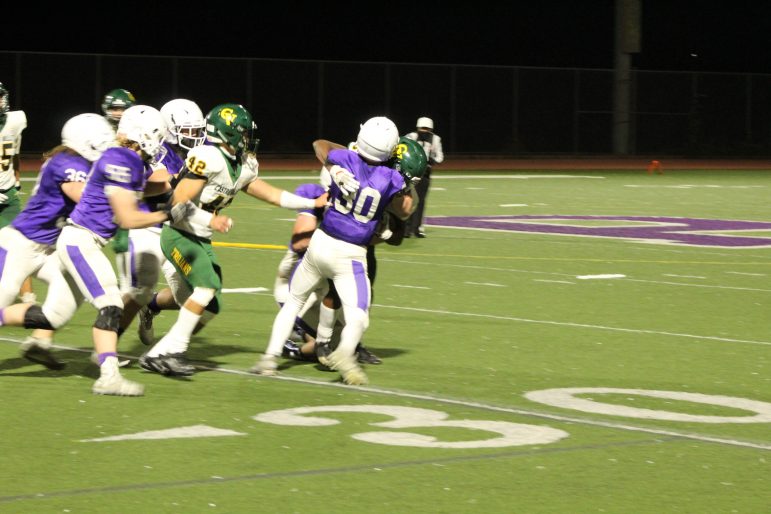 "Melian and Moxley, huge game out of those guys," Cain said. "Me and Jet personally put a lot of work in together. Seeing him come out and have a great game, same with Andy, we expect that from him. It was just awesome to see. Flat out, so fun."
Said Johnson, "We were hoping we would break their will, and we did it on defense for the most part."
Piedmont went up on its first possession, after the Trojans gave the Highlanders a short field thanks to an 8-yard punt. Starting at the Castro Valley 34, Piedmont went five plays, capped by Cain's 3-yard run.
Cain came up with the play of the game in the second quarter. The Trojans had driven to the Highlanders 23. Castro Valley quarterback Bobby Selba tried to hit Jacob Rothwell on a short pass. Instead, Cain jumped the rout, tipping the ball into the air before coming down with it. The artificial turf was wide open and Cain returned it 72 yards for the score.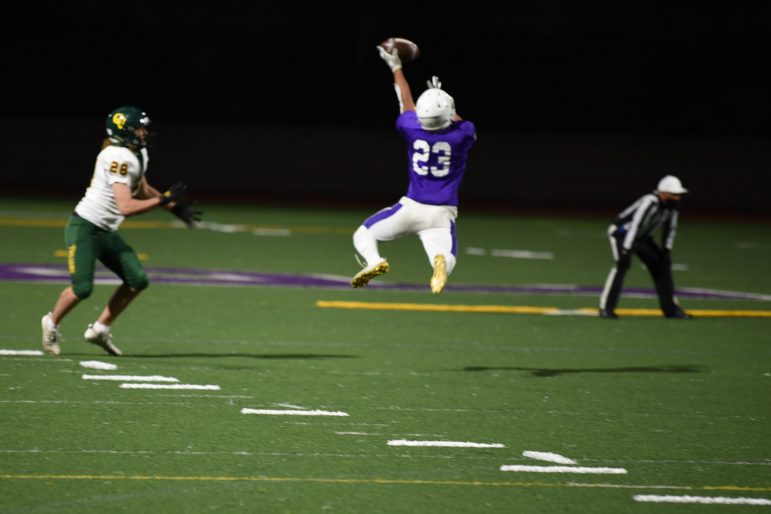 "I was lined up over the No. 2 receiver and I believe he ran a little bubble screen and the quarterback was staring at him the whole time," Cain said. "As soon as showed his arm, I jumped in. I probably should have just caught it the first time, but I tipped it up with one hand and caught it."
"I was so scared of getting chased down because last year that happened on a kickoff return and my coach would have been pretty upset if it happened again, so I just put my head down and didn't look back."
Castro Valley finally got on the board late in the third quarter when Selba ran the ball in from the 1. That capped an 11-play, 63-yard drive. Rothwell missed the conversion, so it was 14-6.
The Trojans tied the game with 56.3 seconds left in regulation when Lewis scored on a 2-yard run. He also ran in the two-point conversion.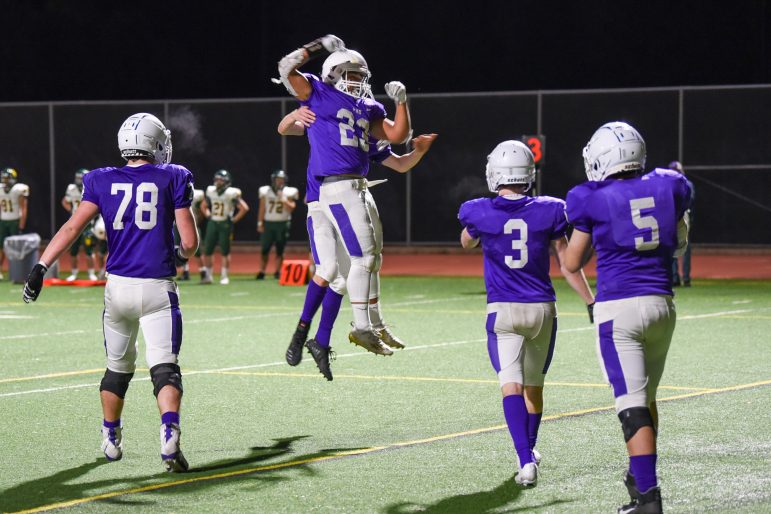 Getting a win after not playing in the fall was huge for the Highlanders, who lost all their West Alameda County Conference games in 2019.
"It's great just coming back," Melian said. "It's super-exciting to even have a season. Every game we get, we're grateful for."
"I think us putting out everything on the field and showing the younger kids and the kids not even in high school yet will get them to come out here because Piedmont football is a great thing."
Piedmont quarterback Tommy McNeil completed nine of 17 passes for 55 yards with an interception. Selba went 10 of 22 for 69 yards.
Photos by Damin Esper and Todd Marshburn