Buy your tickets to watch PHS Advanced Class present: Clue On Demand | March 5-8 | Purchase tickets online HERE
Clue is the well-known hilarious farce-meets-murder mystery. This stay-at-home high school version features six mysterious guests — Mrs. Peacock, Miss Scarlett, Mrs. White, Colonel Mustard, Professor Plum, and Mr. Green — who assemble for an unusual dinner where murder and blackmail are on the menu. The host turns up dead and everyone is a suspect. But who did it, and how?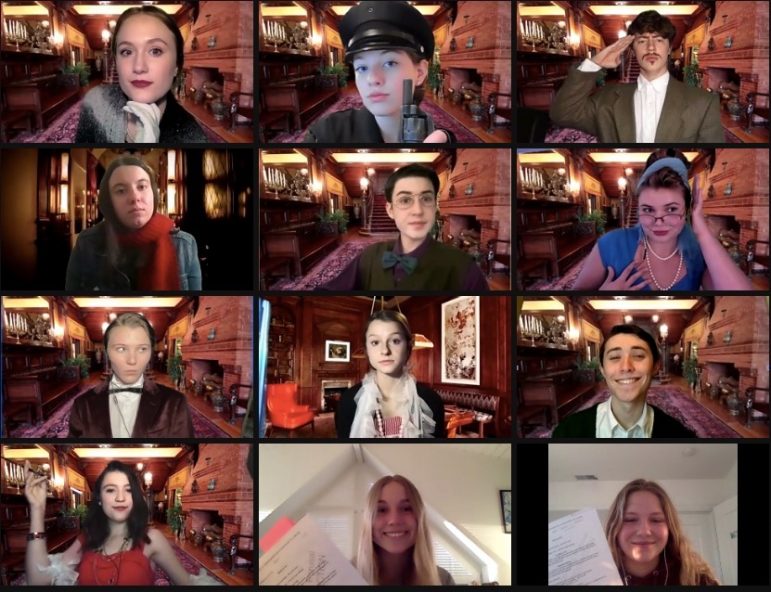 Watch these PHS advanced acting students as your favorite Clue characters:
Emily Adams – Wadsworth
Jonah Bloom – Mr. Green
Liam Gordon – Professor Plum
Katherine Stormer – Mrs. White
Laney Tellegen – Miss Scarlet
Jackson Temple – Colonel Mustard
Sadie Tschider – Mrs. Peacock
Corinn Richards – Yvette, the maid
Elsie Pines – The Cook & the Singing Telegram Girl
Izzy Roselli – Ms. Body & a Cop
Fernanda Meagher – The Chief of Police & the Motorist
Molly McWeeny & Joyce Stern – The Narrators
Ella Meil – Stage Manager & Sound Operator
Tickets
Tickets are $15 for a personalized link that is available on Demand from Friday, March 5 at 7:00 p.m. until 6:59 p.m. on Monday, March 8. Watch at your convenience. Watch multiple times. Support the acting department! The show is fun for the whole family! Purchase tickets online HERE
Clue: Stay at Home High School Version is based on the screenplay by Jonathan Lynn, written by Sandy Rustin with additional material by Hunter Foster and Eric Price. Clue is based on the Paramount Pictures motion picture based on the Hasbro Board Game Clue.