As regional COVID-19 case rates plummet and vaccination numbers rise, parents continue to put pressure on district leadership and the school board to add more hours to the middle school schedule and start planning in earnest for a full return to school in the fall.

Kindergarten – sixth graders started attending in-person classes starting in mid-February, and with Alameda County's move to the Red Tier this week, seventh – 12th grade students will switch to hybrid and start attending some classes on campus starting March 16.
But parents of middle schoolers in particular say the approximately two hours of in-person learning each week is woefully inadequate and out of sync with elementary and high school schedules — and well below what other school districts are doing.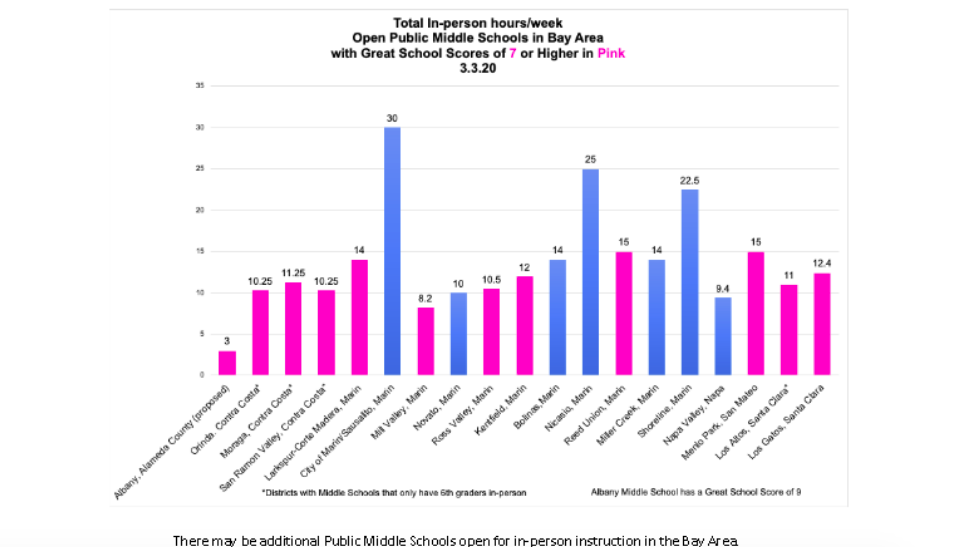 APT focused on phasing students back for the moment, but says they are "looking to expand" those efforts
At the meeting's outset, Association of Piedmont Teachers (APT) leader Gabe Kessler told the board that teachers were working more than ever, figuring out how to teach an in-person and distance learning concurrently and meeting the social and emotional needs of students who haven't been in school for a year. "This would all be easier if we were all back in person," Kessler said.
"We've been working to get students back in the classroom, working to show our willingness to collaborate and follow safe practices. Right now we are focused on a phased-in return so that return can be successful. and then we will be focused on expanding those efforts," he said. He noted the signs around town, and said APT's stance has been misinterpreted, that in fact teachers are happy to be going back and that vaccines are rolling out. "We look forward to a full return in the fall."
Stakeholders seen to be increasingly at odds
CSEA's president Nicole Straley spoke to what she called the widening divide between different stakeholders in PUSD, saying "this new level of estrangement is not compatible with any of our goals or with creating a safe, nurturing environment where everyone feels safe and respected and included. What I see is everyone working hard in our own separate corners — many go home feeling misunderstood or under-appreciated." CSEA includes classified staff such as paraeducators, librarian assistants, administrative assistants, custodians, health clerks, and more.

Straley called on the community to model values of collaboration at K-12 levels. She invited board members to attend the CSEA chapter meeting on March 24. "I look forward to hitting the reset button."

Parents frustrated by vague commitments

After giving a brief update on the timeline of reopening plans, Assistant Superintendent Cheryl Wozniak said that talks to discuss expanding middle school hours would happen "within weeks" but gave no specific timeline, noting that that the focus right now was on phasing in the upper school students and that teaching schedules made it hard to coordinate.

By turns angry, pleading, and frustrated, more than fifteen parents directed comments to the board and administration. A few welcomed the new Piedmont Ahead communications plan (regular emails sent by PUSD with updates on reopening plans), while others asked the board to revisit the MOU with APT that calls for 6 foot distancing requirements — affecting the number of students on campus at any given time. Some Bay Area school districts working with a 4 foot distancing parameter in order to bring more students back into classrooms.
(A new scientific paper examining the spread of COVID-19 in Massachusetts schools published on March 10 concluded that "lower physical distancing policies can be adopted in school settings with masking mandates without negatively impacting student or staff safety.")
While expressing gratitude to teachers and staff for welcoming students back to date, parents of middle schoolers in particular called the return to school plan for PMS seriously lacking, calling it "unacceptable."
Parents say they their concerns go unheeded
Michelle McGilloway, the parent of two elementary students and a middle schooler, had harsh words for the board and superintendent. "You have not represented our needs or you would have worked a lot harder to bring our children back months ago," she said, calling the board's efforts "shameful."
"Fight for our kids who do not have a voice," she said.
While some parents welcomed what they called a more optimistic tone from the district overall, they pleaded for more transparency in general and definitive action around increasing middle school hours.
Heightened concerns about middle school students
Blair Page, a parent of an elementary student and a middle schooler, said "I'm truly worried about middle school students. Even kids with hope and a positive attitude are stuck, losing interest. Middle school kids are falling through the cracks, still stuck at home. They need to be back in school and with peers and teaches who are so important."
Parent Kim deYoung, who called in earlier to laud the new Athletic Director Bradly Smet for his active involvement with the sports teams, echoed Pages's sentiment. "Middle schoolers are in bad shape," she said.
Trustee Hilary Cooper said she had started substituting for a second grade class, and it reinforced her determination to get everyone back. "It is our goal to expand hours in the spring and have full opening in the fall," she said.

Trustee Amal Smith reiterated the same message "The Board has indicated a complete commitment to opening in the fall, full-time in-person. And expanding hours this spring."
Trustee Veronica Anderson Thigpen said she was the parent of an 11th grader and was looking forward to getting kids back as well. "We want to go back in the fall and do what we can to keep things moving forward this spring."
Trustee Megan Pillsbury said "We need to remember that distance learning students are part of our community and some of those families feel like they're being silenced," in the reopening debate.

School board president Cory Smegal addressed the parent community directly, saying "We do hear you. We are continuing to work with teachers and staff regarding spring. Our priority is expansion at middle school."
In the weekly bulletin to families on Friday, Principal Ryan Fletcher sought to offer more reassurance to middle school families, acknowledging that conditions have changed significantly since the reopening plan was developed in late November/December and approved by the school board, writing:
"For those who tuned into Wednesday's Board meeting, you heard over and over from the Board their desire to increase in-person time at the Middle School level. I too support that increase and have continued to consider adjustments and draft different proposals, all of which require negotiations and discussions and approval by the Board.
Please know there is considerable and continuous work being done behind the scenes, and I feel hopeful that we will be able to construct a schedule with increased in-person learning in the spring."
The next school board meeting is March 24.