Hypercube Robotics, a local robotics team of six PHS students, recently advanced to the FIRST Tech Challenge Regionals Tournament based on their performance at the Fremont Qualifier. Competing with them were nineteen other robotics groups from around the bay including Piedmont FTC Teams Zenith and the Piedmont Pioneers.
This year's robotics challenge is called Ultimate Goal. In the event students must build robots that shoot rings into an elevated goal, scoring points for their team.
Due to Covid-19 Restrictions, this year's Fremont tournament was held remotely, meaning each team had to run through matches by themselves and submit the scores. The match videos are available online on the team's Youtube channel, "Hypercube Robotics".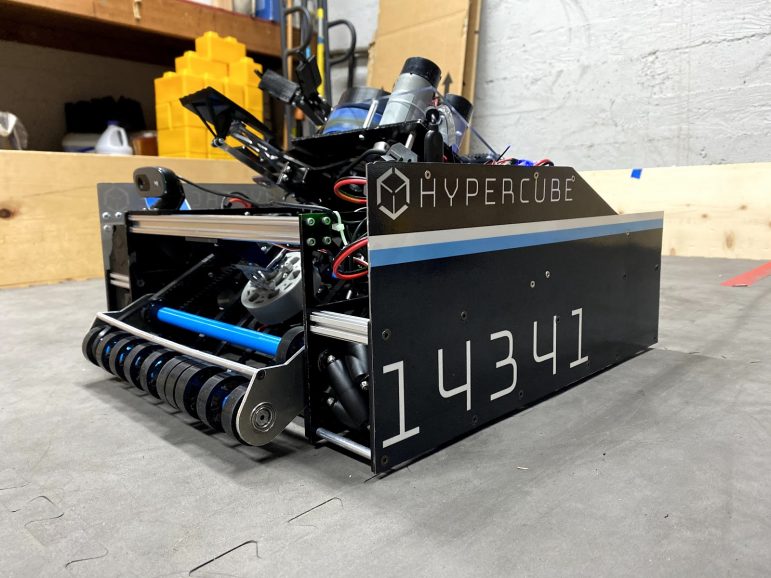 In their six tournament matches, the team started off strong, successfully scoring an average of 31 rings over their six games. Additionally the team managed to knock down all three of the special power shots, a difficult task which granted them 15 points each. Following their success on the playing field, the team prepared for the judging interview, evaluating their achievements over the season and their teamwork.
With their work complete, the team reunited to watch the virtual awards ceremony, where judges acknowledge teams in categories such as their design process and their community outreach.
"This team is a strong ambassador, role model, and contender with their innovative and aesthetic unique design," the judges said. "This team in blue incorporates an impressive CAD [Computer Aided Design] based design process and puts together a thorough and professional engineering portfolio." 
Hypercube showed up in full force, winning the Inspire award, the most prestigious of the game, and second place for the Connect award. Additionally their robot's performance in the tournament matches earned them first place in the Qualifier and the fifth highest score in the world.
With their success at the Fremont Qualifier, Hypercube continues their winning streak after advancing in both the 2018 and 2019 FTC seasons. Hypercube is extremely grateful to everyone that has allowed the team to advance to this level, including all its sponsors this season and the Piedmont Makers organization.