A University of California at Berkeley trained physicist nicknamed the Queen of Nuclear Research is being honored with a U.S. Postal Service stamp, university officials recently announced.
Chien-Shiung Wu earned a Ph.D. from UC Berkeley in physics in 1940 and went on to teach at Columbia and Princeton universities before her death in 1997.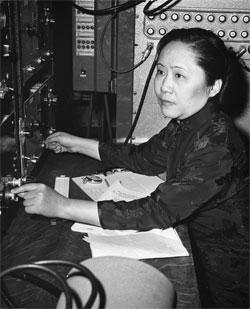 Other nicknames she earned include Chinese Madame Curie and First Lady of Physics.
"She was very influential," said Herbert Steiner, a professor emeritus in physics at UC Berkeley and senior faculty scientist at Lawrence Berkeley National Laboratory.
Postal Service officials called Wu "one of the most influential nuclear physicists of the 20th century."
Steiner concurs.
Wu participated in the Manhattan Project, which developed the first nuclear weapons. She is thought to be the only Chinese person to work on the project.
"She was a pioneer and did a lot for women's rights," Steiner said.
While at UC Berkeley, Wu also worked with another Nobel laureate in physics, Emilio Segre, who also was part of the Manhattan project.
"During a career that spanned more than 40 years in a field dominated by men, she established herself as the authority on conducting precise and accurate research to test fundamental theories of physics," Postal Service officials said.
Wu was born and raised in China and at 24 came to the U.S. She studied at UC Berkeley, working at the Radiation Laboratory, precursor to the Lawrence Berkeley National Lab, while completing graduate studies.
The lab at the time was directed by Ernest Lawrence, who the Lawrence Berkeley National Laboratory is at least partly named for. Lawrence won the Nobel Prize in physics in 1939.
A discovery by Wu led to the 1957 Nobel Prize in physics for two of her colleagues. Wu was not honored until 1978 when she was awarded the inaugural Wolf Prize, considered the second most prestigious award in physics next to the Nobel Prize.
"When we think about the best of America, Wu comes to mind," Postal Service spokeswoman Mauresa Pittman said.
Stamps like the one honoring Wu are meant to honor the best of America, Pittman said.
The stamp, a Forever stamp, will be available for purchase Thursday online and at all post offices nationwide the same day. Customers can pre-order stamps online now and they will ship Thursday.
A virtual first day of issue ceremony will be held Thursday at 8 a.m. Pacific time on Facebook and Twitter.