According to the most recent update from the Alameda County Office of Public Health on Feb. 2, total coronavirus cases in Piedmont as of today stood at 162, up from 161 on Jan. 29.
Although Bay Area ICU capacity continues to improve, concerns about the spread of more transmissible virus variants are on the rise as one health official warned about another possible surge.
On Tuesday the San Francisco Chronicle reported that: "Alameda County has U.K. variant infections: Alameda County has identified six confirmed or suspected cases of the highly infectious variant of the coronavirus that was discovered in the United Kingdom, public health officials said Tuesday. The cases are the first of this variant tied to a specific Bay Area county. The variant has been identified in other parts of the state, mostly in Southern California, and more than 100 cases have been reported in California so far, according to the Centers for Disease Control and Prevention."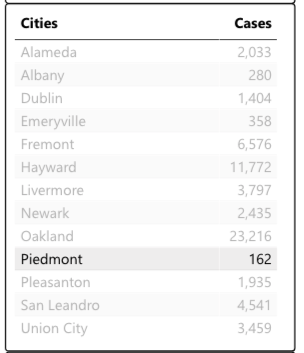 (Note: The county database is updated daily, but counts for a particular past date can change as records are adjusted, per a caveat on the county's data dashboard.)
The Alameda County dashboard now includes vaccine data. View the complete Alameda County Health dashboard HERE.