As pickleball has grown as a recreational activity in Piedmont, one of the major supporters leading the way has been Darlene Vendegna. An Oakland resident who has promoted the game all over the East Bay, Vendegna comes to Piedmont to unlock the gates at the Piedmont Middle School courts every Sunday. She also teaches the game for free to anybody.
"She is a wonderful, enthusiastic person with a lot of skill," Piedmont resident Lester Ellis said. "She has agreed to teach classes on the weekend for free, starting at 8 o'clock before play begins at 9. She will teach at any level."
Vendegna downplays her role in bringing pickleball to Piedmont. She credits Ellis and Rick Schiller as being key proponents, along with the rest of the volunteers in the Piedmont Pickleball group.
"They were instrumental in getting Piedmont going and they're Piedmont residents," she said. "I came in down the road as the big cheerleader."
Said Schiller, "She knows what's going on. She's great. She's a strong advocate and has really worked to bring pickleball around."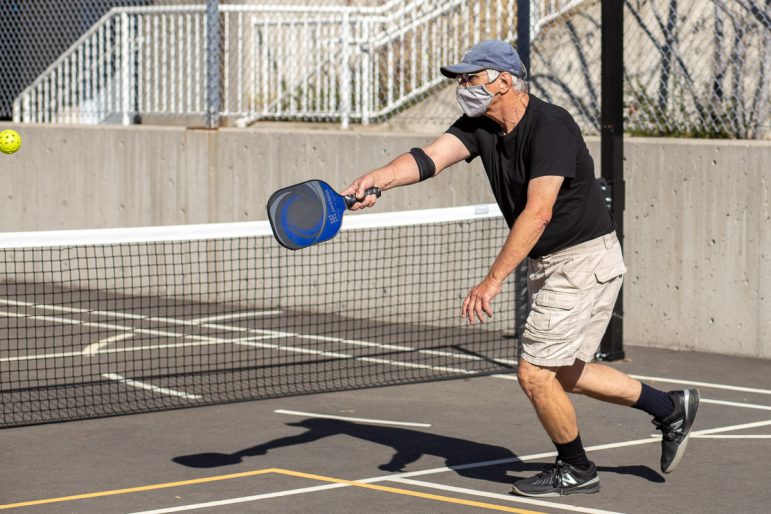 But Vendegna is a go-to for all Pickleball questions. When a reporter calls, she asks him to come down and play. When you talk to her, you cannot question her love for the game.
Vendegna grew up in Chicago and played softball, raquetball and ping pong when she was young. She calls herself a "pre-Title IX girl," and although she always loved sports, she didn't get the opportunity to play in college.
Ping pong is the sport that probably did the most to lead her to pickleball.
"I grew up wtih a ping pong table in my basement," she said. "That's what we did in the winter. It translates really, really well. People ask how to play and I ask, 'Did you have a ping pong table in your basement? You're on the way there.'"
Vendegna is an ambassador for USA Pickleball. She plays and teaches all over the East Bay. She's also a go-to when there are questions about how to increase access to the sport, or if a controversy comes up.
To wit: Last year, neighbors of Cedar Rose Park in Berkeley complained about the noise on the courts. Vendegna said three old tennis courts were renovated for pickleball.
"It's noisier than tennis because you're playing with a solid paddle and a plastic ball that's heavier," Vendegna said. "So it's noisier than a soft tennis ball. And frankly, people who play tennis are quiet. In pickleball, you hit the plastic ball and you laugh."
Vendegna said the real issue is getting enough courts for pickleball players to use.
"We just want to play our game and we would like a place to play it," she said. "In my opinion, the biggest issue is there are hundreds upon hundreds of people who are playing this sport. When we have doubles we can have 16 people on the court where with tennis it's just four. A pickleball game lasts 15 minutes. So we can get more people in."
"We're not looking to take anything away from tennis players, but boy there are a lot of tennis courts and boy there are a lot of those tennis courts that are empty."
Piedmont has courts at three locations available six days a week, although Monday access at Piedmont Middle School was recently canceled according to Ellis.
And wherever there is pickleball, you will probably find Vendegna.