It was a typically sunny afternoon idyll on a picturesque stretch of Sea View Avenue. Until it was broken by a furious, buzzing, hum. A flying army of riled up honeybees — easily numbering in the thousands — had all decided to orbit their nest, which was inside a notch in a nearby bare tree.
As prudent gardeners stood at a safe distance to watch, (and a few oblivious dog walkers and joggers nearly blundered headlong into the swirling mass), a few passersby paused to speculate what had made the swarm so mad.
One man speculated that perhaps their queen had fallen out of the nest. Someone else wondered if they had been agitated by a sprinkler or a hose.
Just then, as if from nowhere, a white utility truck approached. As it drew closer, a painted seal could be seen in its door. It was two men from Piedmont's Public Works department. For a few moments they surveyed the flying menace from the safety of their truck, then bravely alighted.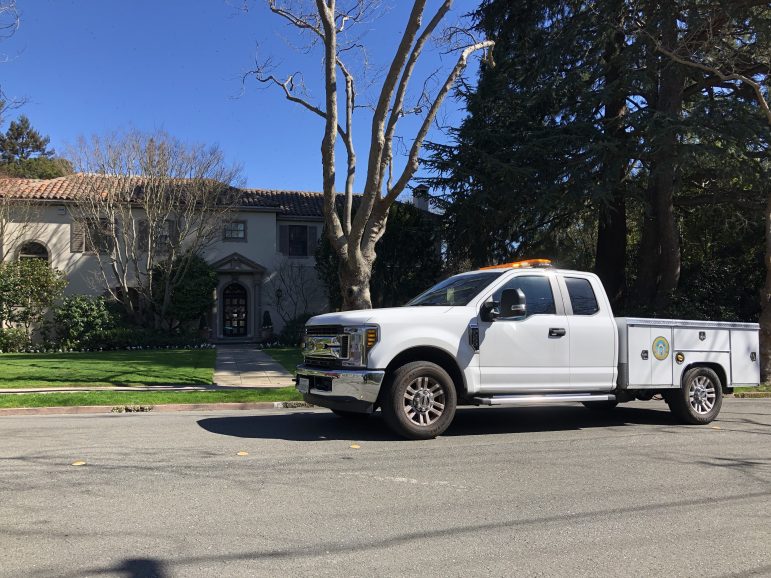 They secured the scene, and then stood watch as the bees, who now appeared to be losing energy, gradually began withdrawing back to their nest.
One of the workers, smartly clad in his city-issue reflective vest, set up warning barriers to keep the streams of dog walkers and joggers from arousing the hive anew. "Sometimes in spring honeybees may look for a new hive," said the worker, who gave his name as Calvin. His was probably the best explanation of the day.
By the time the barriers were in place, the swarm had shrunk to a few die hards, and no human or beast had been stung. At last check, Sea View Avenue had returned to normal with dog walkers streaming up and down the street as usual. As for the hive, whatever the cause of its agitation, by late afternoon all was quiet, and presumably the bees had gone back to their business of making honey.