Exedra's arts and culture reviewers answer the burning question readers want to know: Is it worth my time?
BOOKS
Classroom 15: How the Hoover FBI Censored the Dreams of Innocent Oregon Fourth Graders
By Peter Laufer with University of Oregon journalism students (Anthem Press 2021)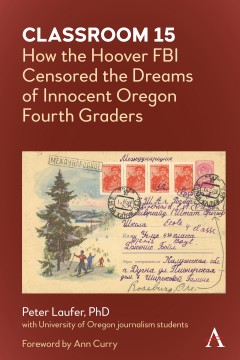 Behind the overstuffed title of this book are two captivating, intertwined stories. The first is of a group of Roseburg, Oregon elementary students and aspiring global citizens who made national news in 1959 when pen pal letters they wrote to children in Russia brought the scrutiny of the State Department and the FBI. The second is that of a present-day class of University of Oregon journalism students led by professor Peter Laufer who investigated the Roseburg tale for a class project. Using impressive shoe-leather reporting the students uncovered classified documents, sleuthed out the original letter-writer, Janice Boyle, and shed fascinating new light on this mostly forgotten Eisenhower-era political drama.
Laufer's students (including Piedmonter Madie Eidam) used research to evoke the paranoid political atmosphere of the Cold War years and present a vivid portrait of how the government's shut down of the pen pal exchange played poorly on both sides of the Atlantic. Their reporting also touches on the regret shared by many of the participants. For the U of O student-journalists who brought this amazing yarn to life, it is hard to imagine a more rich journalistic experience. They traveled where the story took them, including the Nevada desert and a children's park in Russia. Through the dogged work of their year-long reporting, what started out as a class paper grew into a fascinating book that weaves in history, politics, and thought-provoking reflections.
---
Bitter Roots: Five Generations of a Chinese Family in America
By Bruce Quan, Jr. (Word by Word Press 2020)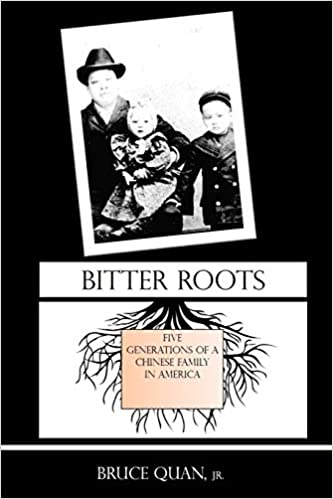 Fifth generation Californian Bruce Quan is one of the wise men of Oakland politics. His roots reach back to the 1970's when he first served as an advisor to mayor Lionel Wilson.
Quan went on to launch his own law firm, to work as chief legal counsel for Alameda, run for city council in Oakland and San Francisco, and still find time to move the needle as a civil rights advocate and go-to guy for several generations of civic movers who coveted his strategic savvy and extensive contacts.
Bitter Roots, which Quan completed during the first Covid-19 lockdown, is a well-researched and imaginatively written history of his family's emigration from China to San Francisco in 1905, led by his great grandfather Lew Hing, who found the Pacific Coast Canning Company. The story of his family's business success is punctuated with searing episodes of violent racism delivered at the hands of white business competitors and workers — and sometimes officials. More than sixty years later Quan recounts his own rough treatment as a boy on the streets of Oakland, as a law student at Cal, and he mourns last summer's covid-triggered anti-Asian attacks in San Francisco's Chinatown. What galls Quan most, and rightly so, in this disappointed account of his family's continuing encounter with America's conscience, is how little has changed.
---
STREAMING
Pretend it's a City
A Netfix limited series (2021) |Directed by Martin Scorsese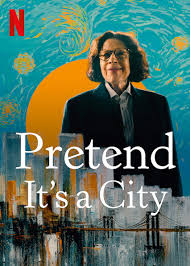 Listening to writer Fran Lebowitz, the delightful motormouth raconteur and misanthropic jester at the center of Pretend it's a City, Martin Scorsese's new one-woman semi-documentary series, Lebowitz comes across as a distinctly 20th century figure. Her indifference to technology and her disdain for youth culture (particularly that of millennials') are obvious hints, but it is Lebowitz' unbending view of Manhattan as a mecca of high art that is the giveaway.
Lebowitz remains a citizen of an earlier, now invisible New York City, one where Wall Street has yet to conquer Greenwich Village, and the New Yorker magazine has yet to run its first Justin Timberlake review. It's a shtick, of course, but it would be a mistake to view it as a mere nostalgia trip. Her casual but caustic verbal takedowns of elected leaders, business gurus and media types are delivered with a wit and humanity that are based in literature, not social media. In one revealing exchange, Lebowitz faces off with movie director and basketball fanatic Spike Lee. Although Lebowitz admits to a love of Muhammad Ali, she otherwise dismisses pro sports as meaningless, and gives no ground there. For a few moments Lee pokes at her view but then lets it go. There's just too much in common between these two New York City originals.
---
The Little Things
A feature film on HBO Max (2021) | Directed by John Lee Hancock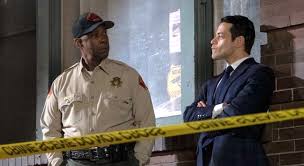 A California police investigator fallen from grace for an action that is not made clear. A crime spree in a desert town. These are the setup ingredients for The Little Things, directed by John Lee Hancock (The Blind Side) and starring Denzel Washington and Rami Malek (Bohemian Rhapsody). Washington is excellent as a broken but pushy investigator who is chased by his own past; Malek draws attention to himself with an understated performance as a chief investigator quite possibly flailing around in something deeper than he knows.
Director Hancock sets a suitably creepy mood and casts enough clues and red herrings in the viewer's path to keep the tension continually ratcheting up. Jared Leto is convincing as a repairman. Viewers expecting a police procedural with a conventional arc should look elsewhere.