Two vehicles were returned to their owners in a pair of crimes within hours of each other on the night of January 28 and the morning of January 29.
Just after 4 a.m. on January 29, a Piedmont Police Department officer interrupted a theft from an auto in progress on Hazel Lane, according to PPD Captain Chris Monahan. The thieves were in a car reported stolen in Oakland and drove off, but then returned. The officer stopped the vehicle and the female driver exited but the male passenger then moved to the driver's seat and fled in the car.
The driver left the car down Hazel and fled on foot. Assistance from the Oakland Police Department including a K9 unit was requested. The suspect was not found.
Stolen mail, a shaved key, and suspected amphetamine and pipes were found inside the car. The female suspect was on probation and was transported to Santa Rita jail in Dublin. The owner of the stolen vehicle came to the scene to get their car back.
ALPR alert leads to recovery of stolen car
The night before, the Automated License Plate Reader (ALPR) system alerted to a vehicle on Grand Avenue at 9 p.m. The vehicle was found by Piedmont Police parked on Hillside Avenue with the driver exiting. Officer Swanson ordered the suspect to stop. The suspect ran and Officer Swanson was able to run him down and take him into custody. He was charged with possession of a stolen vehicle and resisting arrest. He also had an outstanding warrant from San Francisco for possession of stolen property. He was transported to Santa Rita. The vehicle was towed and will be returned to its owner.
Traffic stop nabs two with outstanding warrants
On January 25, at 11:48 p.m., PPD officers conducted a traffic stop on a vehicle without rear license plate illumination. The driver and the passenger were found to have outstanding warrants and were arrested. According to Captain Monahan, driver Mario Castillo consented to a search of the vehicle and burglary tools, a stolen credit card, a pipe and an imitation firearm were found. Castillo was charged with possession of stolen property and possession of narcotic paraphernalia. He was transported to Santa Rita along with passenger Jesus Rodriguez.
ALPR alert leads to arrest of Lafayette robbery suspects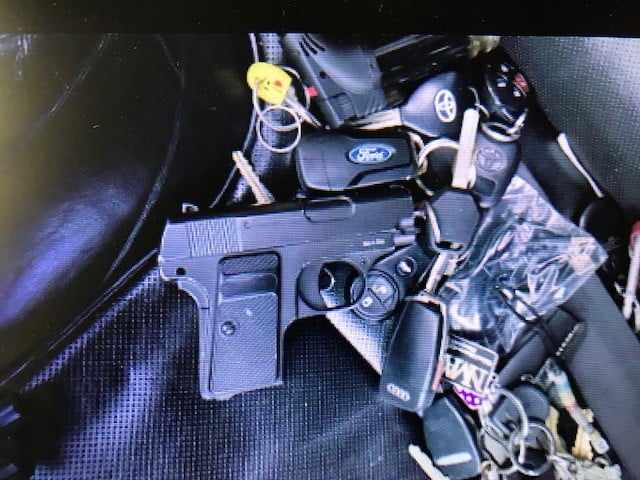 Around 6 a.m. on the morning of February 2, ALPR alerted to a vehicle connected to a robbery in Lafayette. PPD officers found the car at Oakland and Grand Avenues, parked with its lights off. Two suspects were taken into custody. Two replica guns were found in the vehicle.
The driver was turned over to Contra Costa County investigators. He was taken into custody for warrants and robberies. The passenger was taken into custody for possession of stolen mail, shaved keys and a probation violation. He was taken to Santa Rita.