Dr. George Rutherford made it abundantly clear Wednesday evening how he feels about the two COVID-19 vaccines now being rolled out across the Bay Area and the nation. The vaccines work well, he said, and are safe — people should get the vaccinations when they can.

"Once you're vaccinated, you're going to be pretty much out of the woods . . . These are remarkable vaccines."
The distinguished epidemiologist addressed viewers during a Zoom presentation, "COVID-19 – Are We Any Closer to the End?" Wednesday on the current state of affairs with the coronavirus, and how the situation is changing. The presentation was hosted by the League of Women Voters of Piedmont.

Rutherford is Piedmont's resident COVID-19 expert — he is head of the Division of Infectious Disease and Global Epidemiology in the Department of Epidemiology and Biostatistics in School of Medicine at the University of California, San Francisco, and a professor of epidemiology and health administration with UC Berkeley's School of Public Health. He appears regularly on Bay Area TV news to offer insights into the pandemic.

Early in Wednesday's presentation, Rutherford put up a slide with lots of COVID-19-related numbers on it. He realized almost instantly he'd put up the wrong slide. "I know these numbers so intimately I could tell they were off," he told viewers.

He characterized his presentation as "largely a good-news talk" about how he expects the vaccines to finally put a dent in the case numbers wherever, and whenever, they are widely available.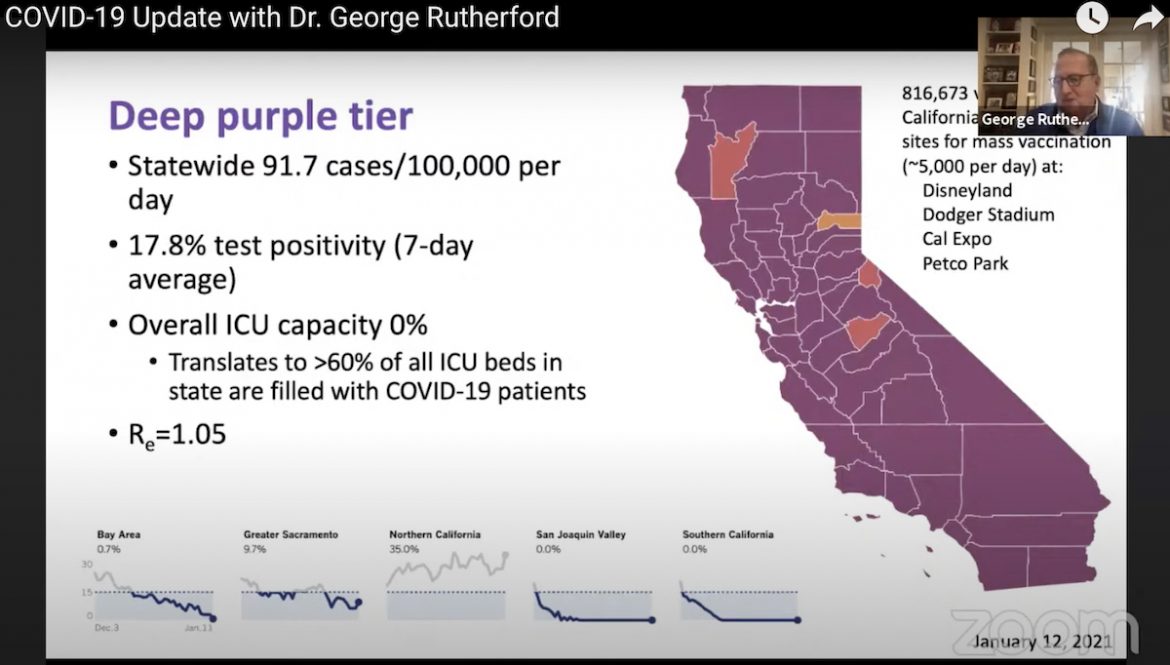 Those case numbers remain high at the moment, Rutherford said — California has had approximately 2,746,000 reported COVID-19 cases as of Wednesday, and that number is rising. Almost the entire state is in what Rutherford described as "deep purple" tier and under stay-at-home orders. Southern California has been particularly hard hit, and Rutherford noted that COVID-19 patients are now being moved to Northern California hospitals as ICU beds in the southland are filled to capacity.

The Bay Area has reported more than 311,000 cases as of Wednesday, he said, and 3,061 deaths. (Piedmont, as of late Wednesday, had reported 141 cases).
He also said the case numbers don't tell the whole story; with 40 percent of those infected being asymptomatic and not necessarily getting tested, "You'll have to double that (case number) to get a truly accurate picture of how many people are affected," Rutherford said.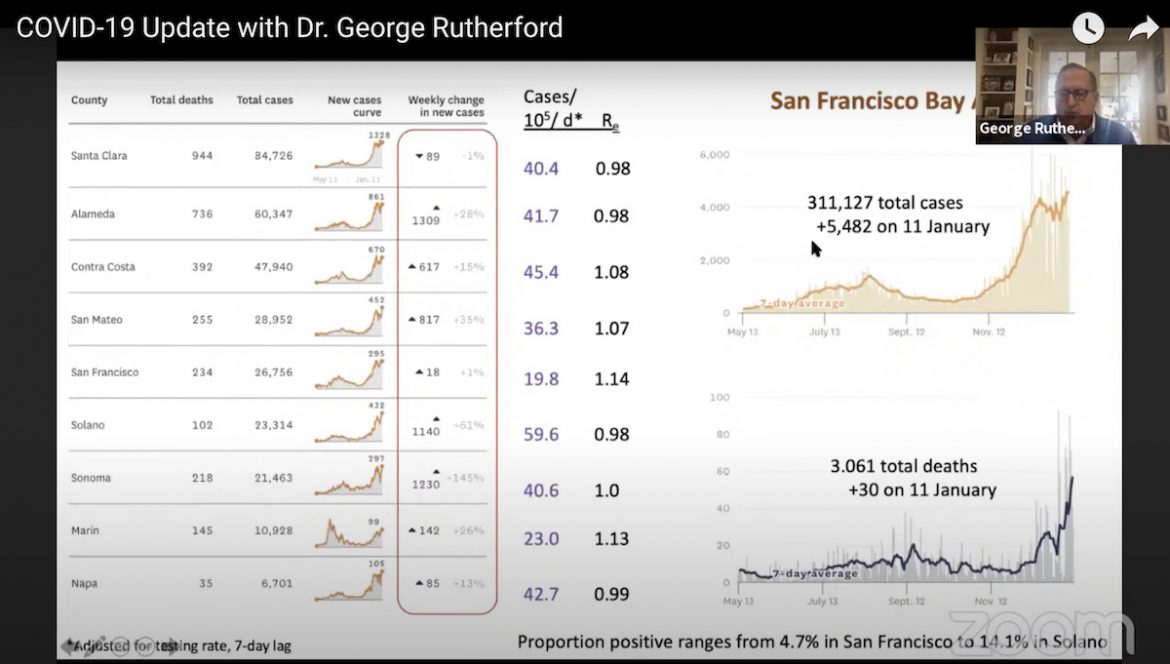 For that and other reasons, he said, everyone should take strict precautions wherever they go. "You should still assume everyone around you is infected, and infectious," he said.

While Rutherford said some of the alarmingly high post-Thanksgiving and post-Christmas COVID-19 infection numbers are starting to show slight declines, it will be with the widespread rollout of the Pfizer and Moderna vaccines that the true turnaround will come. In the Bay Area, first responders, frontline health care workers and residents and employees of senior care facilities have been getting shots, and in some Bay Area counties people 65 and older (expanded from 75 and older) are now eligible. The situation has been changing quickly.

Which tier are YOU in?
Once about 20 percent of the population has received the vaccinations, he said, the case numbers should start going down significantly. He believes that the region could achieve "herd immunity" by late summer, depending on how quickly the general population can be vaccinated.

Making that happen, he said, will take not only large facilities — the Oakland-Alameda County Coliseum Authority could vote Friday to use the coliseum (currently known as RingCentral Coliseum) as a mass-vaccination facility, for instance — but perhaps facilities that are open 24 hours a day.

Rutherford said the two vaccines now being administered are the result of 80 years of research. One dose, he said, isn't enough to protect; taking the second dose at the prescribed 21-day interval, he said, is crucial to their success.

"We're not going to get through this without getting a lot of people vaccinated," he said.

Watch the full presentation above
Contact Sam Richards at sam.richards4344@gmail.com