According to the most recent update from the Alameda County Office of Public Health on Jan. 8, total coronavirus cases in Piedmont as of today stood at 129, up from 122 on Jan. 5.
According to the San Francisco Chronicle on Friday, "Bay Area ICU availability drops to 3%: The availability of intensive care unit beds in the Bay Area slipped further on Friday to just 3%, down from 3.5% on Thursday. The Greater Sacramento region also took a big fall to 6.4%, while the Southern California and San Joaquin regions remained at 0%. California's overall ICU capacity also held at 0%, with only the Northern California region holding over the state's 15% threshold at 27.5% availability. "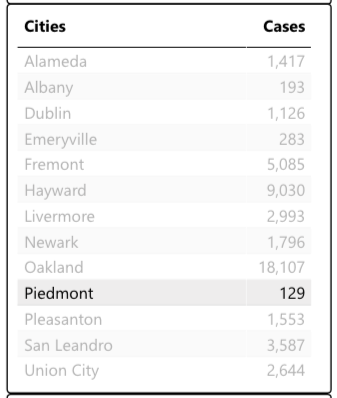 (Note: The county database is updated daily, but counts for a particular past date can change as records are adjusted, per a caveat on the county's data dashboard.)
View the complete Alameda County Health dashboard HERE.