According to the most recent update from the Alameda County Office of Public Health on Jan. 29, total coronavirus cases in Piedmont as of today stood at 161, up from 158 on Jan. 26.
On Tuesday the San Francisco Chronicle reported that: "Alameda County plans mass vaccination sites at Coliseum and Fairgrounds: County officials said they plan to launch high volume vaccination sites at Oakland Colisuem and the Alameda County Fairgrounds by mid-February with hopes of delivering 5,000 vaccine doses per day per site. Those sites will run in addition to the pop-up sites currently in operation at St. Rose Hospital and Castro Valley Library, as well as five community sites in neighborhoods. "We are planning for a bigger distribution network than we have supply right now," said Dr. Kathleen Clanon, director of Alameda County Health Care Services Agency, during a vaccine townhall on Friday. "We are crossing our fingers that we get enough supply to run them."
The state's stay-at-home order was cancelled on Monday due to an improved forecast for ICU capacity but the Bay Area remains in the most restrictive Purple Tier under the state's color-coded system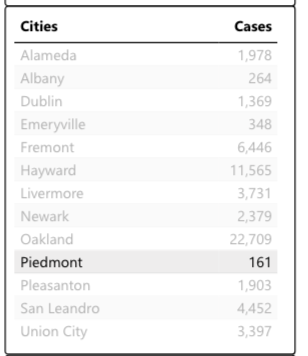 (Note: The county database is updated daily, but counts for a particular past date can change as records are adjusted, per a caveat on the county's data dashboard.)
View the complete Alameda County Health dashboard HERE.