According to the most recent update from the Alameda County Office of Public Health on Jan. 26, total coronavirus cases in Piedmont as of today stood at 158 up from 153 on Jan. 22.
On Tuesday the San Francisco Chronicle reported that: "State hospitalizations and ICU admissions decline: COVID-19 hospitalizations in California have dropped more than 20% in the past 14 days, and admissions to hospital intensive care units have declined 10.6%, state data released Tuesday show." The state's stay-at-home order was cancelled on Monday due to an improved forecast for ICU capacity but the Bay Area remains in the most restrictive Purple Tier under the state's color-coded system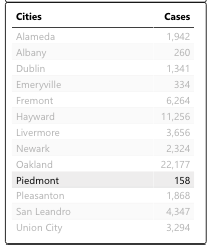 (Note: The county database is updated daily, but counts for a particular past date can change as records are adjusted, per a caveat on the county's data dashboard.)
View the complete Alameda County Health dashboard HERE.