According to the most recent update from the Alameda County Office of Public Health on Jan. 12, total coronavirus cases in Piedmont as of today stood at 140, up from 129 on Jan. 8.
According to the San Francisco Chronicle on Tuesday at noon, "Bay Area ICU capacity rises slightly: Hospital intensive care capacity in the Bay Area rose slightly, to a still dangerous 4.7%, state officials said Tuesday. The greater Sacramento area also remained tight, at 9.4% availability, and the Northern California region's hospitals slipped below 20% ICU capacity for the first time, with just 17.6% beds available. In Southern California and the San Joaquin Valley region, ICU capacity remained at 0 %, meaning they are reliant on ad-hoc surge facilities the state has set up. "
(Note: The county database is updated daily, but counts for a particular past date can change as records are adjusted, per a caveat on the county's data dashboard.)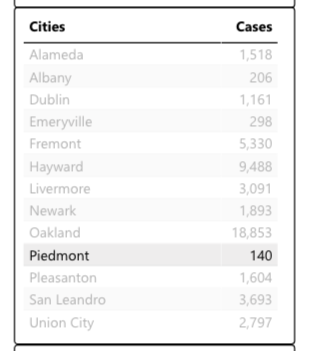 View the complete Alameda County Health dashboard HERE.