It's for the kids: 10% of proceeds go to PEF
10% of profits from orders for Jan. 31 placed with Pizzeria Delfina using coupon code PEFPIZZA will be donated to PEF. Likewise Oren's Hummus orders for Jan. 28 using the code PEFHUMMUS will do the same.
If location is everything, Piedmont and nearby Oakland foodies should be happy to learn that a pop-up on Grand Ave (Kehilla Synagogue) is now serving pre-ordered take-out meals from award-winning chefs. Thanks to a savvy plan cooked up by Marin businesswoman Tracey Forster, local residents can enjoy the culinary treats from some legendary San Francisco restaurants — even as a pandemic has kept us out of those restaurants.
Forster is Founder/CEO of Adaptive Solutions, a restaurant marketing company that partners with Bay Area brick & mortar food purveyors hit hard by the Covid-19 environment to expand their businesses with innovative pop-up distribution channels and e-commerce delivery-only initiatives. Applying experience gained as the former VP of marketing for Zume Pizza and in similar positions held before a job transfer brought her to California from the East Coast about seven years ago, Forster introduced SF2Bay to Piedmont in early 2021.
Under the umbrella of Adaptive Solutions, SF2Bay in Piedmont brings San Francisco-based Pizzeria Delfina's Neapolitan style menu and Oren's Hummus' Mediterranean meals and specialties within easy reach through a new, weekly pop-up pickup service located at Kehilla Community Synagogue.
In a phone interview, Forster says bringing a popular restaurant's "buzz" into the virtual realm and supporting the company's clients with scaled-up distribution allows them not only to survive, but to create new menu items and culinary experiences. The work is especially rewarding during the pandemic. "I was working since May of 2020 on Adaptive Solutions and had the idea to launch the SF2Bay brand in late September," she says. "We started in Marin with Pizzeria Delfina. I live in Marin, so I knew it was an interesting market with tons of restaurants, but also offered opportunity for new restaurants to come in."
Forster admits, with a busy work life and plenty of fine dining nearby, she didn't often make the trek into San Francisco to visit restaurants. Even so, she knew many people throughout the Bay Area did supply considerable revenue to SF restaurants—until the pandemic lockdowns caused many people to work—and eat—at home. "I began to strategize about how we could partner to overcome those hurdles," says Forster.
Delfina's tiramisu

Pizza Napoletana featuring tomato, anchovies, capers, hot peppers, olives, oregano
The strategy developed into a business plan that is heavily reliant on data tracking, customized marketing, rigorous pickup location scouting and product development based on specific community demographics and feedback.
"It's been uber successful," says Forster. "Our orders are growing and our volume has gone up four times from where we were initially. It's a combination of existing customers being happy with products we're developing and marketing tactics, like partnering with local organizations."
It's for the kids: 10% of proceeds go to PEF
Orders close on Tuesday for Oren's Hummus and Thursday for Pizzeria Delfina. Unless we sell out first!
The weekly pop-up on Thursdays offers Piedmont residents a diverse menu: Hummus Bowls, Build Your Own Family Meals, grilled meat or vegetarian skewer entrees, sides and desserts such as basmati rice, whole roasted cauliflower, salads, sweet cheese/potato bourekas, pickles, olives sauces, baklava, chocolate mousse and more. Wine and non-alcoholic beverages are also available.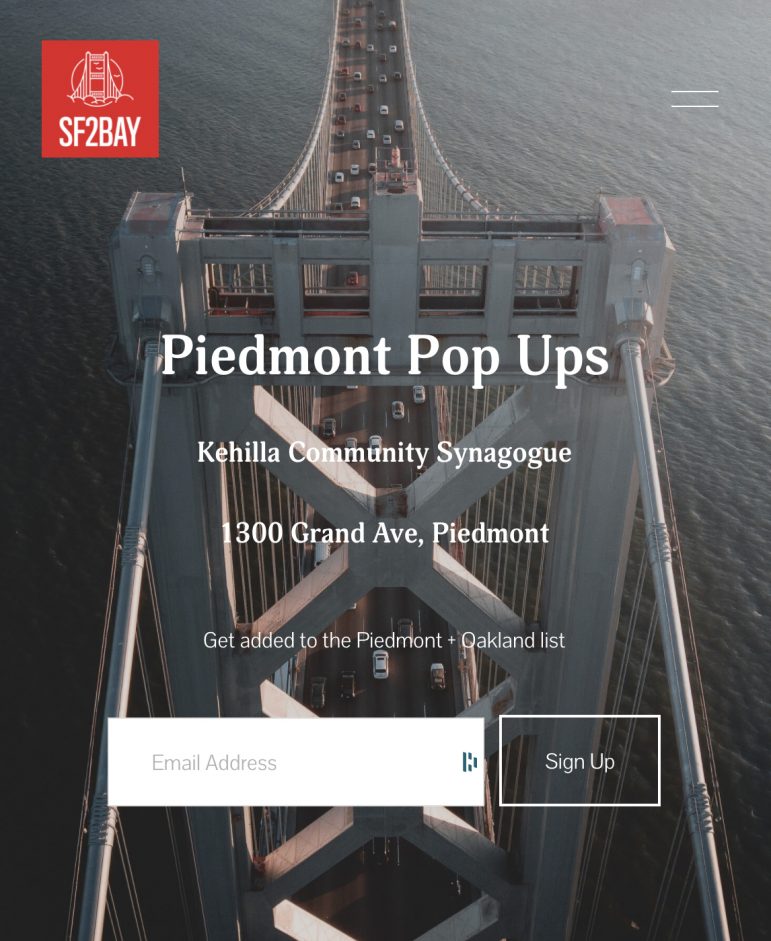 On Sundays, Pizzeria Delfina's pop-up menu includes frozen half-baked, finish-at-home pizzas (Napoletana with tomato, anchovies, capers, hot peppers, olives and oregano, or Porcini Pie with California porcini mushrooms, Fontina Val d'aosta cheese and nepitella oil, just two examples), along with meal kits, salads, soups, gnocchi, lasagne and other entrees, wine, cocktails for two and more. Pickup is 10-11:30 a.m. on Sunday mornings.
Forster says menu flexibility, responsive service/delivery, and direct feedback from customers are her favorite features of SF2Bay's business model. "In December, Pizzeria Delfina made amazing potato latkes for two weeks. There are [award-winning] chefs at Delfina and Oren's, so some menu items take longer to develop, but we can be nimble and evaluate and make shifts like instantly offering cauliflower soup as we go into winter."
In addition to closely tracking feedback and sale data, SF2Bay staff scout locations and research communities extensively before launching service in a new area.
The current focus is on areas where families and urban customers can pick up orders easily. Specific location priorities are determined by the community:
Where can there be convenience, access directly off the highway, easy visibility, in a central location with space for tents and serving customers while following all social distance protocols? Convenient parking or room for curbside pick up are important.
"Safety is huge: everyone wears a mask, sanitizes hands and tools—and it's outdoors," notes Foster. "The biggest thing for growth is to develop a product customers want and an experience they will like. People form emotional connections with a brand over time and with positive experiences."
Because she believes SF2Bay represents "the wave of the future" for restaurants, even after the vaccine is broadly administered and it is safe to resume in-house dining, SF2BAy is seeking more partnerships with school districts and nonprofits as well as more match-making with Piedmont and Oakland restaurants.
Forster days, "Piedmont is densely populated, with lots of people and restaurants, so it will be interesting to see how we can best serve them."
To learn more, visit www.AdaptiveSolutionsLtd.com or www.SF2BAY.com.
---
Images from SF2Bay website and Delfina facebook page