There are many reasons to love the Bay: the stunning scenery, recreational access to the water and trails, the abundance of fresh salmon, oysters and crab — and the opportunity to live close to all this. To preserve all that we love about the Bay, this unique ecological system needs to be protected from development, industry and climate change.

Tune in on January 13th for Bay Visions 2021, an inspiring look at adaption, regeneration, and the powerful role plants play in mitigating the challenges facing San Francisco Bay. [LEARN MORE]
In collaboration with five Bay Area garden clubs, the Piedmont Garden Club invites interested community members to learn about how to help protect our shared precious San Francisco Bay shoreline.
In the light of climate change and sea level rise, experts will share history, research and practices about the importance of planting native plants and their role marsh restoration — and why seaweed is important for the health of the Bay.
Bay Area scientists are collaborating on ways to protect and restore the Bay shoreline's by utilizing plants — underwater, in the wetlands and along the shoreline.
The results so far tell an encouraging story. Restoring the tidal marshes provides not only resilience to climate change and protection from flooding, but also productive wildlife habitat and increased recreational access to this waterway gem at the heart of our region.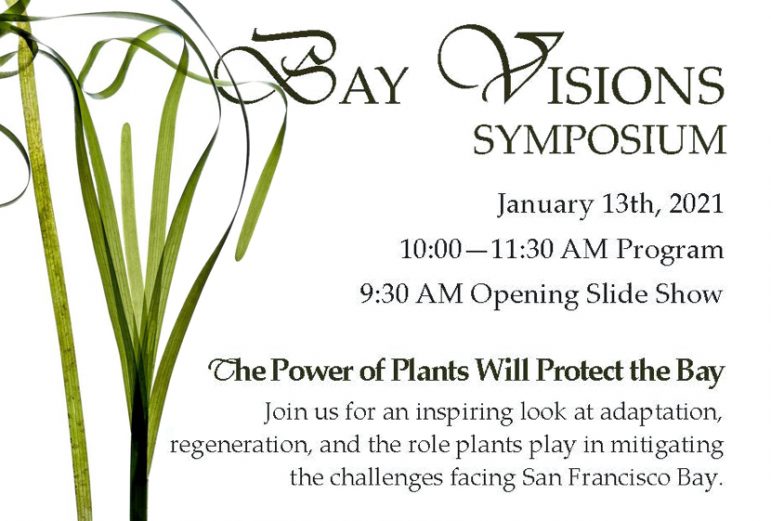 Program Highlights
Karina Nielsen, professor and director of the Estuary & Ocean Science Center, San Francisco State University, will provide an overview of the complex issues facing the Bay. https://eoscenter.sfsu.edu/content/karina-nielsen
Dr. Katharyn Boyer, professor of Biology-Wetlands, Community and Restoration Ecology, will highlight mitigation and restoration efforts using plants as buffers, filters and habitat for the Bay Area Biome. www.tedxmarin.org/speaker/katharyn-boyer/
Josie Iselin, author of The Curious World of Seaweed, will discuss the vital role of seaweed in maintaining our Bay ecosystem while she shares her ethereal photos of seaweed's shape-shifting colors, revealing a rich botanical world not often seen. www.josieiselin.com
Diana Benner and Laura Hanson, co-owners of The Watershed Nursery in Richmond, will provide an up-close look at the native plants they grow, the nursery's involvement in large wetlands restoration projects, and the use of local wetland species in Bay Area gardens. www.watershednursery.com
Register
This event is free but please register in advance at: www.eventbrite.com/e/bay-visions-tickets-127648342629

Sponsored By
Piedmont Garden Club, Woodside-Atherton Garden Club, Marin Garden Club, Orinda Garden Club, Hillsborough Garden Club, and Carmel-By-the-Sea Garden Club
Questions?
Contact Julia Burke at juliaburke94610@yahoo.com