Amelie Kappes, Colleen Allan, and Teebie Saunders, Co-Chairs of this year's Piedmont Education Foundation Giving Campaign shared the news this week that the Giving Campaign's $3,000,000 fundraising goal has been reached and exceeded. The Giving Campaign is the largest annual fundraiser supporting the students and schools of Piedmont.
Success in spite of challenges wrought by pandemic
This success came amidst a year of multiple challenges. "We set this lofty goal during a year of distance learning with no reopening timeline amid a coronavirus surge in the country, and when our district was facing issues of unprecedented scale and complexity," shared Allan. "This is a true testament to the value that our community places on the importance of a strong public school district and a top notch education for Piedmont students. "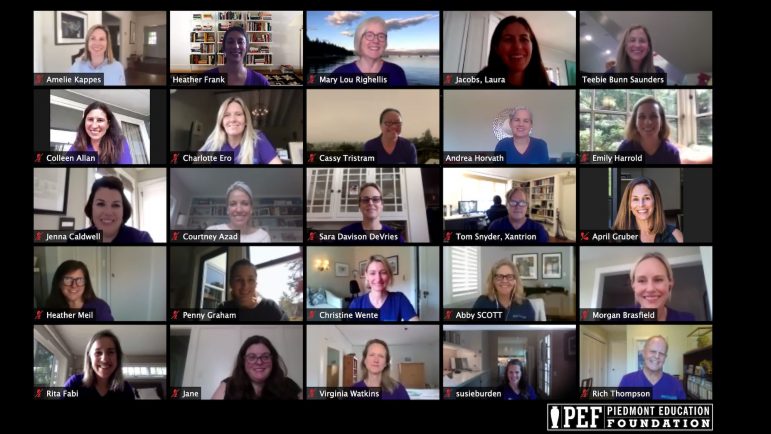 The campaign launched on September 21 and ran for 15 weeks. Kappes credits the work of the community for the strength of this year's campaign. "It reflects untold hours of volunteer support and a team of thoughtful, strategic, dedicated and engaged staff at the PEF office. PUSD will benefit across all campuses as a result of this generosity, involvement and hard work." More than 75 volunteers and staff members engaged in this effort, which included multiple forms of outreach as part of the overall strategy of personally reaching out to as many prospective donors as possible.
This year's total fundraising achievement was $3,014,210, an amount only surpassed one other time in the Giving Campaign's long history. Participation in the campaign, however, was down. The participation rate among parents of PUSD students has held steady at about 68% for the past few years, dropping to 57% this year. Saunders understands that there are multiple reasons for the drop in participation.
"We are truly grateful to the 1,140 families that contributed to this year's Giving Campaign. I am overwhelmed especially by the generosity of those families that chose to give more this year to help make up for those who were unable to participate."

Teebie Saunders, Giving Campaign Co-Chair
Piedmont Education Foundation will continue to accept additional gifts in support of Piedmont's schools at PiedmontEdFoundation.org/Donate. The funds raised through the Giving Campaign and other PEF fundraisers will be distributed to PUSD for use during the 2021-22 school year.
About PEF |P​iedmont Education Foundation is a 501(c)3 nonprofit organization whose mission is to provide sustained financial support to Piedmont schools through fundraising and community engagement. Led by a 21-member volunteer board of directors and supported by a professional office staff, PEF oversees the Giving Campaign, Spring Fling, the Student Directory, and much more. Visit​ ​PiedmontEdFoundation.org​ to learn more.