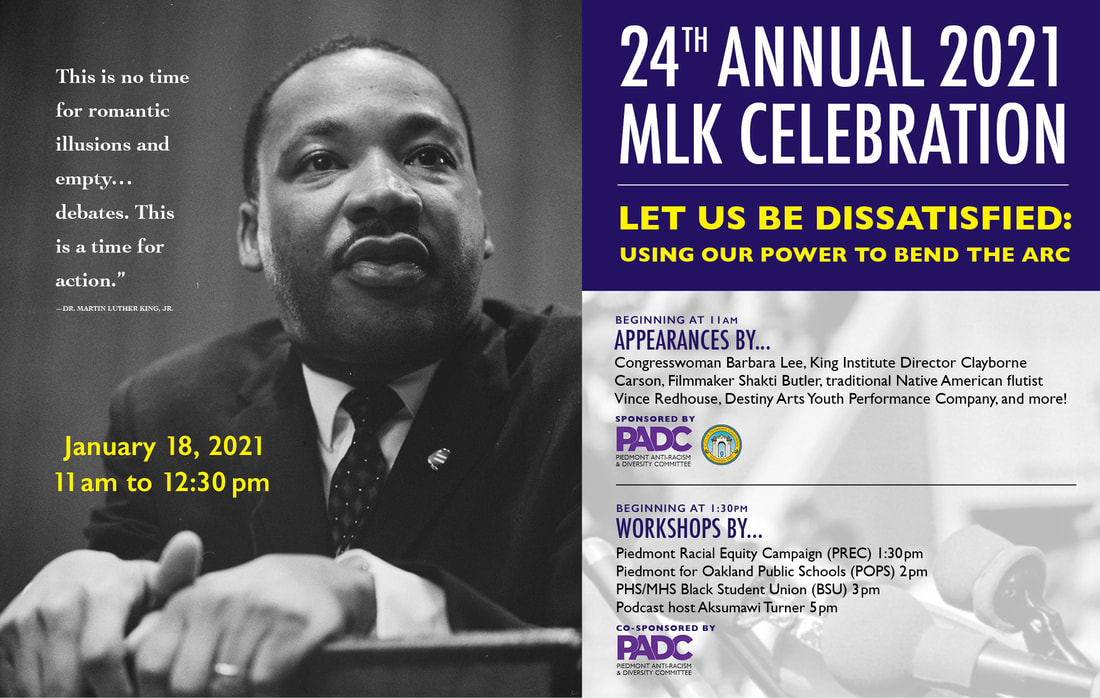 Monday, January 18 | 11:00 AM – 12:30 PM
Register for online event HERE
Martin Luther King's "Where Do We Go from Here" speech challenges us to look at the big picture when it comes to racial and economic justice. To see beyond what is immediately within view and identify root causes. "We are called upon to help the discouraged beggars in life's marketplace," King said. "But one day we must come to see that an edifice which produces beggars needs restructuring."
Reimagining a society shaped at the intersection of power, love and justice is the focus of Piedmont's 24th annual MLK Day Celebration. More than 50 years later, King's exhaustive list of challenges to be dissatisfied with in America—insular wealth and desperate poverty, inadequate housing, segregated schools, to name a few—still exist today. Each of us has the power to step up and take action to create change. "[T]here is a creative force in this universe working to pull down the gigantic mountains of evil, a power that is able to make a way out of no way and transform dark yesterdays into bright tomorrows." We are the power.
This year's program, co-sponsored by PADC and the City of Piedmont, will feature stirring performances by traditional Native flutist Vince Redhouse and Destiny Arts Youth Performance Company. Speakers will include Congresswoman Barbara Lee; Stanford Professor and King Institute Director Clayborne Carson; and filmmaker and World Trust Founder Shakti Butler.
---
And new to the celebration this year are community education workshops! In partnership with local organizations, and PHS/MHS students and alums, PADC is co-sponsoring a series of engaging and participatory workshops. You are invited to attend any or all of these discussions. Zoom or registration links are below.
Piedmont Racial Equity Campaign presents:

"Nice White Parents: A Podcast Community Discussion"
Join us for a book club-type discussion based on the NYT podcast to glean lessons learned and spark insights that we can apply to Piedmont Schools. We recommend you listen to at least one episode in the five-part series ahead of time to maximize your engagement and experience in our discussion. We will think together about these big-idea questions from the podcast creators, with an eye toward our Piedmont Schools: What should be the goal of public education, and why? What does it mean for schools to be truly integrated? Who benefits from integration, and in what ways? Why do you think every child in the United States does not have access to a quality education? What can we do to change that inequality?
1:30-2:30 pm | To RSVP, click here.
Piedmont for Oakland Public Schools (POPS) presents:

"Is Segregation Still Alive in Schools?"
During the event, we will break down the story told during the podcast to discuss racial segregation in U.S. education. We will supplement the discussion with excerpts from Coretta Scott King to honor her work and pose further questions about educational equity. To prepare the event, we are asking everyone to listen to part one of a podcast from "This American Life."
2:00-3:00 pm | Join Zoom Meeting: https://ucla.zoom.us/j/98013263305
PHS / MHS Black Student Union (BSU) presents:

"Black Youth: Reflections on the Legacy of Dr. King"
A brief video in which members of the BSU address current events and MLK Day will be followed by a conversation on the way forward.
3:00-4:00 pm | Join Zoom Meeting: https://us02web.zoom.us/j/6318924240
Podcast Host Aksumawi Turner (PHS 2009) presents:

"Perspectives on Power and Love: An MLK Roundtable"
In his speech "Where Do We Go From Here," Dr. King notes that "power without love is reckless and abusive and love without power is sentimental and anemic." Measured balance between the two are the foundation for meaningful change. Our panel talks about what this means today.
5:00-6:00 pm | Join Zoom Meeting: https://procore.zoom.us/j.99311564624
24th Annual MLK Celebration
Monday, January 18 | 11:00 AM – 12:30 PM
Register for online event HERE